Warren Buffett Loaded Up on BNY Mellon Stock; Should You, Too?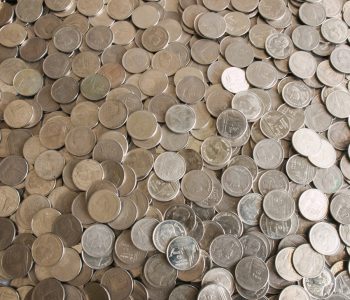 iStock.com/Tigercat_LPG
Top Warren Buffett Dividend Stock
Warren Buffett is arguably the most widely followed investor in the world. And indeed, with his astonishing 1,972,595% return from 1964 to 2016, who doesn't want to know what his next billion-dollar pick will be?
One way to get a glimpse of Warren Buffett's investment strategy is through his company Berkshire Hathaway Inc's (NYSE: BRK.B) "13F" filing. Institutional investment managers with more than $100.0 million in assets under management are required to provide a position-level disclosure of their investment holdings in their 13F filings to the Securities and Exchange Commission (SEC) every quarter.
Berkshire filed its latest 13F to the SEC earlier this month. The filing revealed that Warren Buffett had just poured hundreds of millions of dollars into a solid dividend stock.
The company in question is Bank of New York Mellon Corp (NYSE:BK), one of the oldest banks in the U.S.,with a history that can be traced all the way back to 1784. Buffett's filing showed that in the second quarter of 2017, Berkshire bought approximately 17.2 million shares of BNY Mellon stock, which is worth approximately $909.6 million at today's price. (Source: "Form 13F," United States Securities and Exchange Commission, last accessed August 25, 2017.)
Mind you, this is not the first time Buffett has taken an interest in the New York City-based financial services company. In fact, the billionaire investor first disclosed his stake in BNY Mellon in 2010 and has been increasing his position in the company for the past several quarters.
By the end of the second quarter, Berkshire owned approximately 50.2-million shares of BNY Mellon stock, with a market value of $2.65 billion.
A Business with Wide Economic Moats
To be honest, I'm not really surprised about Buffett's decision to load up on BK shares. Throughout his legendary investing career, the "Oracle of Omaha" has been known for investing in companies with wide economic moats. For those not in the know, "economic moat" is a term coined by Buffett and refers to a company's competitive advantage that can protect its profits from competitors.
The financial services industry is known for its high barriers to entry. The huge amount of capital required to start the business and the effort needed to acquire customers means that not everyone can enter the industry. Think about it: if your neighbor Joe starts an asset management firm and wants you to give him your life savings to manage, would you do it?
In other words, having an established brand name plays a huge role in the financial services industry. And since Bank of New York is the second-oldest bank in the country, brand recognition works in the company's favor.
Moreover, BNY Mellon is deeply entrenched in the financial services industry. It has $31.1 trillion in assets under custody and/or administration and $1.8 trillion in assets under management. The scale and scope of the company's operations is something that smaller financial companies could only dream of. Unless someone comes with a groundbreaking service that makes all traditional financial services companies obsolete, big players like BNY Mellon will be able to keep making oversized profits year after year.
As a matter of fact, Warren Buffett likes this industry so much that he owns shares of quite a few well-established financial services companies. Other than BNY Mellon, Berkshire also has billion-dollar stakes in Wells Fargo & Co (NYSE:WFC), American Express Company (NYSE:AXP), U.S. Bancorp (NYSE:USB), and Visa Inc (NYSE:V).
Growing Distributions
Investors that follow Warren Buffett's portfolio would know that he owns quite a few dividend stocks. In fact, nine of his top 10 holdings by value are dividend-paying companies.
Bank of New York Mellon has a quarterly dividend rate of $0.24 per share. At today's price, that translates to an annual dividend yield of 1.82%.
The yield itself may not be something to brag about, but note this: BNY Mellon is only paying out a small fraction of its earnings, and going forward, its dividends could get a lot more substantial.
In 2016, the company generated diluted earnings of $3.15 per share, representing a 16.2% increase from the prior year. It also declared and paid total dividends of $0.72 during this period. So last year, Bank of New York Mellon had a payout ratio of just 22.9%, leaving a wide margin of safety. (Source: "BNY Mellon Reports Fourth Quarter Earnings Of $822 Million Or $0.77 Per Common Share," Bank of New York Mellon Corp, January 19, 2017.)
Earlier this year, the company raised its quarterly dividend rate by 26% to $0.24 per share. Since 2010, BNY Mellon's per-share quarterly payout has increased by 167%. (Source: "Dividend History," Bank of New York Mellon Corp, last accessed August 25, 2017.)
Also Read:
5 of Warren Buffett's Best-Performing Stocks
5 Largest Stocks That Keep Buffett's Net Worth in the Billions
But despite these sizable dividend increases, the company still has a lot of room for future dividend hikes. Its most recent earnings reported showed that in the first half of this year, BNY Mellon's diluted earnings increased another 15% year-over-year to $1.70 per share. (Source: "BNY Mellon Reports Second Quarter Earnings Of $926 Million Or $0.88 Per Common Share," Bank of New York Mellon Corp, July 20, 2017.)
Based on its payment schedule, BNY Mellon is likely going to pay total dividends of $0.86 per share for full-year 2017. Wall Street is currently projecting a full-year earnings per share of $3.53. If the company meets the expectation, it would have a payout ratio 24.4%, a very conservative number in its industry.
Rising Interest Rates
Don't forget that the U.S. Federal Reserve has been raising interest rates. For a financial institution like BNY Mellon, higher interest rates often translate to higher net interest margins. Net interest margins measure the difference between a bank's interest income (such as interest income from loans) and interest expense (such as interest paid to depositors).
Indeed, the company's most recent earnings report showed that in the second quarter of 2017, its net interest margin expanded 17 basis points year-over-year, with net interest revenue increasing eight percent year-over-year.
With wide economic moats, a conservative payout ratio, and tailwinds from rising interest rates, BNY Mellon is a top dividend stock for 2017. And since the stock has gotten Warren Buffett's approval, maybe income investors should take a look at it too.