Warren Buffett Is Buying These Top Dividend Stocks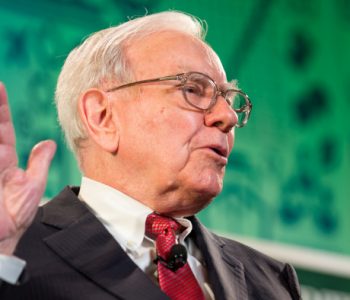 Fortune Live Media/Flickr
Here's What Buffett Is Buying
No doubt, Warren Buffett is one of the best investors on the planet.
His partnership began purchasing shares of Berkshire Hathaway Inc. (NYSE:BRK.B) aggressively in 1965, paying about $14.80 each. Over the following decades, Buffett grew the textile maker into a sprawling conglomerate with operations in dozens of industries. Today, a single Berkshire Hathaway Class A share (NYSE:BRK.A) costs over $300,000.
Thanks to that type of performance, Buffett has cemented his place among investing legends like George Soros and Julian Robertson.
Based on Buffett's remarkable track record, I always pay close attention to what stocks he's buying. And right now, he's making some interesting bets on some top dividend stocks. (Source: "Berkshire Hathaway Inc. Form  13F Information Table," U.S. Securities and Exchange Commission, last accessed August 15, 2018.)
In the most recent quarter, Berkshire dramatically increased its holdings in certain major stocks. I've highlighted them in the table below.
| | | |
| --- | --- | --- |
| Company | Market Cap | Yield |
| Apple Inc. | $1.0 Trillion | 1.4% |
| Goldman Sachs Group Inc | $87.2 Billion | 1.4% |
| U.S. Bancorp | $88.0 Billion | 2.3% |
| Delta Air Lines, Inc. | $38.4 Billion | 2.6% |
| General Motors Company | $52.1 Billion | 4.2% |
(Source: Google Finance, last accessed August 15, 2018.)
Let's say a few words about these companies.
It really shouldn't shock investors that Buffett boosted his stake in Apple Inc. (NASDAQ:AAPL). Over the past few months, both Buffett and his vice chairman, Charlie Munger, hinted that they'd like to own more of the tech giant. Buffett bought almost 12.4 million Apple shares during the second quarter, upping his stake by five percent ($2.6 billion) to $46.6 billion.
It's not hard to see why Apple has caught Berkshire's attention. Over the past few years, Apple has generated more cash than any other business in history. Most of this cash flow gets passed onto investors in the form of growing dividends and buybacks.
And with the stock trading for only 13 times forward earnings, shares look reasonably priced. If you back out all of the cash sitting on Apple's balance sheet, investors really only value the business at eight to nine times profits.
Readers should also note that Berkshire added nearly $1.2 billion in bank investments. It's not a big surprise that Buffett and his team may have wanted to scoop up some shares at a perceived discount. Financial stocks have underperformed the broader market so far in 2018, and the shares look like bargains relative to the rest of the market.
Buffett has regarded U.S. Bancorp (NYSE:USB) and Goldman Sachs Group Inc (NYSE:GS), in particular, as two of the best-run institutions in the country.
Buffett has also quietly built up positions in a number of airline stocks for years. Now it appears he's picking favorites. During the second quarter, Berkshire boosted its stake in Delta Air Lines, Inc. (NYSE:DAL) by almost 19% and trimmed its position in other companies.
Some analysts have speculated that Buffett may want to take one or more of the top air carriers private in the near future. By concentrating his bets on a few names, Buffett has added fuel to that speculation.
Berkshire also seems to see value in the automotive industry. Last quarter, the company upped its stake in General Motors Company (NYSE:GM) by two percent ($51.1 million). GM shares have come under pressure on fears that higher interest rates and slower consumer spending could crimp sales. Buffett obviously doesn't share these concerns. And given that General Motors shares trade at a single-digit price-to-earnings multiple, the stock may be a bargain.