Walt Disney Co: Smart Gambles Could Send Disney Stock Higher
iStock.com/R&A Studio
Savvy Bets Send Walt Disney Co Higher
In a casino, smart gamblers stack the odds in their favor. And Walt Disney Co (NYSE:DIS), it appears, seems to be the card counter at the blackjack table.
The entertainment giant has scored big on our love for nostalgia. Star Wars: The Force Awakens smashed all-time box office records, grossing almost $937.0 million in 2015. (Source: "Star Wars: The Force Awakens," Box Office Mojo, last accessed Jun 4, 2019.)
Disney has also hit the jackpot with remakes of the company's classics, such as "Aladdin," "Christopher Robin," "The Lion King," and "The Jungle Book."
And the company seems to only be doubling down.
In May, executives revealed an extensive list of movies that the company's film studio has been cooking up. The announcement confirmed three untitled "Star Wars" films, six live-action remakes, and three new animated movies. Disney's road map also includes a sequel to "Indiana Jones," which will be the fifth installment in the series. (Source: "Disney's movie schedule for 2019, 2020 and beyond including Star Wars, Marvel and the live-action remakes," Digital Spy, May 8, 2019.)
But it was Disney's strategy to begin cashing in on its recent acquisition of 20th Century Fox that impressed analysts most. The company will be making several updates to former Fox properties, including the "Kingsman" and "X-Men" franchises. The announcement also confirmed four more "Avatar" movies, follow-ups to one of the highest grossing movies in history. (Source: Ibid.)
Disney's big bets on acquisitions will likely pay off. Under the stewardship of CEO Bob Iger, the company has made major purchases on a regular schedule over the past few years: Pixar in 2006, Marvel in 2009, Lucasfilm in 2012, and 21st Century Fox in 2019. Disney management squeezes as much value from these properties by folding them into the company's conglomeration of different businesses such as movies, theme parks, and consumer products.
We can already see the financial impact of these acquisitions. Disney revenues jumped eight percent last year, topping $59.4 billion. Earnings came in at $8.36 per share, up 47% from 2017. Excluding extraordinary items, earnings during the fourth quarter jumped 38% year-over-year. Analysts expect growth numbers like those from fast-growing tech startups, not the world's largest entertainment company.  (Source: "The Walt Disney Company Reports Fourth Quarter and Full Year Earnings For Fiscal 2018," Walt Disney Co, November 8, 2019.)
Investors have cashed in too. In November, Disney boosted its semi-annual dividend by five percent to $0.88 per share. Over the past year, shares have delivered a total return, including distributions, of 27%. That crushes the gains from the broader S&P 500 and it ranks Disney stock near the top performers in the index. (Source: "The Walt Disney Company Announces Semi-Annual Cash Dividend of $0.88 Per Share," Walt Disney Co, November 28, 2018.)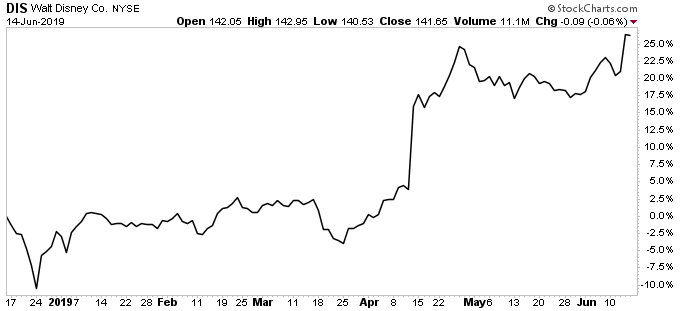 Chart courtesy of StockCharts.com
Of course, not every bet has gone Disney's way. Last quarter, the company took a $353.0 million write-down on its investment in struggling online news giant Vice Media. (Source: "Disney reports strong second-quarter, but takes $353 million write-down on Vice," Tech Crunch, last accessed June 17, 2019.)
Furthermore, cord-cutting, changing demographics, and divisive political commentary has hammered ratings at Disney's sports channel, ESPN.
That said, Walt Disney Co doesn't have to win every wager. The company only has to wait for the odds to tilt in its favor and it should make a fortune over the long run.
So far it seems that this discipline has paid off, which is good for investors.