Walt Disney Co: This Number Shall Leave Disney Stock Bears Speechless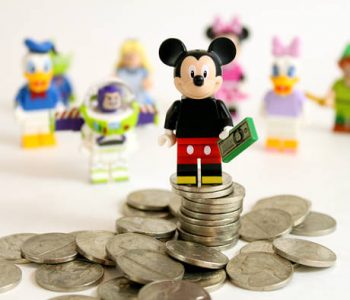 Major Upside in Disney Stock?
As you probably know, Walt Disney Co (NYSE:DIS) stock hasn't really been a star performer this year. Despite its recent surge, Disney stock just managed to break even year-to-date. However, there is one number just showed the strength of the entertainment giant: $7.0 billion.
That's how much Disney's movies have generated at the global box office so far this year. What's so special about that number? Well, that means that Disney has set a new industry record for biggest global box office haul in a single year. (Source: "The Walt Disney Studios To Hit Industry First $7 Billion At Global box Office Today," Walt Disney Co, December 19, 2016.)
However, if you have been following the company, this shouldn't really come as a surprise. In particular, Disney had a number of box office hits this year. Among the six highest-grossing movies in the U.S. in 2016, four were from Disney: Finding Dory, Captain America: Civil War, The Jungle Book, and Zootopia. (Source: "2016 Domestic Grosses," Box Office Mojo, last accessed December 23, 2016.)
But that's not all. The thing that really helped Disney break that record was the latest Star Wars movie, Rogue One: A Star Wars Story. The new movie generated over $155.0 million at the domestic box office over its opening weekend, marking the second-best opening in the month of December. Which movie had the the best opening? Star Wars: The Force Awakens, which was also from Disney. (Source: "Top Opening Weekends By Month," Box Office Mojo, last accessed December 23, 2016.)
Note that globally, Rogue One generated $290.0 million at the box office in five days of release. Also, the movie is yet the open in South Korea (December 28) and China (January 6).
What does all this mean for Disney stock? Well, it suggests that last year's success at the box office wasn't a one-time event. Rather, through acquisitions such as Pixar, Marvel Entertainment and Lucasfilm, Disney has built a solid Studio Entertainment segment.
Sponsored Advertising Content: Insurance Return Checks: Your Second Source of Income
In recent quarters, Studio Entertainment has been the biggest growth driver at Disney. In the company's fiscal 2016, ended October 1, revenue from Studio Entertainment surged 28% to $9.4 billion. The segment's operating income improved as well, by an even-more-impressive 37%, to $2.7 billion. (Source: "The Walt Disney Company Reports Fourth Quarter and Full Year Earnings for Fiscal 2016," Walt Disney Co, November 10, 2016.)
Of course, Studio Entertainment is not the biggest segment of the company. And Disney stock bears would argue that cord-cutting would keep affecting the company's biggest segment, Media Networks.
The thing is, the situation might not be as bad as they think. In the fiscal year that just ended, revenue from Disney's Media Networks actually grew two percent from the previous year to $23.6 billion.
Combining growth in Media Networks, Parks and Resorts, and Studio Entertainment, Disney's total revenue for the fiscal year went up by six percent.
What about the bottom line? Well, as it turned out, adjusted earnings for the fiscal year came in at $5.72 per share, up 11% from the year-ago period.
That is to say that both the top and bottom line showed sizable improvements. But Disney stock didn't really get much attention until recently, which means its valuation hasn't bloated like many other stocks in the market today.
Trading at $105.14 on Friday morning, Disney stock has a price-to-earnings (P/E) multiple of 18.35 times. If you use the expected earnings for the next fiscal year, you'd see that the company has a forward P/E of just 15.78 times. (Source: "DIS Key Statistics," Yahoo! Finance, last accessed December 23, 2016.)
The Bottom Line on DIS Stock
In 2017, there are plenty of catalysts for the company's Studio Entertainment segment. For instance, Beauty and the Beast, Guardians of the Galaxy Vol. 2, and Pirates of the Caribbean: Deal Men Tell No Tales are almost guaranteed to become box office hits.
No doubt, Disney stock missed out on the stock market rally in 2016. But with the ability to dominate global box office and a Media Networks segment that's not as bad as people think, Disney stock could see some serious upside in 2017.