Walmart Inc: 1 Dividend Stock for the Next 50 Years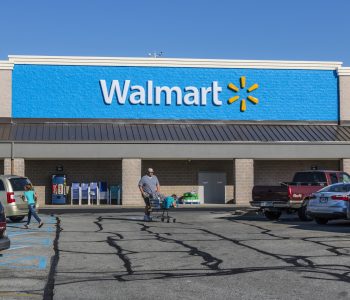 iStock.com/jetcityimage
WMT Stock Is a Top Pick for Income Investors
If you are searching for a stock to put in a "set and forget" dividend portfolio, then look no further than Walmart Inc (NYSE:WMT).
As the biggest retailer in the world, Walmart needs no introduction. Chances are you've been to one of Walmart's locations. Right now, the company has over 11,700 stores under 65 banners located in 28 countries around the world.
Of course, if you've been following the markets, you would know that the retail industry hasn't been in the best of shape. Due to the expansion of e-commerce platforms, several brick-and-mortar retailers have experienced substantial declines in year-over-year sales.
And that's why Walmart Inc is special. While the company operates the largest physical store network in the world, it manages to thrive even as consumers embrace online shopping.
Thriving Despite e-Commerce Headwinds
Consider this: in Walmart's fiscal-year 2018, which ended January 31, the company's total revenue grew three percent year-over-year to $500.3 billion. Comparable sales at Walmart U.S.—the company's biggest segment—increased 2.1% from the previous fiscal year. (Source: "Walmart U.S. Q4 comps grew 2.6% and Walmart U.S. eCommerce sales grew 23%, Walmart U.S. full year comps grew 2.1% and Walmart U.S. eCommerce sales grew 44%, Fiscal year 2018 GAAP EPS of $3.28; Adjusted EPS of $4.42, Company expects fiscal 2019 EPS of $4.75 to $5.00," Walmart Inc, February 20, 2018.)
Earlier this month, the company reported financial results for the first quarter of its fiscal-year 2019. And things were equally impressive.
In the 13-week period ended April 27, 2018, Walmart's revenue totaled $122.7 billion, representing a 4.4% increase from the year-ago period. Comparable sales at Walmart U.S. grew 2.1% year-over-year, driven by a 0.8% increase in comp traffic and a 1.3% increase in average ticket. (Source: "Walmart U.S. Q1 comps grew 2.1% and Walmart U.S. eCommerce sales grew 33%, Company reports Q1 GAAP EPS of $0.72; Adjusted EPS of $1.14," Walmart Inc, May 17, 2018.)
What's more is that, instead of being slowed down by online vendors, the company managed to turn e-commerce into a catalyst.
You see, Walmart also has its own e-commerce segment. In the company's fiscal-year 2018, e-commerce sales at Walmart U.S. surged 44%, while gross merchandise volume went up 47%.
Returning Cash to Investors
With a deeply entrenched market position, Walmart can afford to have a generous distribution policy. The company currently pays quarterly dividends of $0.52 per share, which comes out to an annual yield of 2.5%.
You can find plenty of stocks with higher yields. However, few companies in the world can match Walmart stock's ability to consistently raise its payout. Just ask any long-time investor of WMT stock and you'll see what I mean.
Walmart declared its first dividend in March 1974. Since then, the company has raised its payout every single year. (Source: "Dividend History," Walmart Inc, last accessed May 24, 2018.)
That's 45 consecutive years of annual dividend increases!
The beauty of an ever-increasing dividend stream is that it gives investors peace of mind. The stock market had plenty of downs over the last 45 years, and Walmart stock also had its fair share of downturns. But with annual dividend increases, the company has given investors a convincing reason to hold onto their shares.
Over the years, long-time investors of Walmart Inc enjoyed not only much higher yield on cost, but also substantial share price appreciation along the way. It was perfect for a "set and forget" investment portfolio.
A Durable Business
And if you are wondering whether those dividend increases could continue, don't worry. Even though retail is not the hottest sector right now, Walmart's business remains rock-solid.
Since the beginning, Sam Walton—Walmart's founder—has pursued a strategy of selling products at low prices to get higher volume. And it worked. Today, Walmart is known for its "Everyday Low Prices." Around the world, nearly 270 million customers visit Walmart's stores every week.
Walmart's huge presence in the retail world gives it leverage when negotiating with its suppliers. Think about it: if you are a consumer goods manufacturer, wouldn't you want your products to be sold on Walmart's store shelves?
As a result, Walmart's bargaining power allows it to extract the best possible deals from consumer goods suppliers, vendors, and manufacturers. Then, it can pass some of those savings on to consumers by selling the products at cheaper prices than other retailers do, further strengthening Walmart's "Everyday Low Prices" appeal.
That's why even though the overall retail industry is experiencing headwinds, people are still frequenting Walmart's stores.
Bottom Line on Walmart Inc
At the end of the day, don't forget that despite all the dividend hikes, Walmart's payout remains safe. In its fiscal-year 2018, the company generated adjusted earnings of $4.42 per share, which covered its annual dividend of $2.04 per share more than twice over.
Combining such a conservative payout ratio with a growing business, the company should have no problem continuing its dividend increase track record.
For those reasons, Walmart stock is a top pick for 2018 and beyond.