Walmart Inc: WMT Stock's Pullback Could Be an Opportunity for Dividend Investors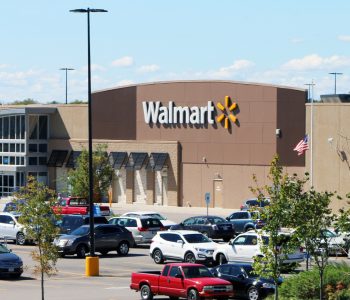 iStock.com/TennesseePhotographer
Time to Take a Look at Walmart Stock
Quality items seldom go on sale. So when a stock as solid as Walmart Inc (NYSE:WMT) is having a pullback, it deserves the attention of income investors.
Walmart stock had a good run last year, but most recently, it hasn't been a hot commodity. Since reaching a high of $109.98 per share in January, WMT stock has plunged more than 20%. That's quite a sizable drop for a giant company commanding over $250.0 billion of market cap.
One of the main reasons behind Walmart stock's downturn was its fourth-quarter earnings report. In the three-month period ended January 31, 2018, the retailer generated adjusted earnings of $1.33 per share. While the number represented a 2.3% improvement year-over-year, it missed Wall Street's earnings per share estimate of $1.37. (Source: "Walmart U.S. Q4 comps grew 2.6% and Walmart U.S. eCommerce sales grew 23%, Walmart U.S. full year comps 1 grew 2.1% and Walmart U.S. eCommerce sales grew 44%, Fiscal year 2018 GAAP EPS of $3.28; Adjusted EPS2 of $4.42, Company expects fiscal 2019 EPS of $4.75 to $5.00," Walmart Inc, February 20, 2018.)
And then there was the company's performance in the e-commerce segment. For brick-and-mortar retailers, the biggest investor concern over the last several years has been the rise of online shopping platforms. Fortunately, Walmart has also been expanding its own e-commerce segment. In the third quarter of Walmart's fiscal year 2018, the company's e-commerce sales in the U.S. grew 50% year-over-year, while gross merchandise volume (GMV) increased by 54%. (Source: "Walmart U.S. Q3 comps grew 2.7% and Walmart U.S. eCommerce sales grew 50%, Company reports Q3 FY18 GAAP EPS of $0.58; Adjusted EPS2 of $1.00, The company now expects full-year GAAP EPS of $3.84 to $3.92, Adjusted full-year EPS2 of $4.38 to $4.46," Walmart Inc, November 16, 2017.)
However, in the fourth quarter, Walmart U.S. reported e-commerce sales growth of 23% and GMV growth of 24%. While those numbers still represented a solid improvement from the year-ago period, the rate of growth was much slower than previous quarters. What's more, that triggered a sell-off in the company's shares; Walmart stock plunged as much as 10.2% in the trading session following the earnings report, marking its worst performance since January 1988.
The thing is, though, because dividend yield moves inversely to share price, the recent downturn in WMT stock allowed its yield to rise to 2.4%. While there are plenty of higher-yielding stocks trading in the market, keep in mind that the average dividend yield of all S&P 500 companies stands at less than 1.8% right now.
Moreover, because the company consistently raises its dividend, investors who purchase WMT stock today and hold on to their shares for the long haul will likely collect much higher yield on cost than the current 2.4%. As a matter of fact, since Walmart declared its first-ever dividend in 1974, the company has increased its payout every single year. In just the last decade alone, WMT stock's quarterly dividend rate has grown by over 90%. (Source: "Dividend History," Walmart Inc, last accessed March 15, 2018.)
Walmart also has no problem covering its payout. In the company's fiscal year 2018, it generated adjusted earnings of $4.42 per share while declaring cash dividends of $2.04 per share. That translated to a payout ratio of 46%.
Here at Income Investors, we prefer companies that pay out less than 75% of their profits due to the margin of safety. Walmart stock's conservative payout ratio is well within our comfort zone.
Furthermore, despite the recent change in market sentiment towards WMT stock, the company is still growing its business. In the most recent quarter, Walmart U.S. reported comparable sales growth of 2.7%, driven by a 1.5% increase in comp traffic.
Earlier this month, Walmart announced that it plans to expand its "Online Grocery Delivery" service to over 100 metro areas in the country by the end of the year, reaching more than 40% of U.S. households. If everything goes as planned, it could significantly boost the company's e-commerce presence. (Source: "Walmart to Expand Online Grocery Delivery Coast to Coast," Walmart Inc, March 14, 2018.)
In today's bloated stock market, value is hard to find. With solid growth prospects and an increasing dividend, the beaten-down WMT stock could be an opportunity for income investors.