Walmart Inc: Should Investors Pick Up WMT Stock on the Cheap?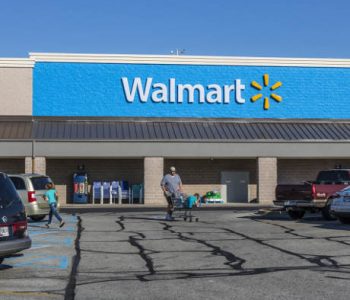 iStock.com/jetcityimage
Walmart Stock Could Be an Opportunity
Large-cap, blue-chip companies have always been popular among income investors. Because these companies are highly sought after, investors usually have to pay a premium to add them to their portfolio. Therefore, when something as solid as Walmart Inc (NYSE:WMT) is having a pullback, it deserves our attention.
Walmart has a deeply entrenched position in the retail marketplace. With total revenue of over $500.0 billion last year, Walmart is by far the largest retail chain operator in the world. (Source: "Company Facts," Walmart Inc, last accessed June 26, 2018.)
Of course, if you have been following the markets, you would know that the retail industry hasn't really been an investor favorite. In particular, because of the success of online vendors like Amazon.com, Inc. (NASDAQ:AMZN), some are worried that consumers might leave brick-and-mortar retailers.
Furthermore, the U.S. stock market had a correction earlier this year. Even the Dow Jones Industrial Average, which is made up of some of the most established companies in the world, tumbled more than 10% from January 26 to February 8.
Combining the threat from e-commerce and a market correction, Walmart stock took a serious hit. Since the end of January, shares of the retail behemoth plunged more than 18%. That was quite a drop considering that Walmart is a huge company, commanding more than $250.0 billion of market capitalization.
The big question, of course, is what income investors should do in this case. Well, in my opinion, it's time to use my favorite quote from legendary investor Warren Buffett: "Be fearful when others are greedy and greedy when others are fearful." Let me explain.
Walmart Inc: Good Value for Money?
As I mentioned earlier, solid companies often trade at a premium in today's market. And now, WMT stock's dip has made it appealing from a valuation perspective.
You see, Walmart has a trailing 12-month price-to-earnings (P/E) multiple of 29.58 times, significantly lower than the industry's average P/E multiple of 95.77 times. Moreover, its price-to-sales ratio (0.50x) and price-to-cash-flow ratio (12.45x) are also substantially lower than the industry's averages (1.54x and 39.54x, respectively). (Source: "Walmart Inc (WMT.N)," Reuters, last accessed June 26, 2018.)
Going for a cheap stock isn't always the best strategy. However, note that while Walmart shares haven't been a hot commodity, the company's business remains rock-solid.
Walmart last reported earnings on May 17, 2018. In the first quarter of its fiscal year 2019, which ended April 27, 2018, the company's total revenue grew 4.4% year-over-year to $122.7 billion. (Source: "Walmart U.S. Q1 comps 1,2 grew 2.1% and Walmart U.S. eCommerce sales grew 33%, Company reports Q1 GAAP EPS of $0.72; Adjusted EPS2 of $1.14," Walmart Inc, May 17, 2018.)
Comparable store sales, a critical measure of a retailer's performance, rose 2.1% from a year ago at Walmart U.S. This was driven by a 1.3% increase in the average ticket and a 0.8% increase in comp traffic.
Turning E-Commerce into a Catalyst
And if you are concerned about how the company will perform as the e-commerce industry further expands, don't worry. Walmart also has its own online retail channel, and business has been booming.
In the first quarter of the company's fiscal 2019, Walmart's e-commerce sales grew 33% from a year ago. During the latest earnings conference call, company President and Chief Executive Officer Doug McMillon said that management expect the segment to deliver 40% sales growth for the full fiscal year. (Source: "First Quarter Fiscal Year 2019 Earnings," Walmart Inc, May 17, 2018.)
Last month, Walmart announced that it would buy 77% of Flipkart Group, the leading online shopping platform in India, for approximately $16.0 billion. The deal would allow the retail giant to capitalize the growth in India's rapidly growing e-commerce industry. (Source: "Walmart to Invest in Flipkart Group, India's Innovative eCommerce Company," Walmart Inc, May 9, 2018.)
Growing Dividends
Usually, the purpose of buying a beaten-down stock is to profit from the future surge in share price. But in the case of WMT stock, investors have another way to make a return: through dividends.
You see, Walmart belongs to an elite group of companies called "dividend aristocrats." To join the list, a company needs to have at least 25 consecutive years of annual dividend increases.
In fact, Walmart joined that club a long time ago. Since declaring its first-ever dividend in 1974, the company has raised its annual payout every single year. (Source: "Dividend History," Walmart Inc, last accessed June 26, 2018.)
Today, WMT stock has a quarterly dividend rate of $0.52 per share, which translates to an annual yield of 2.4%.
Investors wishing to pick up a solid dividend stock for a good price should take a serious look at Walmart Inc.