Walmart Inc: A New Reason to Like an Old Dividend Giant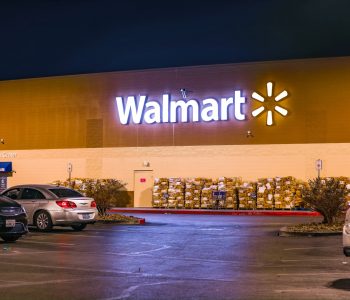 Walmart Stock Is an Income Investor's Favorite
Income investors have always liked Walmart Inc (NYSE:WMT). The Bentonville, Arkansas-based retail corporation now has around 11,500 stores under 56 banners in 27 countries around the world. More than 265 million customers visit Walmart's stores every week, and, as a result, the company is well positioned to pay reliable dividends.
In fact, since Walmart declared its first ever cash dividend in March 1974, the company has raised its payout every single year. (Source: "Walmart Raises Annual Dividend to $2.16 per Share, Marking 47th Consecutive Year of Dividend Increases," Walmart Inc, February 18, 2020.)
The latest dividend hike came on February 18, when Walmart's board of directors approved an annual dividend of $2.16 per share for the company's fiscal-year 2021, which began on February 1, 2020. The amount represented an increase of almost two percent from the $2.12 per share paid in Walmart's fiscal 2020. The new annual dividend will be paid in quarterly installments of $0.54 per share.
The announcement marked the company's 47th consecutive annual dividend increase. That is a very impressive track record, given that the world economy has had plenty of ups and downs during the last 47 years.
And now there is a new reason to consider this decades-old business: e-commerce.
This Could Be a Big Deal for WMT Stock
Walmart has been operating its e-commerce platform for some time and has grown it by quite a bit. But its new strategy could take the company to a whole new level.
Walmart will be launching a subscription-based service called "Walmart+." The service, which will cost $98.00 a year, includes same-day delivery of groceries and general merchandise, as well as discounts on fuel at Walmart gas stations, among other perks. (Source: "Walmart's Amazon Prime Competitor Will Launch in July," Recode, July 7, 2020.)
Walmart initially planned to launch Walmart+ in late March or April, but the plan was delayed due to the outbreak of COVID-19. Sources told Recode that Walmart would launch the program in July.
Investors love the strategy. On July 7, when Recode reported the news about Walmart+, Walmart stock surged seven percent.
And it's pretty obvious why this is such a big deal for the retailer. Walmart+ will essentially be competing with "Amazon Prime," a subscription program from e-commerce giant Amazon.com, Inc. (NASDAQ:AMZN). Amazon's membership service costs $119.00 a year and offers a portfolio of perks like fast and free shipping, on-demand video streaming, and discounts at "Whole Foods" stores (which are owned by Amazon).
First launched in 2005, Amazon Prime now has over 150 million members around the world. The program has been critical to Amazon's success. The idea is, when a customer pays to become a member of an e-commerce platform, they will try to shop on that platform as often as possible in order to get the most value out of it. If Walmart can build a loyal following with its own subscription program Walmart+, it could significantly boost its e-commerce business.
The best part is that, even as it stands, Walmart's e-commerce platform is already firing on all cylinders. In the first quarter of the company's fiscal-year 2021, which ended April 30, 2020, e-commerce sales at Walmart U.S. surged 74% year-over-year, reflecting "strong results for grocery pickup and delivery services, walmart.com and marketplace." (Source: "Walmart U.S. Q1 Comp Sales Grew 10.0% and Walmart U.S. Ecommerce Sales Grew 74%, Q1 FY21 GAAP EPS of $1.40; Adjusted EPS of $1.18, Company Incurs Incremental Costs Related to COVID-19 of Nearly $900 Million, Provides Update on the Business Amid Global Health Pandemic," Walmart Inc, May 19, 2020.)
And while many companies are struggling due to the COVID-19 pandemic, the essential nature of Walmart's services means the business is actually booming in this challenging economic environment.
In the first fiscal quarter, comparable-store sales at Walmart U.S. surged 10%, reflecting sales growth in consumables, food, health and wellness, and some general merchandise categories. At the company level, Walmart generated $134.6 billion of total revenue in the quarter, marking an 8.6% increase year-over-year. On a currency-neutral basis, Walmart's top-line number would have grown 9.7%.
Walmart Inc Could Deliver Both Income and Growth
At this point I should point out that, while adding Walmart+ as a new catalyst, WMT stock still appeals to income investors.
In Walmart's fiscal-year 2020, which ended January 31, the company earned adjusted net income of $4.93 per share while paying total dividends of $2.12 per share. That translated to a payout ratio of 43%. (Source: "Walmart U.S. Q4 Comp Sales Grew 1.9% and Walmart U.S. Ecommerce Sales Grew 35%, Q4 FY20 GAAP EPS of $1.45; Adjusted EPS of $1.38, Disruption in Chile and a Legal Matter Lowered GAAP and Adjusted EPS by About $0.05, Fiscal Year 2020 GAAP EPS of $5.19; Adjusted EPS of $4.93, FY21 Guidance Includes Net Sales Growth of About 3%; U.S. Comp Sales Growth of at Least 2.5%; U.S. Ecommerce Net Sales Growth of About 30%; EPS of $5.00 to $5.15," Walmart Inc, February 18, 2020.)
In the first fiscal quarter of 2021, Walmart's adjusted profit came in at $1.18 per share. Again, the amount covered the company's quarterly dividend payment of $0.54 per share more than twice over. (Source: Walmart Inc, May 19, 2020, op. cit.)
With a conservative payout ratio, a growing business, and a long history of annual dividend increases, the company is set to keep growing its payout year after year. Walmart stock currently yields 1.6%, but I'm pretty sure if an investor purchases shares today, they will earn a higher yield on cost in a few years' time.
And since Walmart is about to launch something that could fuel its e-commerce revenue, WMT stock is worth considering for growth investors, too.