Walmart Inc: Mega-Cap Dividend Stock Soaring to New Highs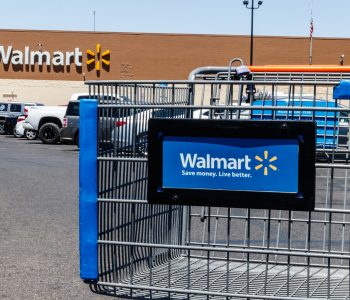 iStock.com/jetcityimage
WMT Stock Delivering Big Returns
"Investors wishing to pick up a solid dividend stock for a good price should take a serious look at Walmart Inc."
That's what I told readers of Income Investors back in June 2018. At that time, Walmart Inc (NYSE:WMT) stock was having a pullback, so I explained why investors might want to consider this solid dividend payer on the cheap.
I hope you took advantage of that piece. Since the article was published, Walmart stock has surged more than 28%. At the same time, the company has also raised its dividend payment to shareholders.
That was quite a rally, especially considering that Walmart is a blue-chip company commanding more than $300.0 billion in market capitalization. In fact, as of this writing, the latest surge in WMT stock has sent it to a new all-time high.
Walmart Inc (NYSE:WMT) Stock Chart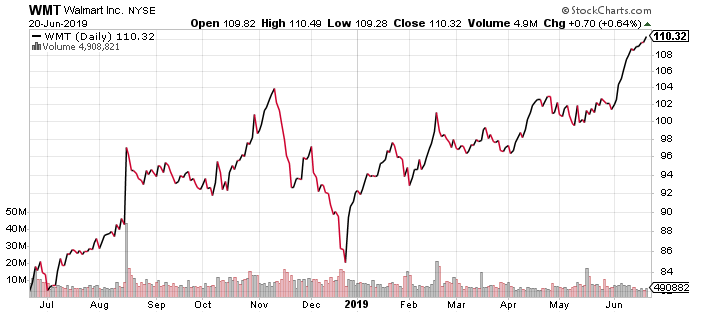 Chart courtesy of StockCharts.com
What I really saw in Walmart, and what I still see today, is the company's durable competitive advantage.
You see, in my opinion, Walmart has two main characteristics: it is really big, with more than 11,300 stores located in 27 countries around the world, and it is known for "Everyday Low Prices."
Having an expansive retail network gives Walmart bargaining power when it comes to negotiating deals with suppliers. Walmart's store network receives over 275 million customer visits every week; that's a network that most suppliers would want to reach. As a result, many of them are willing offer good deals to Walmart so they can put their stuff on Walmart's store shelves.
And by extracting the best possible deals from its suppliers, Walmart Inc can offer lower prices to its customers. As more customers shop at Walmart, the company's retail network gets strengthened, further boosting its bargaining power with suppliers. This virtuous cycle has been working for decades and equipped Walmart with a unique competitive advantage.
Of course, we live in an era where e-commerce is booming. And not all retailers are doing well. In fact, if you read the news, you'll see that media is now using the words "retail apocalypse" in the headlines.
Still, Walmart is doing more than fine. Just take a look at the latest quarterly report and you'll see what I mean: in the three-month period ended April 30, 2019, same-store sales at Walmart U.S. increased 3.4%. Notably, this marked the fourth consecutive quarter in which Walmart U.S. posted comparable sales growth of three percent or better. (Source: "Walmart U.S. Q1 comp sales1 grew 3.4% and Walmart U.S. eCommerce sales grew 37%, Company reports Q1 FY'20 GAAP EPS of $1.33; Adjusted EPS2 of $1.13, led by strength at Walmart U.S.," Walmart Inc, May 16, 2019.)
The company also managed to turn e-commerce into a catalyst. In the reporting quarter, e-commerce sales at Walmart U.S. grew 37%.
At the company level, Walmart's total revenue grew 2.5% year-over-year on a constant currency basis.
Still a Solid Dividend Growth Stock
So Walmart is retail behemoth that's still growing its business and WMT stock has been soaring. What does that mean for income investors?
Well, due to the inverse relationship between dividend yield and share price, a soaring Walmart stock means its yield has gotten lower. Priced at $110.32 per share, Walmart Inc offers an annual yield of 1.9%.
What could make WMT stock worth considering for income investors right now is its dividend growth. In February, the company's board of directors approved a quarterly dividend rate of $0.53 per share, representing a 1.9% increase from the prior dividend. With that announcement, Walmart Inc has increased its dividend every year for 46 consecutive years. (Source: "Walmart Raises Annual Dividend to $2.12 per Share, Marking 46th Consecutive Year of Dividend Increases," Walmart Inc, February 19, 2019.)
There's also plenty of room for future dividend increases. In the previous fiscal year, Walmart earned an adjusted profit of $4.91 per share while declaring $2.08 per share in total dividends, achieving a very conservative payout ratio of just 42.4%. For the current fiscal year, management expects the company's adjusted earnings per share to increase by low- to mid-single-digit. (Source: "Walmart U.S. Q4 comp sales1 grew 4.2% and Walmart U.S. eCommerce sales grew 43%, Q4 2019 GAAP EPS of $1.27; Adjusted EPS2 of $1.41, Fiscal year 2019 GAAP EPS of $2.26; Adjusted EPS2 of $4.91, Company reiterates fiscal 2020 guidance," Walmart Inc, February 19, 2019.)
After its recent surge, Walmart stock doesn't offer much in terms of current yield, but the dividend growth thesis remains intact.