Walmart Inc: Why Investors Should Check Out WMT Stock Right Now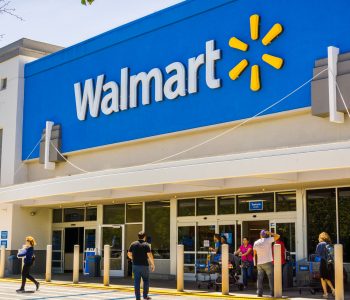 iStock.com/Andrei Stanescu
Time to Get a "Pay Raise"
I like companies that give investors regular "pay raises."
You risk your hard-earned money in the volatile stock market. Shouldn't the company you invest in give you something in return?
Indeed, in the case of many solid companies, that return can come with certainty, in the form of regular dividend checks.
That is, you don't have to worry about whether the stock will go up or when the best time to exit a position is in order to make a profit. The profit—a dividend check—gets delivered to your doorstep, usually every three months.
And if you are an investor of Walmart Inc (NYSE:WMT) common stock, those dividend checks can go up significantly over time.
Now is a particularly good time to take a look at Walmart stock. The company is going to report earnings soon, and based on my analysis, management will likely give shareholders another pay raise.
What to Expect From Walmart Inc Earnings
First things first: the company has a set of expectations to beat this earnings season.
Walmart Inc operates around a fiscal year that ends on January 31. The upcoming earnings report is for the fourth quarter of its fiscal 2019, which ended January 31, 2019.
For the quarter, Wall Street expects Walmart to pull $138.66 billion in revenue, which would represent a 1.8% increase year-over-year. On the bottom line, analysts expect the Bentonville, Arkansas-based retail giant to earn a net income of $1.33 per share for the quarter, which would be same as the amount it earned in the year-ago period. (Source: "Walmart Inc. (WMT)," Yahoo! Finance, last accessed February 11, 2019.)
Stats on Walmart Inc
| | |
| --- | --- |
| Earnings Per Share Estimate | $1.33 |
| Change From Year-Ago Earnings Per Share | 0.0% |
| Revenue Estimate | $138.66 Billion |
| Change From Year-Ago Revenue | 1.8% |
| Earnings Beaten in Past Four Quarters | 3 |
Source: Ibid.
Earnings per share (EPS) is arguably the most watched metric for today's stock market participants. So a bottom line that's expected to be flat year-over-year doesn't seem like a good sign, right?
Not so fast.
You see, analysts' expectations are not based on deteriorating fundamentals. Instead, they reflect the impact of a recent investment made by the company.
Last year, Walmart spent around $16.0 billion to acquire a 77% stake in Flipkart Group, one of the largest e-commerce platforms in India. While the move will likely give a significant boost to Walmart's online presence in the years ahead, it would take a toll on the company's short term financials.
In October 2018, management said that the deal would lead to a $0.25-pershare dilution in its fiscal year 2019 adjusted EPS, but that in 2020, "EPS is expected to increase by a low to mid-single digit percentage range versus FY19 adjusted EPS" excluding Flipkart. (Source: "Walmart Underscores Its Unique Assets, Strong Execution and Innovation at Its Investment Community Meeting," Walmart Inc, October 16, 2018.)
Furthermore, at the previous earnings call, Walmart actually raised its fiscal year 2019 adjusted earnings guidance to $4.75 to $4.85 per share. If you add analysts' fourth-quarter EPS estimate to what the company had earned in the first three quarters of the fiscal year, you'd see that Wall Street is expecting full-year EPS of $4.83, which is already near the top of the company's own guidance range. (Source: "Walmart U.S. Q3 comp sales(1) grew 3.4% and Walmart U.S. eCommerce sales grew 43%, Q3 GAAP EPS of $0.58," Walmart Inc, November 15, 2018.)
In other words, if Walmart Inc beats Wall Street's earnings estimates, it just might give another reason for investors to warm up to WMT stock.
Over the past 12 months, the company has beaten analysts EPS estimates in three of the four quarters.
Get Ready for Another Dividend Increase
Of course, in this day and age, beating estimates doesn't necessarily translate to an increase in stock price. There have been quite a few instances where a company outperformed both top- and bottom-line expectations by Wall Street, but its share price still declined after the news release.
Luckily, while sentiment is hard to predict, Walmart shareholders don't need a soaring stock price to earn a buck. The company pays quarterly dividends of $0.52 per share, which comes out to an annual yield of 2.2% for WMT stock.
This is a cash payout that Walmart investors get no matter where the company's stock price is headed.
The best part is that as the company grew its business over the years, its payout to shareholders has also gotten quite a bit bigger:
Walmart Stock Dividend History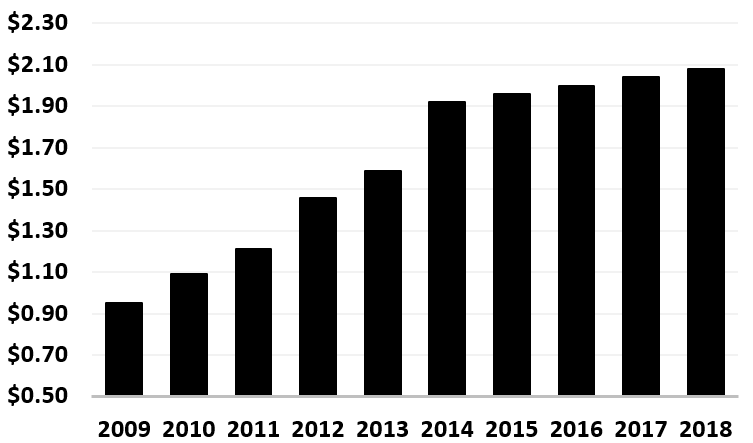 Source: "Dividend History," Walmart Inc, last accessed February 11, 2019.
In just the past 10 years alone, WMT stock's quarterly dividend rate has more than doubled.
If you look further back, you'd see that Walmart has increased its payout to shareholders every year for 45 consecutive years.
With a track record like that, management will definitely want to keep the dividend hike streak alive.
And the good news is, even though the earnings per share figure is expected to be flat in the reporting quarter, Walmart Inc has no problem affording another payout increase.
In the first nine months of its fiscal year 2019, Walmart's adjusted earnings came in at $3.50 per share. It paid total dividends of $1.56 per share during this period. Therefore, the company's profits covered the payout more than twice over.
Looking at the company's cash flow profile, things are equally solid. In the first three quarters of Walmart's fiscal 2019, it generated $10.3 billion in free cash flow while paying $4.6 billion in dividends. That translated to a free cash flow payout ratio of 44.7%, leaving a wide margin of safety. (Source: "Financial presentation to accompany management transcript," Walmart Inc, last accessed February 11, 2019.)
By having a low payout ratio, Walmart also ensures that if management wants to further increase the dividend, there's plenty of room to do so.
The company has paid four quarterly dividends of the same amount and is due for another review of its dividend policy. It is also scheduled to report earnings on Tuesday, February 19, before market open.
In recent years, changes to Walmart's dividend policy are usually announced at around the same time as its fourth-quarter earnings report. Based on the company's fundamentals, I expect Walmart Inc to announce a two-percent increase to its quarterly dividend rate to $0.53 per share next week.