Walmart Inc Earnings: Will WMT Stock Increase Its Dividend?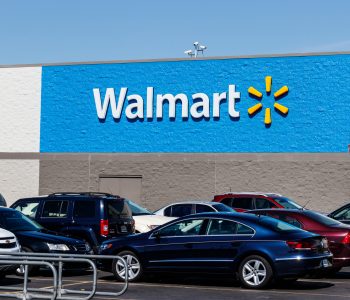 iStock.com/jetcityimage
Walmart Stock Returning More Cash to Investors?
When the market seems to be on the edge of a cliff—like what's happening right now—it's a good idea to check out some solid dividend growth stocks. Walmart Inc (NYSE:WMT), for instance, has been rewarding investors with payout increases for decades. That is, even in years where the stock market tumbled, shareholders of WMT stock still collected bigger dividend checks than they did before.
And since the company is about to report earnings, let's take a look at what the latest Walmart stock news could mean for income investors.
Before we start, I want to point out that despite being a decades-old company operating in the not-so-hot retail business, Walmart stock has performed quite well. Over the past 12 months, WMT shares have climbed more than 20%.
One of the reasons behind the company's solid share price performance was its ability to outperform Wall Street's expectations. You see, as a widely-followed company commanding more than $300.0 billion of market capitalization, Walmart Inc has some expectations to surpass in every earnings season. And over the past 12 months, the company has beaten Wall Street's earnings per share estimates in all four quarters.
This time, analysts expect Walmart Inc to report a revenue of $130.21 billion for the second quarter of its fiscal year 2020, which ended July 31, 2019. The amount would represent a 1.7% increase from the $128.03 billion of sales generated in the year-ago quarter. (Source: "Walmart Inc. (WMT)," Yahoo! Finance, last accessed August 7, 2019.)
For the bottom line, Wall Street expects Walmart to earn a profit of $1.22 per share for the reporting quarter, which would represent a year-over-year decline of 5.4%.
Stats on Walmart Inc
| | |
| --- | --- |
| Estimated Earnings Per Share | $1.22 |
| Change from Year-Ago Earnings Per Share | -5.4% |
| Estimated Revenue | $130.21 Billion |
| Change From Year-Ago Revenue | 1.7% |
| Earnings Beaten in Past Four Quarters | 4 |
Source: Ibid.
Walmart Inc is scheduled to report financial results for the second quarter of its fiscal year 2020 on Thursday, August 15, 2019, before market open. If the company manages to beat both revenue and earnings expectations from Wall Street, it could give investors a reason to continue liking WMT stock.
Other than the top and bottom line numbers, investors will also be watching the company's comparable sales—a critical measure of a retailer's performance. In the previous fiscal quarter, comparable sales at Walmart U.S. increased 3.4%, marking the fourth consecutive quarter in which the metric topped three percent. (Source: "Walmart U.S. Q1 comp sales1 grew 3.4% and Walmart U.S. eCommerce sales grew 37%, Company reports Q1 FY'20 GAAP EPS of $1.33; Adjusted EPS2 of $1.13, led by strength at Walmart U.S.," Walmart Inc, May 16, 2019.)
In an era where many retailers are facing strong headwinds from the e-commerce industry, solid comp sales figures are another reason behind the upward momentum in WMT stock.
And there's more. Speaking of e-commerce, Walmart also happens to turn the booming online shopping trend from a headwind to a catalyst: the company managed to build a solid e-commerce segment of its own. In the previous reporting quarter, e-commerce sales at Walmart U.S. surged 37% year-over-year. Growth was driven by online grocery, and the home and fashion categories on Walmart.com.
Will Walmart Inc Increase Its Dividend?
As I mentioned earlier, Walmart stock has a solid track record of returning cash to investors. In fact, since declaring its first dividend in March 1974, Walmart Inc has raised its payout every single year. (Source: "Dividend History," Walmart Inc, last accessed August 7, 2019.)
Now, if your question is whether Walmart stock will raise its dividend in 2019, the answer is "it already did." On February 19, 2019, the Board of Directors of this Bentonville, Arkansas-based retail giant approved a 1.9% increase to the company's quarterly dividend rate to $0.53 per share, marking Walmart's 46th consecutive annual dividend increase.
The best part is that the company is well-positioned to continue that streak. In Walmart's fiscal year 2019, which ended January 31, the company earned an adjusted net income of $4.91 per share. Its declared dividends, on the other hand, totaled $2.08 per share for the fiscal year. In other words, despite Walmart's consistent dividend hikes over the decades, the company had a payout ratio of just 42.4% in its last fiscal year. (Source: "Walmart U.S. Q4 comp sales1 grew 4.2% and Walmart U.S. eCommerce sales grew 43%, Q4 2019 GAAP EPS of $1.27; Adjusted EPS2 of $1.41, Fiscal year 2019 GAAP EPS of $2.26; Adjusted EPS2 of $4.91, Company reiterates fiscal 2020 guidance," Walmart Inc, February 19, 2019.)
At the end of the day, the stock market—and the overall economy—is facing a lot of uncertainty at the moment. But with a growing business and a low payout ratio, Walmart Inc should have no problem delivering another dividend increase in February 2020.