Walmart Inc Delivers Blunt Reality Check to Wall Street Skeptics
iStock.com/Andrei Stanescu
Walmart Inc Has More Upside
For years, Wall Street has bashed Walmart Inc (NYSE:WMT). It's too stodgy. Its stores are run down. It can't compete against Amazon.com, Inc. (NASDAQ:AMZN).
Those complaints don't seem as loud these days.
In the past few quarters, the retail giant has posted blowout financial results. And since the start of 2016, WMT stock has posted a sizzling total return, including dividends, of 112%. Yet despite this recent run, it could be just the beginning.
Admittedly, investors had good reason to be worried. Customers balked at the company's neglected stores and poor service. Rivals like Amazon and Costco Wholesale Corporation (NASDAQ:COST) had started biting into Walmart's sales. In the past year, analysts worried that tariffs would clip the company's profit margins.
That explains why Walmart stock traded sideways for almost two decades.
But executives have quietly addressed these challenges. Walmart has raised the starting wages for its workers by 50% since 2016, slashing employee turnover. The company has spent billions of dollars on renovating stores, updating inventory, adding new signage, and remodeling departments. A push into groceries has also boosted daily foot traffic.
Moreover, Walmart has turned President Donald Trump's trade war into an opportunity.
To protect their profit margins, most retailers have resorted to raising prices. Walmart Inc, by comparison, has held back, opting instead to squeeze suppliers by pitting them against one another.
As a result, the price gap between Walmart and other grocers has widened and the company keeps gaining market share.
You can see this improvement in Walmart's financial results. In August, the company saw sales at U.S. stores open for at least 12 months jump three by percent year-over-year. That number shocked analysts, which had expected sales growth to come in between one and two percent. (Source: "Walmart Inc. Comparable Sales," Walmart Inc, last accessed October 29, 2019.)
The real opportunity, however, lies online. In recent years, Walmart has spent billions of dollars beefing up its e-commerce presence. This has come primarily through acquisitions like Jet.com, Inc. and Flipkart.
Those investments have paid off.
Last quarter, the company's e-commerce sales jumped 37% year-over-year. With over $20.0 billion in sales, Walmart now represents the fourth-largest online retailer in the country, behind only Amazon, eBay Inc (NASDAQ:EBAY), and Apple Inc. (NASDAQ:AAPL). (Source: "Walmart U.S. Q2 Comp Sales Grew 2.8% and Walmart U.S. eCommerce Sales Grew 37%," Walmart Inc, August 15, 2019.)
Don't be surprised to see the company climb those rankings in the years ahead.
With hundreds of stores nationwide, the company already has a built-in network of distribution hubs. Competitors like Amazon have to build warehouses from scratch. This gives Walmart an edge in overnight and grocery deliveries (at least at the moment).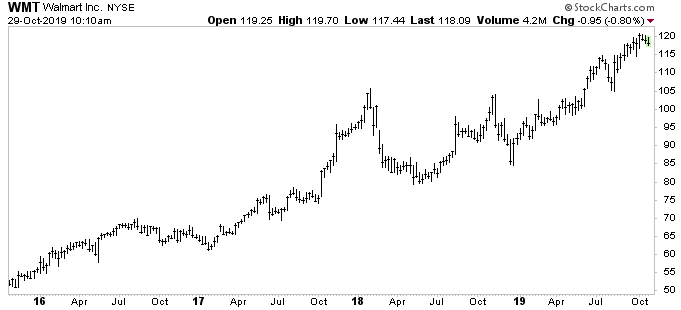 Chart courtesy of StockCharts.com
This should translate into a respectable income stream for investors. Today, WMT stock pays a quarterly dividend of $0.53 per share. That comes out to an annual yield of almost two percent.
This figure might not whet the appetite of the most piggish of yield hogs. But Walmart Inc has boosted its payout in line with profits for decades. As investments in e-commerce begin to pay off, management will have even more cash flow available for distribution hikes and buybacks.
That should keep the skeptics quiet.