Walmart Inc. Has Soared 32% in the Past Year, with More Upside Ahead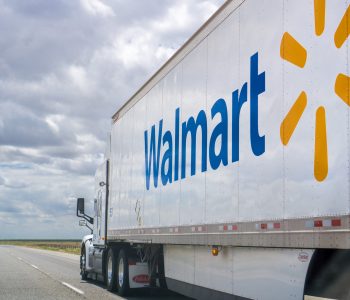 iStock.com/Andrei Stanescu
Blue-Chip Walmart Inc. Delivers Startup-Like Returns
Who says big blue-chip stocks can't grow as fast as small startups?
Walmart Inc (NYSE:WMT) shares have soared 32% in the last year as the world's largest retailer has reignited existing store sales growth. Despite the surge in stock price, though, WMT stock can continue advancing if the company can prove that its recent momentum in comparable-store sales (comps) is sustainable.
Why should readers pay so much attention to comps? Comparable-store sales refers to the change in revenue generated by stores that have been opened for at least 13 months. Given Walmart Inc has over 6,400 locations worldwide, the company has only a limited ability to grow sales by opening more stores. Squeezing more revenue out of existing locations presents the primary way executives can boost their top line.
Walmart posted mediocre comps over the past decade. Since 2010, same-store sales grew by one percent on average per year—barely enough to keep up with inflation. Throughout much of that period, the company actually saw sales from existing locations decline. Investors had good reason to assume the retailer's best days had long past and better opportunities may have lain elsewhere.
However, Walmart Inc now appears poised for a resurgence. The company has posted blowout comps in its most recent financial reports, including same-store sales being up 4.2% in the fiscal fourth quarter and 3.4% in the first. Management has credited the increase to the company's booming grocery sales. And Walmart, like rivals, has also seen a big boost in toy sales, which have benefited from the bankruptcy of former category giant Toys R Us Inc. (Source: "Walmart U.S. Q1 comp sales grew 3.4% and Walmart U.S. eCommerce sales grew 37%," Walmart Inc, May 16, 2019.)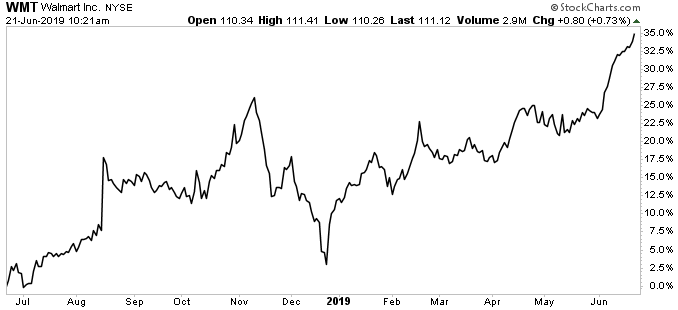 Chart courtesy of StockCharts.com
Same store sales is an important lever to boost top-line results, but it's not the company's only one. The company continues to open new stores worldwide as management completes their international expansion. Last quarter, U.S. e-commerce sales jumped 37%, reflecting strong growth in the Home, Fashion, and online grocery categories on Walmart.com. Thanks to the company's extensive retail network for picking up online orders, Walmart has emerged as one of the few viable competitors to Amazon.com, Inc. (NASDAQ:AMZN).
The Bottom Line on WMT Stock
However, as the retailer continues to mature, comps will play a bigger and bigger role in driving overall profitability. It will also play a bigger role in driving Walmart Inc's stock price and dividend trajectory in the coming years. Thankfully, management expects full-year 2020 global comps to do just that, forecasting same-store sales will grow another three to four percent.