Walgreens Boots Alliance Inc: Time to Consider This Recession-Proof Dividend Stream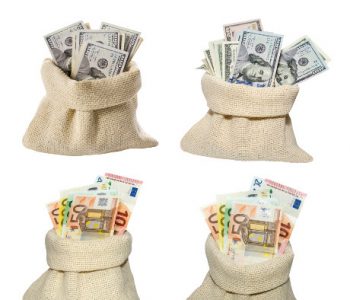 iStock.com/alfexe
If You Want to Earn a Recession-Proof Passive Income, Read This
Markets are having a sell-off. But for investors of this recession-proof dividend stock, there's really not much to worry about.
I'm talking about Walgreens Boots Alliance Inc (NASDAQ:WBA), a holding company that owns pharmacy chains Walgreens, Boots, and a few other pharmaceutical manufacturing, wholesale, and distribution companies.
Walgreens' history can be traced back to 1901. The current holding company came into existence when Walgreens merged with Alliance Boots in 2014.
Right now, the number-one reason to consider WBA stock is to collect its rock-solid dividends. The company pays quarterly dividends of $0.40 per share, with the dividend check usually mailed out on the 12th of each March, June, September, and December.
Also Read:
3 Top Recession-Proof Dividend Stocks
Trading at $72.35 apiece, WBA stock offers an annual yield of 2.21%.
While there are plenty of higher-yielding names in the stock market, note that Walgreens' payout has been consistently increasing. As a matter of fact, 2017 marked the 42nd consecutive year in which the company has raised its annual dividend payment. (Source: "Walgreens Boots Alliance Increases Quarterly Dividend," Walgreens Boots Alliance Inc, July 12, 2017.)
In just the last decade alone, WBA stock's per share payout has grown by a staggering 269%.
WBA Stock Dividend History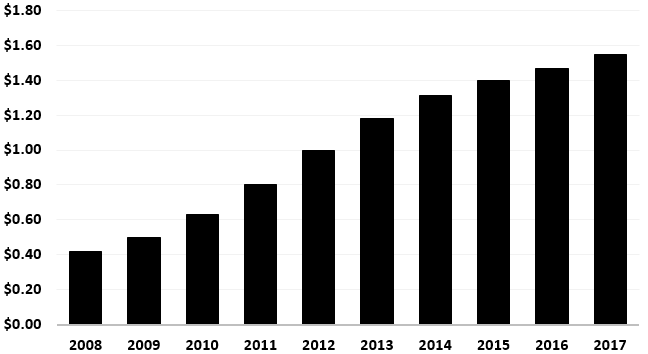 Source: "Dividends," Walgreens Boots Alliance Inc, last accessed February 5, 2018.
In other words, long-term investors of Walgreens are collecting much higher yield on cost than what the stock's current yield suggests.
But to be honest, I'm not surprised. Walgreens runs a rock-solid business, operating the largest retail pharmacy chain across the U.S. and Europe. In total, the company has over 13,200 stores located in 11 countries around the world. (Source: "Fiscal 2018 First Quarter Results," Walgreens Boots Alliance Inc, last accessed February 5, 2018.)
On top of that, Walgreens also runs one of the largest global pharmaceutical wholesale and distribution networks in the world. It has over 390 distribution centers delivering to more than 230,000 pharmacies, doctors, health centers and hospitals in 20 different countries.
The neat part about the running a chain of pharmacies and distribution centers is that the business is amazingly stable. Consider that when the economy enters a recession and people's disposable income declines, consumers may postpone their decisions of buying new cars. However, those that need medication will likely still go to the nearest pharmacy to fill their prescription. And that, my dear reader, is why Walgreens has been providing recession-proof dividends for decades, and will likely continue to do so for decades to come.
Bottom Line on Walgreens Boots Alliance Inc
As we have seen numerous times throughout history, market sentiment can change very quickly. Last Friday's better-than-expected jobs report sparked worries about higher inflation, which investors feared could translate to faster rate hikes from the U.S. Federal Reserve. This triggered a huge sell-off in both the bond market and the equity market. And like many of its peers, WBA stock fell as well. In just the last two trading sessions, shares of Walgreens Boots Alliance Inc slipped by more than five percent.
But due to the nature of the company's stable business, Walgreens is still in a good position to deliver rising dividends through thick and thin. So instead of being scared by the market downturn, income investors could use the recent pullback as an opportunity to pick up some shares on the cheap.