Wal-Mart Stores, Inc: 3 Reasons to Own WMT Stock Forever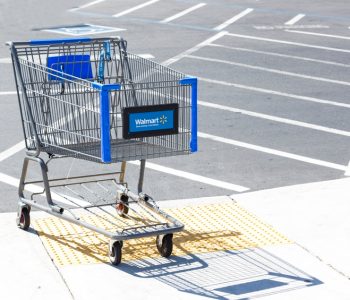 WMT Stock: Dividend Safety Makes It Top Defensive Pick
Investing in discount retail stocks has a unique element of protection attached to them; they provide a hedge against recession. Look at Wal-Mart Stores, Inc. (NYSE:WMT) stock, for example. This retail giant has done better than many companies during bad times, and that's one of the main reasons I feel that WMT stock should be part of every dividend portfolio.
Before we discuss the merits and demerits of investing in Wal-Mart stock, I want to highlight what a defensive investment is and how smart investors benefit from them.
In a tough economic environment, the most important factor which one should consider is how stable the profits are of the targeted company. And stability in profit only comes when a company has a durable competitive advantage.
Consumer staple companies and other blue-chip names with very strong balance sheets are among the top defensive investments–companies such as Wal-Mart.
Wal-Mart stores sell products such as toilet paper, toothpaste, laundry soap, breakfast cereal, and soda. You're unlikely to cut spending on these items no matter how bad the economy gets; you still need to clean your teeth and wash your clothes, after all.
Wal-Mart, with $482.0 billion in annual sales, sells these products to 260 million customers each week.   The world's largest retailer, Wal-Mart has more than 11,500 stores in 28 countries.
Why should income investors never sell defensive stocks like Wal-Mart? Because these investments provide a safety to their monthly or quarterly dividend checks. You can measure the dividend safety by looking at the company's dividend coverage ratio. If a company earns $100.0 million and pays out $30.0 million in dividends, the dividend might be safer than if the company was paying out $90.0 million in dividends.
WMT Stock: Wal-Mart Stores Inc Is a Top Pick for 2017, and Beyond
WMT Stock: Yield, Dates, Splits, Prediction, and Everything You Need to Know
In the case of Wal-Mart stock, the dividend payout ratio is a very conservative 32%. As a general rule, dividend investors don't like to see more than 60% of profits paid out as dividends.
And what about a scenario where investors are relying on what they have saved to last the rest of their lives? In that situation, you need stocks with a solid history of rewarding shareholders. And WMT stock fits this criteria very well also.
WMT stock's dividend history goes back to 1974. Since then, it has increased its annual cash dividend every single year. With more than 40 years of consecutive dividend increases, WMT stock belongs to the "dividend aristocrat" group of companies, which are those with at least 25 years of non-stop dividend history. (Source: "Dividend History," Wal-Mart Stores, Inc., last accessed November 16, 2016.)
And it's not hard to figure out how many recessions this company endured during these four decades. But during those periods, investors in WMT stock continued to see dividend checks in their mailboxes. In the past 10 years alone, WMT stock's quarterly dividend rate has increased more than 200%.
Final Thoughts on WMT Stock
Yielding 2.71%, Wal-Mart stock currently pays an annual cash dividend of $2.00 per share, an increase of two percent from the $1.96 per share paid in the last fiscal year.
These payments may look meager to some investors, but remember that Wal-Mart isn't a good investment for people looking for high-growth stocks. This is something for long-term, buy-and-hold-type investors who aren't in it for short-term quick gains.
For Wal-Mart stock, this is a slow growth period, as the company figures out how to best reinvent its brick-and-mortar operations into a modern retailing operation to compete with online giants like Amazon.com, Inc. (NASDAQ:AMZN).
I think Wal-Mart is on the right track as it invests heavily in online technologies to increase online sales. I've no doubt that WMT stock will still be a better investment when the next recession hits due to its wide economic moat and recession-proof status.