Is This Dividend Stock the Next Berkshire Hathaway Inc.?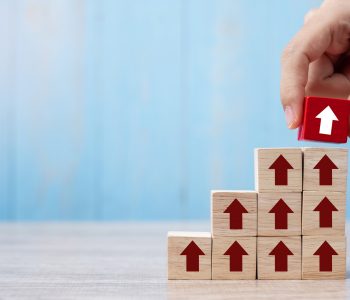 iStock.com/Panuwat Dangsungnoen
A Mini-Berkshire Hathaway Inc.
Berkshire Hathaway Inc. (NYSE:BRK.A, NYSE:BRK.B) ranks as the world's most valuable single share of stock.
Today, one class-A Berkshire Hathaway share sells for more than $310,000. That could buy you a mid-sized house in most parts of the United States.
Why such a steep price tag? Berkshire Hathaway Inc.'s share price largely reflects the investment performance of the company's CEO, Warren Buffett. If you had invested $100.00 in Berkshire shares back in 1965, your position would be worth $1.8 million today.
So why hasn't someone else duplicated this strategy? All you need is a savvy investor to leverage the balance sheet of an insurance company to buy other wonderful businesses. That same formula, in theory, could create comparable returns for shareholders.
Actually, one company has: W. R. Berkley Corp (NYSE:WRB).
From its head office in Greenwich, Connecticut, this quiet insurer has produced jaw-dropping returns for its shareholders. I've sung the praises of this business for years, dubbing it a "mini-Berkshire Hathaway." Investors who overlook this dividend stock now could be kicking themselves in 20 years.
Warren Buffett long ago revealed the wealth-building secret of the insurance business: a quirk in the industry's business model called "the float."
Customers have to pay premiums up front, sometimes years before they can make a claim. In the meantime, the insurance company can invest these proceeds as it pleases—cashing in on any interest, dividends, and capital gains in the process.
Warren Buffett calls this "free money," and I agree. In essence, it amounts to an interest-free loan.
Just imagine if you could borrow money for free from the bank and invest the profits in bonds or certificates of deposit, Such cheap funding explains why insurance stocks have posted such strong investment returns for decades. And it represents a competitive advantage unheard of in any other industry.
So what separates W. R. Berkley Corp from the pack? The company eschews personal lines, products that are aimed at ordinary consumers, like auto and home insurance.
The politics at work in these segments make it difficult to operate a business in a rational manner. So instead, W. R. Berkley has stuck to obscure niches, from NFL teams and workers' compensation to tanning salons and scuba-diving operations. Because these fields face less in the way of competition, management is free to charge higher premiums.
This creates a large, though somewhat counterintuitive, competitive advantage. Most insurers don't make any money from writing insurance, instead earning profits from investing their floats.
W. R. Berkley, in contrast, has consistently made a profit from its underwriting operations. Over the past five years, the company has paid out only $0.95 in claims on every dollar collected in premiums. (Source: "Investor Relations," W. R. Berkley Corp, last accessed October 9, 2019.)
You can see this business model pay off in the chart below. Since 1985, W. R. Berkley shares (black line) have delivered a total return, including dividends, of 21,000%. By comparison, the broader S&P 500 (blue line) delivered a gain of only 1,525% during the same period.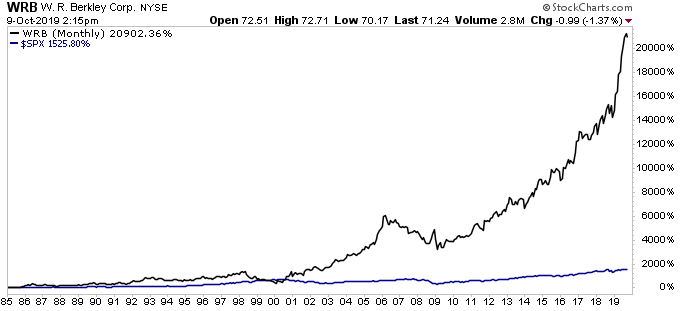 Chart courtesy of StockCharts.com
This has created a great income stream for WRB shareholders. W. R. Berkley has paid a distribution every year since 1976. Today, management mails out a quarterly dividend check of $0.11 per share, which comes out to an annual yield of 0.6%.
W. R. Berkley supplements this payout through annual special dividends, too. This allows executives to conserve cash in tough periods. And more importantly, it gives them an avenue to reward investors during boom times.
In the past few years, these special dividends have doubled—and sometimes tripled—the regular quarterly payments for the whole year. Therefore, avoiding this stock because of the small yield posted on Yahoo! Finance would be a mistake.
Bottom line: every investor has fantasized about going back in time and buying a few shares of Berkshire Hathaway Inc.
W. R. Berkley Corp, however, gives investors a chance to do just that now. This "mini-Berkshire Hathaway " has quietly posted blow-out returns for shareholders, in addition to providing a lucrative income stream.
Don't be surprised to see this name on the list of all-time great dividend stocks in 20 or 30 years.