VZ Stock: Verizon Communications Inc. is a Top Dividend Stock for 2017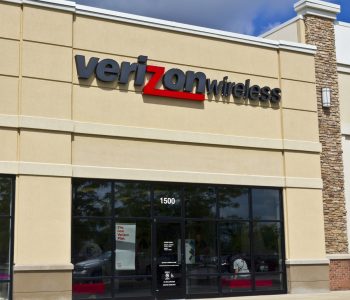 Own Verizon Stock for Dividends
As a mega-cap company, Verizon Communications Inc. (NYSE:VZ) stock is not known for making big moves. Yet in the past three months, Verizon stock dropped 11.2%. Does that mean it's time for investors to reconsider their position in the American telecom giant?
Not really, especially for income investors with a long-term horizon. In fact, because a company's dividend yield moves inversely to its share price, the recent downturn in Verizon stock could represent an opportunity.
Verizon is a multinational telecom company. In particular, it is the largest wireless communications service provider in America. In the first quarter of 2017, Verizon had a 35% market share in terms of the number of wireless subscribers. (Source: "Market share of wireless subscriptions held by carriers in the U.S. from 1st quarter 2011 to 1st quarter 2017," Statista, last accessed July 10, 2017.)
Today's Verizon operates through a number of segments, but being a wireless carrier is by far its biggest business. In 2016, Verizon Wireless generated $89.2 billion in revenue, accounting for 70.8% of the company's total revenue. (Source: "Verizon grows its strong customer base profitably in 4Q," Verizon Communications Inc, January 24, 2017.)
Providing wireless communications services is quite a profitable business, too. In 2016, Verizon's wireless segment achieved earnings before interest, taxes, depreciation, and amortization (EBITDA) margin of 43.8%, representing a 130-basis point improvement from the prior year.
Of course, there are plenty of lucrative businesses out there. What's special about Verizon is that its business has high barriers to entry. If one company is making a lot of money, others will notice. And before long, the industry will be filled with new entrants. As competition increases, existing players will see their profitability decline. As taught in Economics 101, firms under perfect competition are price takers and make zero economic profit in the long run.
High barriers to entry prevent this from happening in the wireless carrier business. You see, building enough cell phone towers to cover a service area large enough to compete with Verizon would require billions of dollars. And that's only if you could get the permission to build them. These days, new cell tower proposals are often met with strong protests from nearby residents.
That's why in the U.S., the wireless carrier business has just four main players. Verizon is the biggest one, followed by AT&T Inc. (NYSE:T), T-Mobile US Inc (NASDAQ:TMUS), and Sprint Corp (NYSE:S). Together, these four companies account for over 95% of the number of wireless subscriptions in America.
Limited competition in the wireless services industry is a key reason behind your rising cell phone bills. For companies in the industry, though, less competition means a perpetual cash cow business.
This is also great for Verizon stock investors. Because the company has a stable and recurring business, it can afford to return some of the profits to shareholders. Verizon stock currently pays $0.5775 per share on a quarterly basis. At today's price, that translates to a handsome annual dividend yield of 5.34%.
Verizon stock has also been raising its payout. The company has increased its quarterly dividend rate in each of the last 10 years.

Source: "2016 Annual Report," Verizon Communications Inc, last accessed July 10, 2017.
The Bottom Line on Verizon Stock
Other than its core wireless business, Verizon also has a few projects that could turn into powerful catalysts. It recently launched a pilot program for its 5G wireless technology, has made multiple investments in the "Internet of Things," and could significantly boost its digital advertising revenue with the Yahoo acquisition.
Bottom line: Verizon is a solid company. Even though its share price performance has been lackluster in recent months, Verizon stock still offers value to income investors.