VZ Stock: The No.1 Reason to Own Verizon Communications Inc.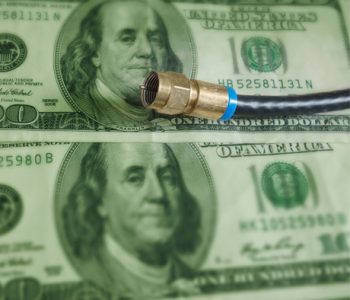 Verizon Stock is a Top Pick for Dividend Investors
Verizon Communications Inc. (NYSE:VZ) stock does not have the bragging rights of many other mega-cap dividend giants. It is not a "dividend aristocrat" or a "dividend king," but that doesn't mean income investors should ignore it.
In my opinion, Verizon stock is still a great long-term pick for a dividend portfolio. Here's why.
First of all, despite making headlines in many different fields, Verizon is still a wireless carrier for the most part. In the third quarter of 2016, Verizon's wireless segment brought in $22.1 billion in revenue, accounting for 71.5% of the company's total revenue. (Source: "3rd Quarter 2016 Earnings Results," Verizon Communications Inc., October 20, 2016.)
The wireless communications industry has been around for quite a while, and it doesn't sound very exciting. However, if you have an established position in this industry, you could make some very handsome profits.
The idea is that it's not that easy to be a wireless carrier. If a company wants to be a competitor to Verizon, it would have to build the infrastructure and purchase a wireless spectrum, neither of which is cheap. That's why, even though many have tried to enter the business, the industry is still dominated by just four companies: Verizon, AT&T Inc. (NYSE:T), Sprint Corp (NYSE:S), and T-Mobile US Inc (NASDAQ:TMUS).
Together, these four companies control over 98% of the U.S. wireless market measured by number of subscribers. In the third quarter of 2016, Verizon was the top player in the industry, with nearly 35% subscriber share. (Source: "Market share of wireless subscriptions held by carriers in the U.S. from 1st quarter 2011 to 3rd quarter 2016," Statista, last accessed December 15, 2016.)
The high barriers to entry means the industry is essentially an oligopoly. And while that could mean higher wireless bills for consumers, it also translates to considerably higher profits for companies that are entrenched in the industry, such as Verizon.
In fact, that's the main reason why Verizon stock is a top pick for dividend investors: the company has a profitable business model. And, because the industry is guarded by high barriers to entry, Verizon can enjoy sizable profit year after year and return some of that profit to VZ stock investors.
Right now, the company pays $0.5775 per share on a quarterly basis, translating to an annual dividend yield of 4.44%. This is more than double the average dividend yield of two percent of all S&P 500 companies.
Verizon stock began trading in July 2000 as a result of the merger between Bell Atlantic and GTE. VZ stock raised its dividend for the first time in 2005. Since then, it has increased its payout every single year.
So that's 11 years of consecutive dividend hikes, which might not look that impressive compared to the other dividend giants on the market. However, if you take into account the company's history as Bell Atlantic, you'd see that Verizon has paid steady or increasing dividends for the past 33 years. (Source: "Dividend History," Verizon Communications Inc., last accessed December 15, 2016.)
VZ Stock Could Be a Bet for the Future
The best part is, other than its entrenched position in the wireless industry, Verizon stock could also benefit from its investments in new growth businesses.
For instance, the "Internet of Things" (IoT) is one of the hottest fields in tech right now. Verizon also has an IoT segment and intends to scale its telematics, "ThingSpace," "smart city," and other IoT solutions globally. In the third quarter, Verizon's organic IoT revenues totaled $217.0 million, representing a 24% increase year-over-year. (Source: "Strong wireless profitability and customer loyalty, renewed Fios growth highlight Verizon's 3Q results," Verizon Communications Inc., October 20, 2016.)
And then there's "5G" technology. Verizon's 5G technical trials have been successful, and it plans to launch its commercial pilot program in 2017. Based on the results of the commercial pilot program, Verizon intends to be the first company to launch a 5G fixed wireless broadband solution in the U.S.
With a profitable business today and bets for the future, Verizon stock is a top pick for dividend investors.