VZ Stock: Collect Growing Dividends from Verizon Communications Inc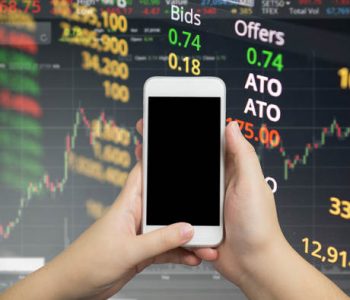 iStock.com/yanadhorn bhukkanasuta
Verizon Stock Pays Generous Dividends
Large, established companies have served income investors well over the last few decades. But because of their popularity, their share prices have been bid up, meaning the yields are not that great. Today, we are going take a look at the highest yielding name in the Dow Jones Industrial Average, Verizon Communications Inc. (NYSE:VZ).
Headquartered in New York City, Verizon is a multinational telecommunications conglomerate. The current company was formed with the merger of Bell Atlantic Corp. and GTE Corp. in 2000. VZ stock began trading on the New York Stock Exchange (NYSE) in the same year. Today, Verizon is one of the biggest telecommunications companies in the world, commanding nearly $200.0 billion of market cap.
As I mentioned earlier, solid blue-chip companies are highly sought after in today's market. Because their businesses have already been established, many of them can pay a steady dividend. While the average yield of large-cap stocks has been trending lower, Verizon is still offering a more-than-decent payout.
With a quarterly dividend rate of $0.5775 per share, Verizon stock has an annual yield of 4.79%. To put it in perspective, the average dividend yield of the Dow 30 companies is 2.72%, while the average yield of S&P 500 companies is even lower, at 1.93%.
The payout has been growing too. The chart below shows the rise in the company's quarterly dividend rate over the last 10 years: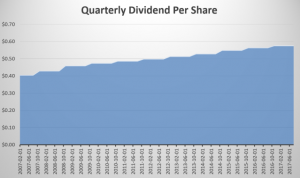 Source: "Dividend History," Verizon Communications Inc, last accessed August 24, 2017.
More Dividend Hikes on the Way?
Verizon's generous dividends are backed by a rock-solid business. Its core business is being a wireless carrier. In the first half of 2017, Verizon Wireless was responsible for generating nearly 70% of total revenue for the company.
The neat thing about the wireless carrier business is that it has high barriers to entry. The cost of building cell towers and bidding for wireless spectrums is prohibitively expensive. That's why in the U.S., there are only four major wireless carriers: Verizon, AT&T Inc. (NYSE:T), T-Mobile US Inc (NASDAQ:TMUS), and Sprint Corp (NYSE:S). Verizon is currently the biggest player in the business, with a 35% market share. (Source: "Market share of wireless subscriptions held by carriers in the U.S. from 1st quarter 2011 to 1st quarter 2017," Statista, last accessed August 24, 2017.)
The best part is that despite being a well-established company, Verizon is still growing its business. In the second quarter of 2017, Verizon Wireless had 614,000 retail postpaid net additions. Among them, 590,000 were smartphone net adds. (Source: "Verizon reports wireless customer gains and strong loyalty in 2Q," Verizon Communications Inc, July 27, 2017.)
The bottom line improved as well. For the quarter, Verizon's adjusted earnings came in at $0.94 per share, representing a two-percent increase from the year-ago period.
Based on what the company is doing, Verizon stock has a great dividend outlook. In the first half of this year, Verizon generated diluted earnings of $1.91 per share. It also paid out total dividends of $1.1550 per share over this period. That translates to a payout ratio of just 60%, leaving plenty of room for future dividend hikes.
For investors looking for a blue-chip name with a decent yield and a growing payout, Verizon stock should be near the top of their watchlist.