Vornado Realty Trust: Overlooked 5.2%-Yielding REIT Poised for Growth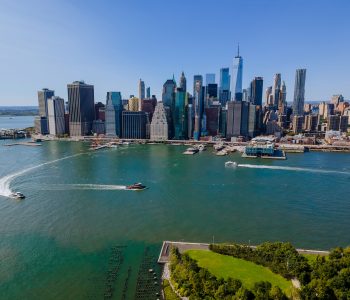 VNO Stock Provides Reliable Dividends & Has Room to Run
The media has not been kind to New York City. Since the COVID-19 pandemic hit, news outlets have been running stories about businesses and people fleeing the Big Apple. While the city's office market is smaller than it once was, it's not nearly as bad as everyone makes it out to be.
The 100 largest New York City office tenants reduced their space by just 7.4% since the start of the pandemic. That's a far cry from the 25% reduction some analysts were predicting. (Source: "Pessimists Were Wrong: A Great NYC Office Exodus Didn't Happen," New York Post, November 29, 2021.)
The so-called existential hurricane that was expected to devastate Manhattan simply didn't happen. If anything, we're seeing office space in New York City get snapped up. In September, Alphabet Inc (NASDAQ:GOOG) announced it would spend $1.2 billion to buy a Manhattan office building on the Hudson River waterfront. (Source: "Google to Spend $2.1 Billion on Manhattan Office Building," The New York Times, September 21, 2001.)
Other big tech firms, like Amazon.com, Inc. (NASDAQ:AMZN), Apple Inc (NASDAQ:AAPL), and Meta Platforms Inc (NASDAQ:FB), have also taken a bullish position on the future of New York City.
As one well-known New York City landlord (who wished to remain anonymous) said, "Not exactly a market on its last legs, is it?" (Source: New York Post, November 29, 2021, op. cit.)
Vornado Stock an Excellent Way to Love New York
One way to take advantage of New York City's real estate market is with shares of Vornado Realty Trust (NYSE:VNO), a real estate investment trust (REIT) with a property portfolio that's highly concentrated in two asset classes. The company owns 20.6 million square feet (equivalent to about 347 NFL football fields) of Manhattan office space in 33 properties, and 2.7 million square feet of Manhattan street retail space in 65 properties. (Source: "Office," Vornado Realty Trust, last accessed December 22, 2021.)
Vornado is one of New York City's leading landlords. What separates it from all of the other New York office REITs? Location, location, location.
Vornado Realty Trust has made a bet on developments in the Penn District, which is just east of the Hudson Yards megaproject. Located in the heart of New York City, the company's Penn District properties consist of more than 10 million square feet in a dozen buildings and land sites that surround Pennsylvania Station, the busiest transportation hub in North America.
Vornado Realty Trust's New York office portfolio includes the global headquarters of Bloomberg, L.P., the headquarters of Neuberger Berman Group LLC, and Amazon's inaugural headquarters in New York City.
There's more to this ultra-high-yielding stock than New York City, though. Vornado's diverse portfolio also includes the property formerly known as the Bank of America Tower, which is in the heart of downtown San Francisco, and theMART, the largest private commercial building in Chicago. Vornado Realty Trust also owns a 32.4% interest in Alexander's, Inc. (NYSE:ALX).
High Adjusted Funds From Operations
Despite the negative impact COVID-19 has had on the country's office REITs, Vornado still managed to report solid third-quarter results. Its net income came in at $37.7 million, or $0.20 per share. That's down from $53.1 million, or $0.28 per share, in the same prior-year period. (Source: "Vornado Announces Third Quarter 2021 Financial Results," Vornado Realty Trust, November 1, 2021.)
The company's adjusted net income in the third quarter of 2021 was $25.9 million, or $0.14 per share, versus the third-quarter 2020 adjusted net income of $9.3 million, or $0.05 per share.
Vornado Realty Trust's funds from operations (FFO) were $158.2 million, or $0.82 per share, in the third quarter of 2021, That's compared to $278.5 million, or $1.46 per share, in the same prior-year period.
The all-important adjusted FFO, which is where the cash for dividends comes from, were $136.2 million, or $0.71 per share. That's up from the third-quarter 2020 adjusted FFO of $116.7 million, or $0.61 per share. The REIT's third-quarter 2021 adjusted FFO per share of $0.71 is more than enough to cover the $0.53 quarterly dividend the company declared in late October. This translates to a yield of 5.2%.
In addition to providing income that can help combat rising inflation, VNO stock has also been performing well. It hasn't exactly been trouncing the broader market, but it has improved since the depths of the March 2020 sell-off, and it has lots of room to run.
As of this writing, Vornado stock is up by 16% year-to-date and 20% year-over-year. VNO stock needs to climb by approximately 48% to get to its pre-pandemic level of about $60.00 per share.
Wall Street is confident that Vornado stock can get there. Of the analysts providing a 12-month share-price forecast for Vornado Realty Trust, their average target is $48.20, with a high estimate of $52.00. That points to near-term upside for VNO stock of 18% and 25%, respectively.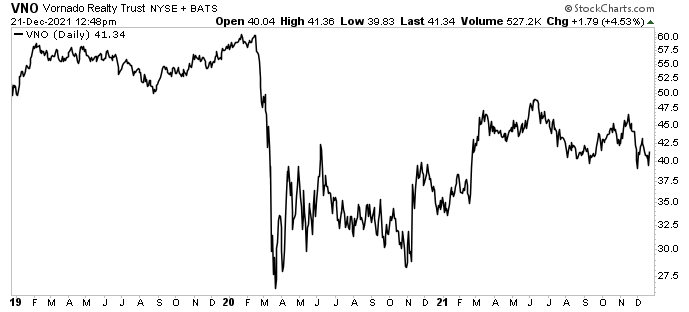 Chart courtesy of StockCharts.com
The Lowdown on Vornado Realty Trust
Many investors have taken a wait-and-see approach to New York City office REITs. Now might be a good time for them to put high-dividend Vornado stock on their radar.
As mentioned earlier, Vornado Realty Trust has a diverse portfolio of premier properties in Manhattan, which allows it to attract high-quality tenants. In the long run, the company's developments near the Hudson Yards megaproject should pay off with increased property values. On top of that, Vornado's properties in Chicago and San Francisco are some of the best assets in those markets.