VOC Energy Trust: 17%-Yielding Stock Up 172% Year-Over-Year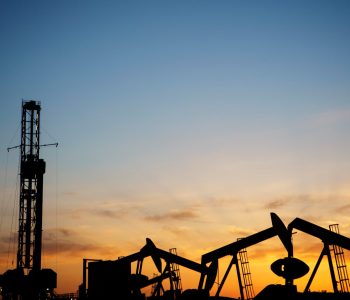 Why VOC Stock Is Attractive Right Now
Crude oil has recently experienced some of the wildest price swings in history. In April 2020, during the opening months of the COVID-19 pandemic, U.S. crude oil futures turned negative for the first time in history.
Fast-forward two years and fears about Russia invading Ukraine have sent crude oil prices to a seven-year high of almost $100.00 per barrel. The market is predicting that crude oil prices could go higher than $100.00 per barrel if Russia makes further incursions into Ukraine.
Western allies, including the U.S., the U.K., and the European Union, have unveiled limited sanctions against Russia, saying they will go further if Russian President Vladimir Putin exacerbates the situation. (Source: "Here's What Western Allies Hit in the First Wave of Russia Sanctions," Bloomberg, February 22, 2022.)
Sanctions would certainly punish Russia, but there would also be a knock-on effect because Russia is a major exporter of oil to the U.S. and Europe. If the oil supply from Russia is halted or slowed, it will take a lot of work to make up the shortfall. It would also put further upward pressure on global oil prices. (Source: "Russia Is a Major Supplier of Oil to the U.S." Forbes, February 21, 2022.)
Therefore, it's not a big surprise that investors have been turning their attention to U.S. energy stocks, in particular oil and gas exploration and production stocks. While there are many excellent ultra-high-yield U.S. energy stocks, one stands out from the crowd: VOC Energy Trust (NYSE:VOC). VOC Energy stock has been exploding in price, and its dividends have risen in the last four consecutive quarters.
VOC Energy Trust, which was formed by VOC Brazos Energy Partners, L.P., acquires and holds 80% of the net profits from the production and sale of interests in oil and natural gas properties in Kansas and Texas. (Source: "Form 10-Q," VOC Energy Trust, November 12, 2021.)
As a trust, VOC Energy doesn't pour its money into new drilling operations. Instead, it milks its existing operations to fund its ultra-high dividends. That's the good news. The bad news is that the wells will eventually run dry.
Fortunately, we kind of know when that will happen. According to VOC Energy Trust's management, the cash will stop flowing when the latter of the following two metrics is met: the date December 31, 2030 arrives or the company produces and sells 10.6 million barrels of oil equivalent (MMBOE) from its underlying properties.
As of September 30, 2021, VOC Energy Trust has cumulatively received payments for 80% of the net proceeds attributable to VOC Brazos Energy Partners, L.P.'s interest from the sale of 7.4 MMBOE of production from its underlying properties.
VOC Energy Trust Increases Dividend in 4 Straight Quarters
As you can see in the chart below, VOC stock's dividend level fluctuates based on volume, average sale price, and net profit.
VOC Energy Trust noted that it sets aside some of its profits every quarter to build up a war chest to pay for future known, anticipated, or contingent expenses, starting with the dividends payable in the first quarter of 2022. The trustee expects to withhold a portion of the proceeds otherwise available for distribution each quarter to gradually build a cash reserve of approximately $1.2 million. This should help VOC Energy avoid having to suspend its dividend in certain periods, as it did in August 2020.
The company recently announced a distribution of $4.3 million, or $0.25 per unit. During the quarter, the company withheld $182,917 for its reserve. This works out to a yield of 17%. (Source: "VOC Energy Trust Announces Trust Quarterly Distribution," VOC Energy Trust, January 20, 2022.)
This is the fourth consecutive quarter VOC Energy has raised its distribution. In May 2021, the company paid a quarterly dividend of $0.12 per unit; in July, it increased the payout to $0.16 per unit; and in October 2021, it raised the payout to $0.20 per unit.
In addition to providing investors with growing, ultra-high-yield dividends, VOC Energy stock has been on fire in terms of its share price. This can be attributed to the strong consumer-led economic recovery and other catalysts. For instance, the Organization of the Petroleum Exporting Countries (OPEC) has been failing to meet its monthly output targets, which has put a strain on the global oil supply and has juiced oil prices.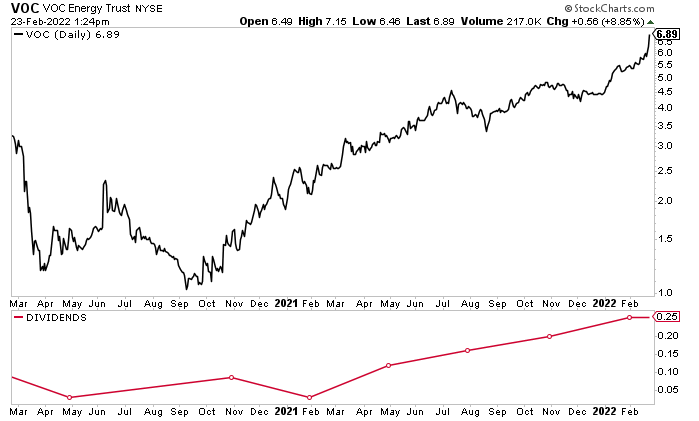 Chart courtesy of StockCharts.com
Trading at its highest level since 2014, VOC stock is up by:
30% over the last month
54% over the last three months
88% over the last six months
53% year-to-date
170% year-over-year
The Lowdown on VOC Energy Stock
VOC Energy Trust is a cash cow with a history of providing investors with ultra-high dividends.
Thanks to a number of catalysts, the company has been reporting healthy sales volumes. This has boosted the price of VOC stock and has allowed its dividend to rise in four consecutive quarters.
With oil prices expected to climb to about $100.00 per barrel and stay around that level for an extended period, the momentum is expected to continue for this dividend stock.