Inflation-Busting, 16.1%-Yielding VOC Energy Stock Up 116% in 2022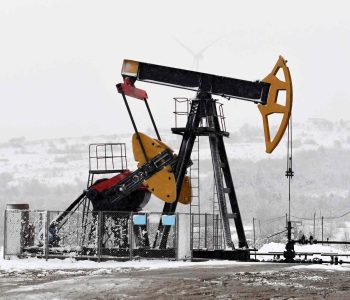 VOC Energy Trust Hikes Q3 Dividend 82% Year-Over-Year
The only time I'm okay seeing a stock's growing, ultra-high dividend yield slip is when the stock's underlying share price is rising at an even faster clip. That's what's been going on with VOC Energy Trust (NYSE:VOC).
The company is an oil and natural gas exploration/production trust that acquires and holds 80% of the net profits from the production and sale of interests in oil and gas properties in Kansas and Texas. (Source: "Form Q-10," United States Security and Exchange Commission, November 10, 2022.)
The company's properties in Western Kansas include the Bindley, Griston SW, and Rosa Northwest fields. Its fields in South Central Kansas include the Gerberding, Spivey Grabs, and Alford fields.
According to the most recent data, VOC Energy Trust's underlying properties have interests in 452.5 net producing wells and 51,147 net acres. The company has proved reserves of approximately 2.9 million barrels of oil equivalent (MMBoe) attributable to the portion of the underlying properties in Kansas and approximately 5.4 MMBoe attributable to the underlying properties in Texas.
VOC Energy Trust's dividend has been on the move. On October 20, management declared a quarterly dividend of $0.365 per unit, for a yield of 16.1%. The trust's payout ratio is 100% because it returns all of its net cash proceeds to investors. (Source: "VOC Energy Trust Announces Trust Quarterly Distribution," VOC Energy Trust, October 20, 2022.)
The $0.365 per unit represents an 82% increase from the $0.20 per unit distributed in the same period last year. Save for the previous quarter, in which the company paid out $0.38 per unit, management has raised VOC stock's dividend every quarter since the start of 2021.
VOC Energy stock's distribution ebbs and flows based on energy supply, demand, and price.
In the second quarter ended June 30, the company produced a total of 143,385 barrels of oil and had an average sales price of $104.65 per barrel. This resulted in distributable net profits of $6.5 million, or $0.38 per unit. In the third quarter ended September 30, the trust produced 144,405 barrels of oil equivalent and had an average sales price of $100.12 per barrel. This resulted in distributable net profits of $6.2 million, which translated into the quarterly $0.365-per-unit dividend.
VOC Stock's Share-Price Performance
When I last wrote about VOC Energy stock, which was just in October, it was trading at $6.27 and its dividend yield was a whopping 23%. As of this writing, VOC stock is trading at $9.00 per share, up by 43.5% since then.
That's a big gain, which is in keeping with what's been happening with VOC Energy stock all year. It's currently up by:
10% over the last month
30% over the last three months
116% year-to-date
119% year-over-year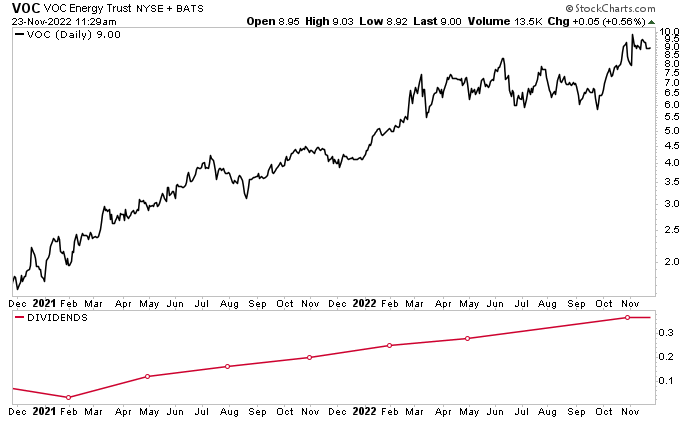 Chart courtesy of StockCharts.com
The Lowdown on VOC Energy Stock
VOC Energy Trust is an excellent energy play that has been taking full advantage of industry tailwinds.
Despite fears of an upcoming recession, the company has been generating lots of cash and returning it to investors in the form of reliable, growing, high-yield dividends. Moreover, thanks to the company's fabulous quarterly financial results, investors have been juicing VOC stock's price, leading it to trounce the broader market.
With oil prices expected to remain above $90.00 for the rest of 2022, the outlook for this dividend stock is bullish.