Visa Inc: Here's Why Warren Buffett Likes Visa Stock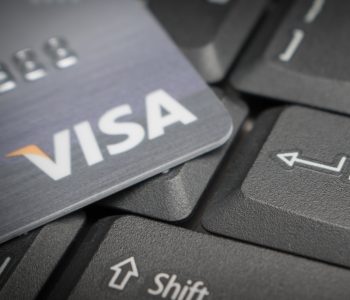 iStock.com/LaymanZoom
A Top Warren Buffett Stock Pick for 2017
After more than five decades of astronomical returns, Warren Buffett's portfolio is still delivering oversized profits. One of the picks that has been boosting his return in 2017 is Visa Inc (NYSE:V) stock.
Headquartered in Foster City, California, Visa is a multinational financial services company that specializes in payments technology. The company is known for its "Visa"-branded credit cards.
Buffett's company, Berkshire Hathaway Inc. (NYSE:BRK.B), owns quite a bit of Visa stock. According to Berkshire's latest "13F" filing to the Securities and Exchange Commission (SEC), the company owned approximately 10.56-million shares of Visa stock by the end of the second quarter. The stake has a current market value of $1.09 billion. (Source: "Form 13F Information Table," United States Securities and Exchange Commission, last accessed August 28, 2017.)
Visa also turned out to be one of the top performers in Warren Buffett's portfolio so far into 2017. Year-to-date, Visa stock has surged 32.9%. The climb was particularly impressive, given that Visa is a well-established blue-chip stock commanding more than $200.0 billion of market cap.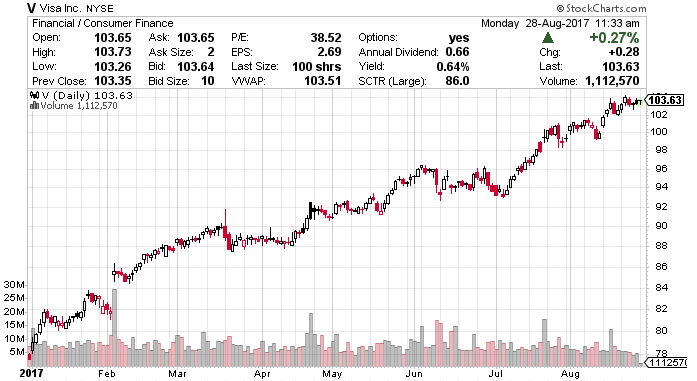 Chart Courtesy of StockCharts.com
Why Does Warren Buffett Like Visa Stock?
To be honest, it's quite easy to see why the "Oracle of Omaha" likes Visa stock: the company has wide economic moats.
Coined by Warren Buffett himself, an economic moat refers to a company's competitive advantage that can protect its long-term profits from competitors. Without an economic moat, a company that's successful could see its profits and market share decline once competing firms enter the market. And when it comes to economic moats, few companies have a wider one than Visa.
You see, Visa operates in the credit card industry. As a matter of fact, it is by far the biggest player in the business. By the end of last year, the company had 335-million cards in circulation; that's more than what Mastercard Inc (NYSE:MA), American Express Company (NYSE:AXP), and Discover Financial Services (NYSE:DFS) had combined. (Source: "Market Share by Credit Card Network," WalletHub, March 7, 2017.)
Visa's established position in the credit card industry provides it with a natural economic moat. The company's payments platform has already connected with hundreds of millions of customers, as well as numerous businesses, financial institutions, and governments in over 200 countries around the world. If someone wants to enter the credit card industry and compete with Visa, it would need to first connect with millions of customers and businesses—an extremely costly endeavor with no guarantee of success. This is the reason why the entire global credit card industry is dominated by the aforementioned four companies. It's also why the other three have been competing with Visa for quite a while, but have never been able to take meaningful market share away from the company.
Also Read:
Visa Stock Split, Dividend History, and Price History
5 of Warren Buffett's Best-Performing Stocks
Growing Dividends
Other than having a "wide moat" business, Visa also offers increasing dividends. The company may not be known as an income stock because its yield is not that high compared to the other blue-chip stocks. However, when it comes to the ability to raise one's payout, Visa's track record has been nothing less than impressive.
The company started paying a dividend in 2008. At that time, its quarterly dividend rate was $0.0263 per share. Today, the amount is $0.1650. That's an increase of 527%. (Source: "Common Stock Dividends," Visa Inc, last accessed August 28, 2017.)
With wide economic moats and growing distributions, Visa stock deserves the attention of every income investor.