VICI Properties Stock: 4.5%-Yielding Sin Stock Up 15% Year-to-Date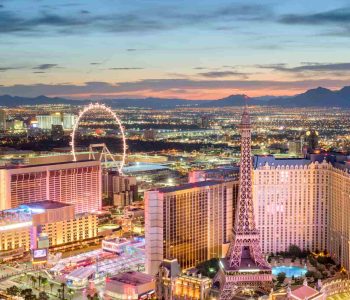 Why VICI Stock Is Appealing Right Now
Inflation may be through the roof, with household debt soaring at its fastest pace in 15 years, but the siren song of Las Vegas won't be ignored. In fact, vacation statistics and casino profits continue to show that people's rising cost of living and shortage of cash haven't stopped the flow of tourists to Las Vegas and other gaming destinations.
Hotel room prices in Las Vegas are at their highest levels in history, and the numbers of visitors to the city have been almost matching pre-pandemic levels. An estimated 3.6 million people went to Southern Nevada in October, up by 7.3% from September 2021 and down by just 0.8% from October 2019. (Source: "Las Vegas Room Rates Hit All-Time High in October," Las Vegas Review, November 29, 2022.)
Those millions of tourists paid an average room rate of $209.89 per night, breaking the previous record (from one month earlier) of $187.18. The numbers are expected to remain strong. Conventions are returning to form, and concerts and events are selling out. The Formula 1 is coming to Sin City in 2023, and Las Vegas recently landed the NCAA's Final Four for 2028.
Gaming and fun have returned to the U.S., and VICI Properties Inc (NYSE:VICI) is on the winning side of the bet. The company is one of the largest owners of gaming, hospitality, and entertainment destinations in the U.S.
VICI Properties' national footprint of more than 122 million square feet includes 43 gaming facilities; 58,700 hotel rooms; more than 450 restaurants, bars, nightclubs, and sportsbooks; and four championship golf courses. Its properties are home to about 500 retail outlets. A few of the company's properties are Caesars Atlantic City, Caesars Palace Las Vegas, Mandalay Bay, The Mirage, and the Venetian Resort Las Vegas. (Source: "Investor Presentation," VICI Properties Inc, last accessed November 15, 2022.)
VICI Properties has plenty of room for future growth; the company owns a whopping 34 acres of undeveloped land in Las Vegas.
Partnership With Canyon Ranch
Subsequent to the end of the third quarter, VICI Properties announced that it had entered an investment with Canyon Ranch, the global leader in the "place-based wellness" sector, to fund the development of Canyon Ranch's newest wellness resort in Austin, TX. This is VICI Properties' first investment in this multi-trillion-dollar sector. (Source: "VICI Properties Inc. Announces Partnership With Canyon Ranch With Investment in Canyon Ranch Austin in Austin, Texas," Business Wire, October 18, 2022.)
Canyon Ranch Austin is expected to begin operating in 2025.
The related press release says the transaction "enhances VICI's embedded growth pipeline with a call right to acquire the real estate of Canyon Ranch Austin upon stabilization and a purchase option for the real estate of Canyon Ranch Tucson in Tucson, Arizona and Canyon Ranch Lenox in Lenox, Massachusetts should Canyon Ranch elect to sell the real estate of either property." (Source: Ibid.)
If VICI Properties Inc uses its call right or purchase options, Canyon Ranch will continue to operate wellness resorts at the aforementioned properties under a long-term triple-net lease.
VICI Properties Inc to Fully Acquire MGM Grand Las Vegas
On December 1, VICI Properties and Blackstone Real Estate Income Trust, Inc. jointly announced that VICI, which currently owns a 50.1% stake in the joint venture that owns MGM Grand Las Vegas and Mandalay Bay Resort, will acquire Blackstone Real Estate Income Trust's 49.9% interest in the joint venture for cash consideration of approximately $1.3 billion. (Source: "VICI Properties Inc. to Acquire Remaining 49.9% Interest in MGM Grand Las Vegas and Mandalay Bay Joint Venture From Blackstone Real Estate Income Trust, Inc.," VICI Properties Inc, December 1, 2022.)
The properties are subject to an existing triple-net lease between the joint venture and MGM Resorts International (NYSE:MGM). The lease will generate annual rent of roughly $310.0 million after the next rental escalation kicks in on March 1, 2023.
The MGM Grand Las Vegas and Mandalay Bay triple-net lease has a remaining initial term of approximately 27 years (expiring in 2050), with two 10-year tenant renewal options. Rent under the lease agreement will escalate annually at two percent through 2035 (year 15 of the initial term) and then at the greater of two percent or the consumer price index (CPI), subject to a three-percent ceiling.
VICI Properties Inc's Q3 Revenue & Net Income Doubles
For the third quarter ended September 30, VICI Properties announced that its total revenues increased by 100% year-over-year to $751.5 million. Its net income went up by 104% year-over-year to $330.9 million, or $0.34 per share. (Source: "VICI Properties Inc. Announces Third Quarter 2022 Results," VICI Properties Inc, October 27, 2022.)
The company's funds from operations (FFO) in the third quarter were $340.6 million, or $0.35 per share, compared to $161.9 million, or $0.28 per share, in the same period of last year. Its adjusted FFO climbed by 82.8% to $470.7 million, or $0.49 per share.
During the third quarter, VICI Properties Inc declared a cash dividend of $0.39 per share, for a yield of 4.6%. This represents an 8.3% increase over the $0.36 per share it declared in the same quarter of last year. The company has raised its dividend every year since it started paying dividends in early 2018.
Save for the brutal pandemic-fueled stock market crash in 2020 that decimated tourism-related stocks, VICI Properties stock has been providing investors with excellent long-term gains.
Since VICI Properties Inc went public in late 2017, VICI stock, with dividends reinvested, has posted total returns of 130.4%. Over the same time frame, the S&P 500 has posted total returns of just 54.2%. More recently, VICI Properties stock has been bucking the broader stock market sell-off. It's currently trading up by six percent over the last month and 15% year-to-date.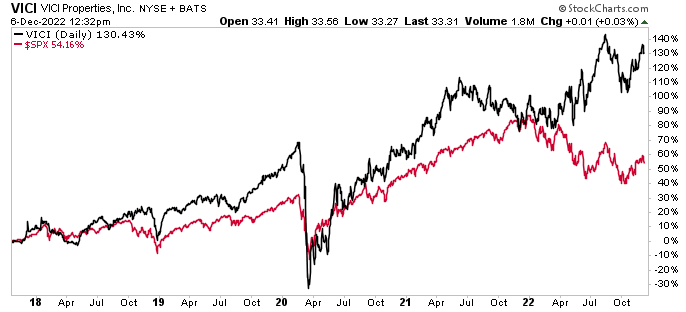 Chart courtesy of StockCharts.com
The Lowdown on VICI Properties Stock
Vici Properties Inc owns one of the world's most dynamic gaming and entertainment property portfolios on the planet. And thanks to a number of strategic acquisitions over the last two years, it has doubled its total revenue on a year-over-year basis.
A cash-making machine, the company hiked its third-quarter dividend by 8.3%, highlighting the company's commitment to growing VICI stock's dividend.