VICI Properties Stock: Gaming REIT Hiked Dividends for 6 Years & Raised Guidance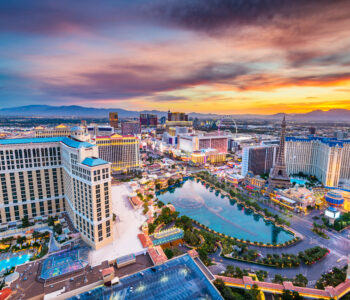 Why VICI Stock Has 59% Upside
Industry tailwinds are always nice to see, which is what makes VICI Properties Inc (NYSE:VICI) such a compelling stock right now.
The company is one of the largest "experiential" real estate investment trusts (REITs), and it happens to own three of the most iconic casinos in Las Vegas—at a time when the U.S. gaming industry is on fire.
According to the American Gaming Association, the U.S. casino gambling industry generates about $329.0 billion in economic activity annually. (Source: "Casino Industry Spurs $329 Billion in US Economic Activity, Study by Gambling Group Shows," Associated Press, October 9, 2023.)
Moreover, the casino industry's economic impact went up by 26% in 2022, compared to 2017, before the COVID-19 pandemic.
In 2022, American commercial gaming revenues rose to a record-breaking $60.4 billion. This marked the first $60.0-billion year for the sector, surpassing its previous record high of $53.0 billion in 2021. (Source: "2022 Commercial Gaming Revenue Tops $60B, Breaking Annual Record for Second Consecutive Year," American Gaming Association, February 15, 2023.)
By all accounts, 2023 could end up being another record year for the U.S. gaming sector. This bodes well for VICI Properties stockholders.
VICI Properties Inc's Real Estate Portfolio
VICI Properties is one of the largest owners of gaming, hospitality, and entertainment destinations in North America, including Caesars Palace Las Vegas, MGM Grand, and the Venetian Resort Las Vegas. (Source: "VICI Investor Presentation," VICI Properties Inc, September 7, 2023.)
As of late October, the REIT's national footprint included 92 assets consisting of 54 gaming properties and 38 non-gaming experiential properties across the U.S. and Canada. (Source: "VICI Properties Inc. Announces Third Quarter 2023 Results," VICI Properties Inc, October 25, 2023.)
VICI Properties' real estate portfolio, which comprises about 125 million square feet (the size of 2,170 NFL fields), includes roughly 60,300 hotel rooms and approximately 500 restaurants, bars, nightclubs, and sportsbooks. The company also owns four championship golf courses and 33 acres of undeveloped and underdeveloped land adjacent to the Las Vegas Strip.
VICI Properties Inc's properties are occupied by industry-leading gaming, leisure, and hospitality operators under long-term, triple-net lease agreements. The REIT also has a growing array of real estate and financing partnerships with leading non-gaming experiential operators, including Great Wolf Resorts, Cabot, Canyon Ranch, and Chelsea Piers.
During the third quarter, VICI Properties Inc—along with Century Casinos, Inc. (NASDAQ:CNTY)—completed its acquisition of Rocky Gap Casino Resort and acquired the real estate of Century Casinos' (NASDAQ:CNTY) four gaming properties in Alberta, Canada.
The REIT also expanded its partnership with Canyon Ranch through a preferred equity investment, a mortgage loan, and call rights to acquire Canyon Ranch Tucson and Canyon Ranch Lenox.
In October, VICI Properties expanded its non-gaming real estate portfolio by acquiring 38 bowling entertainment centers from Bowlero Corp (NYSE:BOWL) for $432.9 million. (Source: "VICI Properties Inc. Completes Acquisition of 38 Bowling Entertainment Centers in Sale-Leaseback Transaction With Bowlero Corp.," VICI Properties Inc, October 19, 2023.)
VICI Properties also entered a triple-net master lease with Bowlero. The agreement includes an initial total annual rent of $31.6 million, an initial lease term of 25 years, and six five-year tenant renewal options. Under the lease, the rent will escalate at a rate of either two percent or the Consumer Price Index (CPI)—whichever is higher—up to a ceiling of 2.5%.
Q3 Earnings Up 68% Year-Over-Year
They say you can't beat the house, and VICI Properties has the numbers to back that up.
For the third quarter ended September 30, the company announced that its total revenues jumped by 20.3% year-over-year to $90.3 million. Its net income went up by 68% year-over-year to $556.3 million, or $0.55 per share, from $330.9 million, or $0.34 per share. (Source: VICI Properties Inc, October 25, 2023, op. cit.)
The REIT's funds from operations (FFO) advanced in the third quarter by 63% year-over-year to $556.3 million, or $0.55 per share. Its adjusted funds from operations (AFFO) increased by 16.4% year-over-year to $547.6 million and—on a per-share basis—by 10.7% year-over-year to $0.54.
VICI Properties ended the third quarter with $510.9 million in cash and cash equivalents, as well as $807.2 million worth of estimated available forward sale equity proceeds.
Commenting on the results, Edward Pitoniak, VICI Properties Inc's CEO, said, "VICI's third quarter financial performance reflects our sustained, sustainable commitment to accretive growth and capital deployment through acquisitions and strategic financing activity, exemplified by approximately 20% revenue growth and nearly 11% growth in AFFO per share year-over-year."  (Source: VICI Properties Inc, October 25, 2023, op. cit.)
Management Hiked Guidance & Quarterly Dividend
VICI Properties Inc's wonderful third-quarter financial results led its management team to increase its AFFO guidance for full-year 2023 to the range of $2.17 billion to $2.18 billion, or $2.14 to $2.14 per share.
The company's FFO, which drives dividends, has been growing, which is great for dividend hogs.
In early September, VICI Properties Inc's board declared a regular quarterly cash dividend of $0.415 per share, for a yield of 6.07%.
That amount represents a 6.4% increase over the $0.39 per share that VICI stock paid out in the previous quarter. The $0.415-per-share payout is well below the REIT's third-quarter FFO of $0.55 per share.
VICI Properties Stock Has 59% Upside
Despite VICI Properties Inc posting high growth in its revenues, earnings, FFO, and AFFO all year long, VICI stock's price hasn't followed the same trajectory. As of this writing, it's down by 13% year-to-date and 11.5% year-over-year.
Trading at its lowest level since June 2022, the sell-off has put VICI Properties stock in a more attractive price range. Even the company's board agrees, with various directors having bought 36,934 shares so far this year. These insiders haven't sold any of their shares in 2023.
Wall Street is in agreement with this bullish sentiment. Analysts have provided a 12-month share-price target range of $36.00 to $43.00 per share. This points to potential gains in the range of 33% to 59%.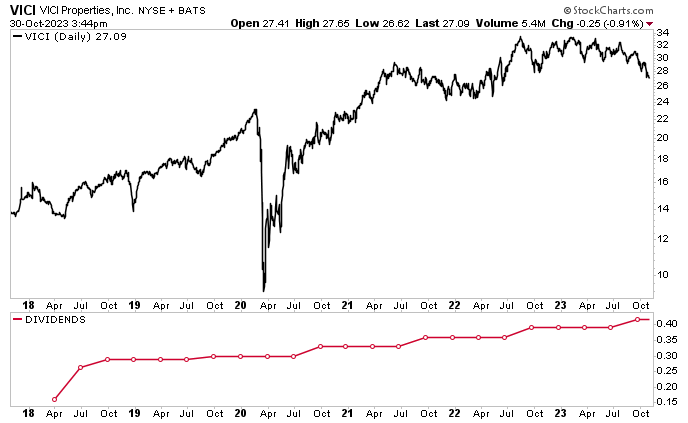 Chart courtesy of StockCharts.com
The Lowdown on VICI Properties Inc
VICI Properties only went public in 2018, but over that short period, it has weathered the worst economic storm in 100 years. Since then, it has become a top 10 REIT in the RMZ REIT Index, a member of the S&P 500, and an investment-grade issuer of credit.
It's also the second-largest triple-net lease REIT, with about $2.9 billion in annualized cash rent and a rent collection rate of 100%. Thanks to contractual escalation, VICI Properties Inc is protected against inflation. In 2023, 50% of its rent rolls have had CPI-linked escalations and 96% of them have had CPI-linked escalations over the long term.
On top of that, about 80% of the company's rent comes from U.S. Securities and Exchange Commission (SEC)-reporting operations. This provides transparency of the health and performance of its tenants. Those tenants have been doing quite well, which helps explain the REIT's high increases to its revenues, earnings, FFO, and AFFO.
VICI Properties Inc's management believes the company's momentum will continue in 2024, which should help juice VICI stock's undervalued share price and its reliably growing, high-yield dividends.