VICI Properties Stock: Bullish Sin Stock's Dividend Hiked for 6 Straight Years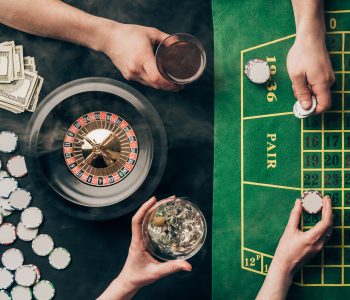 Why VICI Stock's Outlook Is Bright
It never hurts to look at industry statistics when considering a stock. The last thing you want to do is invest in a company operating in an industry that's taking a beating or is on its way to extinction. On the other hand, if you find an industry that's breaking financial records, it might be a good time to look at the companies that are riding the wave.
On that note, VICI Properties Inc (NYSE:VICI) is one of the largest owners of gaming, hospitality, and entertainment destinations in the U.S. It has also acquired a few gaming properties in Canada.
As of early March, the company's business footprint included 50 properties, about 59,400 hotel rooms, more than 450 food and beverage outlets, about 500 retail outlets, and four championship golf courses. Its properties include Caesars Atlantic City, Caesars Palace Las Vegas, Luxor, Mandalay Bay, and the Venetian Resort Las Vegas. (Source: "VICI Investor Presentation," VICI Properties Inc, March 2, 2023.)
This real estate investment trust (REIT) has plenty of room to grow; it owns about 660 acres of underlying land across the Las Vegas Strip. This is in addition to its existing call rights on about 28 acres relating to the Caesars Forum Convention Center.
U.S. Gaming Industry Set Record in 2022
Investing is all about opportunity, and the U.S. gaming industry is on fire at the moment.
In 2022, Las Vegas set a record for number of visitors. Sin City welcomed 38.8 million visitors last year, which was 20.5% more than in 2021. That was shy of the city's record 42.9 million in 2016 and 42.5 million in 2019 (the year before COVID-19 decimated the gaming industry). The city could break those numbers this year. (Source: "Las Vegas' Lucky Numbers: A Record Year for Airport Traffic, Casinos," Travel Weekly, February 7, 2023.)
The Las Vegas Strip accounted for more than $8.2 billion of Nevada's total gaming revenues in 2022, a 17.1% increase from $7.1 billion in 2021. (Source: "Nevada Casinos Close Out 2022 With Record Gaming Revenue Figures," The Nevada Independent, January 31, 2023.)
Nevada, the national epicenter of gambling, pulled in $14.8 billion of gaming revenues in 2022, besting its previous record of $13.4 billion in 2021. As of the end of 2022, gamblers had spent more than $1.0 billion per month in the state for 22 consecutive months.
The entire U.S. gaming industry set a new record in 2022, bringing in more than $60.4 billion of revenues. That was up by more than 13% from its record $53.0 billion in 2021. (Source: "2022 Commercial Gaming Revenue Tops $60B, Breaking Annual Record for Second Consecutive Year," American Gaming Association, February 15, 2023.)
Those winning ways have continued in 2023. In March, Las Vegas's tourism numbers almost fully recovered from the effects of the COVID-19 pandemic. During that month, nearly 3.7 million people visited Southern Nevada, up by 9.6% from March 2022 and down by 1.1% from March 2019. (Source: "Las Vegas Tourism in March Nearly Reaches Pre-Pandemic Level," KSNV News 3, April 26, 2023.)
VICI Properties Inc's Q4 & 2022 Revenues & Net Income Doubled
Strong industry tailwinds help explain VICI Properties' tremendous financial results. For the fourth quarter of 2022, VICI Properties announced that its total revenue increased by 100.9% year-over-year to $769.9 million. Its net income jumped by 114.6% to $604.1 million and, on a per-share basis, 41.7% to $0.63. (Source: "VICI Properties Inc. Announces Fourth Quarter and Full Year 2022 Results," VICI Properties Inc, February 23, 2023.)
The REIT's funds from operations (FFO) in the fourth quarter were $614.1 million, or $0.64 per share, compared to $281.4 million, or $0.44 per share, in the fourth quarter of 2022. Its adjusted FFO (AFFO) climbed by 74.8% year-over-year to $487.7 million, or $0.51 per share.
VICI Properties Inc's full-year revenues increased by 72.3% to $2.6 billion, while its net income advanced 10.2% to $1.1 billion, or $1.27 per share. The company's FFO grew in 2022 by 13% to $1.1 billion, or $1.30 per share. Meanwhile, its AFFO increased by 61.7% to $1.7 billion, or $1.93 per share.
VICI Properties Stock's Dividend Has Risen Every Year Since 2018
VICI Properties Inc's high FFO growth has been driving up its dividends.
During the third quarter of 2022, management declared a cash dividend of $0.39 per share. This represents an 8.3% increase over the $0.36 per share it declared in the same quarter of 2021. Since then, the REIT has held its payout at $0.39, which is well below its fourth-quarter FFO of $0.64 per share. At the current price of VICI stock, that translates to a current dividend yield of 4.7%
The company has raised its dividend every year since it went public in early 2018. Even during the COVID-19 pandemic, which hurt tourism-related companies, the REIT was able to provide VICI Properties stockholders with raises.
Record-high industry tailwinds and high FFO growth suggest that the company will raise its dividend for a seventh straight year in October.
VICI Properties Stock Up 17% Year-Over-Year
VICI Properties Inc's share price has been trending steadily higher since the stock market cratered in March 2020.
VICI stock is just below its August 2022 record high of $34.33. As of this writing, VICI Properties stock is up by:
3.2% year-to-date
17.2% percent year-over-year
296% over its March 2020 low
40% over its pre-pandemic record high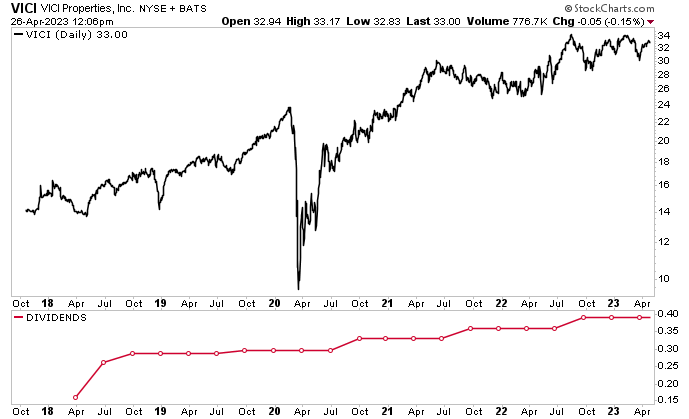 Chart courtesy of StockCharts.com
Wall Street analysts estimate that VICI Properties stock will surpass its record high over the coming quarters. They've provided a 12-month share-price forecast for VICI Properties Inc in the range of $37.50 to $43.00, which points to potential gains in the range of about 11% to 27%.
The Lowdown on VICI Properties Inc
Since going public in late 2018, VICI Properties has weathered the worst economic crisis in 100 years, has become a top 10 REIT in the RMZ REIT Index, has been a member of the S&P 500, and has been an investment-grade issuer of credit.
In 2022, the company completed its transformational acquisitions of MGM Growth Properties LLC and the Venetian Resort Las Vegas, becoming the leading real estate owner on the Las Vegas Strip.
On the financial front, VICI Properties Inc generated the highest—and only positive—total shareholder returns of all S&P 500 REITs in 2022. Management believes the momentum will continue in 2023, which should help juice VICI stock's price and high-yield dividends.