VICI Properties Inc: 4.9%-Yielding Gaming REIT Investors Can Bet On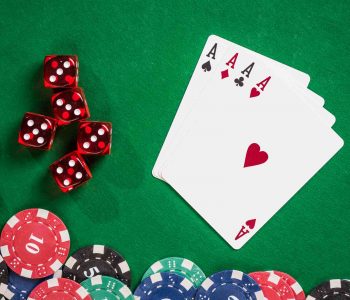 VICI Properties Inc Betting Big on Las Vegas With Blockbuster Acquisitions
The U.S. gambling industry took a big hit in 2020 because of the COVID-19 pandemic and its related travel restrictions. At one point, Las Vegas was a virtual ghost town. So it wasn't a total surprise to see gaming stocks like VICI Properties Inc (NYSE:VICI) take a nosedive. Between late February 2020 and March 2020, VICI stock cratered by approximately 65%.
But thanks to the successful rollout of COVID-19 vaccines and the reopening of the U.S. economy and borders, the U.S. gaming industry has come roaring back. And in particular, Nevada.
In May, Nevada hit a record $1.23 billion in gaming revenue from casinos across the state. Its previous record was $1.17 billion in October 2017. Not to be outdone, in June, Nevada's gaming revenue topped $1.19 billion, a 110.5% increase over June 2020.
In the second quarter of 2021, the U.S. gambling industry brought in a record $13.6 billion, a 22% increase from the country's previous record of $11.1 billion in the third quarter of 2019—mere months before COVID-19 hobbled the industry.
The good times are expected to keep rolling, too. In 2021, the U.S. gaming industry is expected to generate more than $44.0 billion in gambling revenue. In 2019, the industry generated $43.6 billion in legal gambling revenue.
To put it mildly, Vegas is back.
And the once-downtrodden VICI Properties stock has been soaring. Trading near record levels, VICI stock is up by:
17% year-to-date
33% year-over-year
223% since bottoming in March 2020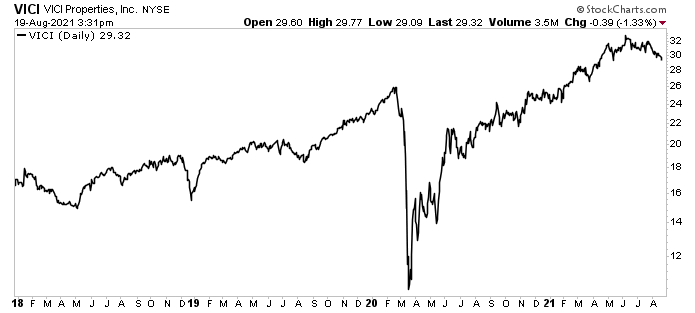 Chart courtesy of StockCharts.com
The outlook for VICI Properties stock is excellent. In addition to reporting "stellar" second-quarter financial results, the company has announced a number of blockbuster acquisitions.
VICI stock was an excellent stock even before those acquisitions. The company is a real estate investment trust (REIT) that owns one of the largest portfolios of gaming, hospitality, and entertainment properties, including Caesars Palace.
VICI Properties Inc's properties are leased to Caesars Entertainment Inc (NASDAQ:CZR), Century Casinos, Inc. (NASDAQ:CNTY), Hard Rock Cafe International Inc., JACK Entertainment LLC, and Penn National Gaming, Inc (NASDAQ:PENN).
The company's national footprint consists of 28 gaming facilities comprising 47 million square feet. They include approximately 17,800 hotel rooms and more than 200 restaurants, bars, nightclubs, and sportsbooks.
VICI Properties also has an investment in the Chelsea Piers New York sports facility and owns four championship golf courses and 34 acres of undeveloped land adjacent to the Las Vegas Strip.
If you think all that would be expensive to maintain, you're right. That's why VICI Properties Inc lets its tenants do that.
VICI Properties is a triple net lease REIT, which means its tenants are responsible for the costs of maintaining and operating the properties. This can be a little risky, especially if the economy tanks and the tenants can't pay their rent. But this didn't happen to VICI Properties. During the pandemic, 100% of the company's tenants paid their rent on time.
Like all good landlords, VICI Properties increases its rent every year—by about two percent. In some instances, the rent hike is higher if it's tied to the consumer price index.
Moreover, VICI Properties Inc is always on the hunt for new properties to add to its empire.
Acquisitions
In March, VICI Properties announced that it had entered a definitive agreement to acquire all of Las Vegas Sands Corp.'s (NYSE:LVS) land and real estate assets associated with the Venetian Resort and the Sands Expo and Convention Center in Las Vegas. (Source: "VICI Properties Inc. to Acquire the Venetian Resort's Real Estate in Las Vegas," VICI Properties Inc, March 3, 2021.)
Simultaneous with the closing of the transaction, VICI Properties will enter a triple net lease agreement for the Venetian Resort. The lease will have an initial total annual rent of $250.0 million and an initial term of 30 years, with two 10-year tenant renewal options.
In early August, VICI Properties announced plans to acquire MGM Growth Properties LLC (NYSE:MGP), another gaming REIT, for $17.2 billion. (Source: "VICI Properties Inc. Announces $17.2 Billion Strategic Acquisition of MGM Growth Properties LLC," VICI Properties Inc, August 4, 2021.)
MGM Growth Properties' real estate portfolio includes Las Vegas Strip properties such as New York-New York and Mandalay Bay. It also owns a number of regional properties in other markets, including Atlantic City, NJ.
The MGM deal is expected to close in the first half of 2022 and be immediately accretive to earnings. It will broaden VICI Properties Inc's tenant base and give it more scale. Approximately 55% of the REIT's rent base will come from market-leading regional properties, and 45% will come from the Las Vegas Strip.
Once completed, the acquisition will add 15 Class A entertainment resort properties across nine regions. They comprise 33,000 hotel rooms, 3.6 million square feet of meeting and convention space, and hundreds of food, beverage, and entertainment venues.
The $17.2-billion price is high, but VICI Properties Inc got a deal, a discount of roughly 30% to 40% to replacement costs.
Following the acquisition of MGM Growth Properties LLC and the pending acquisition of the real estate from Las Vegas Sands Corp., VICI Properties is expected to retain approximately $500.0 million of annualized free cash flow (after dividend payments), which it can use for additional acquisitions.
Strong Q2 Results
For the second quarter ended June 30, VICI Properties announced that its revenue increased by 45.9% year-over-year to $376.4 million. (Source: "VICI Properties Inc. Announces Second Quarter 2021 Results," VICI Properties Inc, July 28, 2021.)
Its net income came in at $300.7 million, or $0.54 per share, versus $229.4 million, or $0.47 per share, in the second quarter of 2020.
The REIT's funds from operations (FFO) were $300.7 million for the quarter, or $0.54 per share, compared to $229.4 million, or $0.47 per share, for the quarter ended June 30, 2020. Its adjusted FFO were up by 45.3% at $256.1 million, or $0.46 per share.
Quarterly Dividend Increases 10.9% Year-Over-Year
On June 10, VICI Properties declared a regular quarterly dividend of $0.33 per common share. That's a 10.9% increase over the $0.2975 it paid out in the same period of 2020. It works out to an annual dividend payout of $1.44 per share, for a yield of 4.9%. (Source: "Common Equity Dividends ($)," VICI Properties Inc, last accessed August 24, 2021.)
The payout ratio is just 55.9%, so the company's generous dividend payout is safe.
And if history is any indicator, the dividend will go up again next year. VICI Properties stock only went public in 2017, and it began paying dividends in 2018. The company has raised its annual payout every year since then.
| | |
| --- | --- |
| Year | Dividend Per Share |
| 2021 | 1.32 |
| 2020 | $1.25 |
| 2019 | 1.17 |
| 2018 | $0.9975 |
(Source: Ibid.)
The Lowdown on VICI Properties Inc
VICI Properties Inc is one of the largest and best-run gaming REITs on the planet, and thanks to two blockbuster acquisitions, it's about to get a whole lot bigger.
The company reported amazing second-quarter financial results and reaffirmed its full-year guidance. Furthermore, VICI stock provides a reliable, growing high-yield dividend.