VICI Properties Inc: 2022 Expected to Be Monumental for This Gaming Stock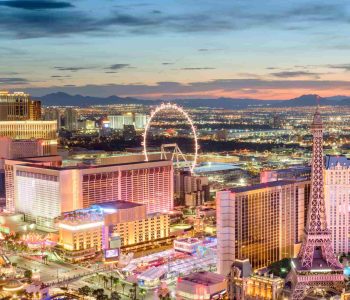 Why VICI Stock Should Be on Investors' Radar
Investors are being hit by a perfect storm, with near record-low interest rates, soaring inflation, and the Omicron-fueled stock market sell-off. With volatile markets, investors might be wondering where they should park their hard-earned dollars.
High-dividend stocks are an excellent place to start. High-yield stocks with growing dividends, rising share prices, and bullish outlooks are even better. That's what makes VICI Properties Inc (NYSE:VICI) a great bet for 2022.
First, VICI Properties owns one of the largest portfolios of gaming, hospitality, and entertainment properties, including Caesars Palace. Second, the Las Vegas Strip recently set an all-time quarterly record for revenue, collecting $2.1 billion in the third quarter. That trumps its previous record of $1.8 billion, set in the fourth quarter of 2006. Third, Wall Street expects the momentum for Las Vegas to carry into 2022.
All this should help juice the price of VICI Properties stock and allow the company to raise its dividend again.
About VICI Properties Inc
"Veni, vidi, vici" a Latin phrase meaning "I see, I come, I conquer," is attributed to Julius Caesar. VICI Properties has, in a short period, conquered Las Vegas. The triple net real estate investment trust (REIT) owns one of the most enviable entertainment property portfolios in the U.S.
VICI Properties Inc's national footprint consists of 27 gaming facilities comprising 46 million square feet. It owns approximately 17,800 hotel rooms; more than 200 restaurants, bars, nightclubs, and sportsbooks; four championship golf courses; and a whopping 34 acres of undeveloped land adjacent to the Las Vegas Strip. Moreover, the REIT has an investment in the Chelsea Piers sports complex in New York City.
VICI Properties Inc's properties are leased to Caesars Entertainment Inc (NASDAQ:CZR), Century Casinos, Inc. (NASDAQ:CNTY), Hard Rock Cafe International Inc., JACK Entertainment LLC, and Penn National Gaming, Inc (NASDAQ:PENN). The properties are 100% occupied, with an average weighted lease term of 43.4 years.
VICI Properties' portfolio is about to get even bigger. In 2021, the company announced two "transformative" acquisitions: The Venetian Resort and MGM Growth Properties LLC (NYSE:MGP). (Source: "VICI Investor Presentation," VICI Properties Inc, November 8, 2021.)
Both deals are expected to close in the first half of 2022. The acquisitions will add 15 Class A entertainment resort properties spread across nine regions. They comprise 33,000 hotel rooms, 3.6 million square feet of meeting and convention space, and hundreds of food, beverage, and entertainment venues. The deals will make VICI Properties the largest landowner on the Las Vegas Strip.
Once the two acquisitions are completed, VICI Properties Inc will have an estimated enterprise value of $45.0 billion, solidifying its position as the largest experiential net lease REIT.
The Venetian Resort includes 7,100 rooms, a 225,000-square-foot gaming platform, 2.3 million square feet of meeting and event rooms, 35 restaurants, nine bars, four entertainment venues, and a shopping mall. The Venetian Resort is:
The largest single hotel complex in the U.S.
One of the largest single assets on the Las Vegas Strip
The largest private-sector convention and trade center in the U.S.
One of the largest gaming assets in the U.S.
One of the highest-revenue single assets in U.S. commercial real estate
Best of all, VICI Properties Inc snapped up The Venetian Resort for just $4.0 billion (initial annual rent is $250.0 million). That's a significant discount to implied estimated construction costs.
VICI Properties purchased MGM Growth Properties LLC for $17.2 billion. MGM Growth Properties' real estate portfolio includes seven premier Las Vegas properties, such as New York-New York and Mandalay Bay, as well as a number of regional properties in markets including Atlantic City, NJ.
Vici Properties Inc Hikes Quarterly Dividend by 9.1%
In August, VICI Properties' board declared a regular quarterly dividend of $0.36 per share. This represents a 9.1% increase over the $0.33 per share paid out in the previous quarter.
VICI stock's current yield is 5.2%. Moreover, its payout ratio is just 73.0%, giving the company more than enough financial wiggle room to not just continue paying frothy dividends, but to increase them.
VICI Properties Inc went public in 2017, and it has raised its dividend every year since 2018. Even during the worst economic crisis in the last 100 years, Vici Properties was able to provide passive income investors with a raise. And thanks to its acquisitions of The Venetian Resort and MGM Growth Properties LLC, that dividend growth should continue.
The company's current operations and future growth help explain why VICI Properties stock continues to gain traction. As of this writing, VICI stock is:
Down by 9.5% over the last six months
Up by 11.8% year-to-date
Up by 14.0% year-over-year
Up by 207.0% since bottoming in March 2020
No one likes to see a stock lose ground, but history shows that VICI Properties Inc is a cash cow no matter what the economic climate is, and it rewards investors with rising dividends and long-term capital growth.
If anything, the recent dip in VICI Properties stock's price, which has erased seven months of gains, has simply put the high-dividend stock in a better trading range.
Wall Street seems to agree. Analysts' average 12-month price target for VICI stock is $36.47, with a high target of $39.00. This points to potential gains of approximately 30% and 41%, respectively.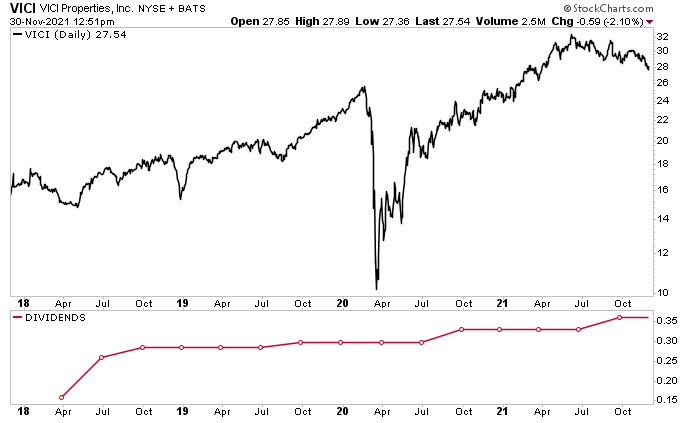 Chart courtesy of StockCharts.com
Strong Q3 Results
VICI Properties' massive entertainment footprint provides it with diverse revenue streams from gaming, sports betting, entertainment, and food and beverage. That all provides the REIT with reliable cash flow during all business cycles, including the COVID-19 pandemic.
In the company's third quarter, its total revenue increased by 10.6% year-over-year to $375.7 million. (Source: "VICI Properties Inc. Announces Third Quarter 2021 Results," Vici Properties Inc, October 27, 2021.)
VICI Properties' net income attributable to common stockholders and funds from operations (FFO) were $161.9 million, or $0.28 per share. Its adjusted FFO advanced 12.9% to $257.4 million, while its adjusted FFO per share climbed by 5.9% to $0.45.
The Lowdown on VICI Properties Stock
VICI Properties Inc owns one of the world's most dynamic gaming and entertainment property portfolios on the planet. As of late October, the REIT had announced more than $21.0 billion in transactions in 2021, including its acquisitions of The Venetian Resort and MGM Growth Properties LLC. (Source: Ibid.)
Once the deals are completed, VICI Properties will own 10 premier properties on the Las Vegas Strip, the most economically productive street in America. The company will also own the country's largest portfolio of regional gaming assets.
Thanks to the REIT's unmatchable property portfolio, strong industry drivers, rock-solid balance sheet, diverse revenue streams, and high barriers to entry, VICI stock is uniquely positioned to reward buy-and-hold investors with reliable, growing, high-yield dividends and significant share-price gains.
While 2021 was transformational for VICI Properties Inc, 2022 could be even more monumental.