VFC Stock: 3 Reasons Income Investors Will Like VF Corp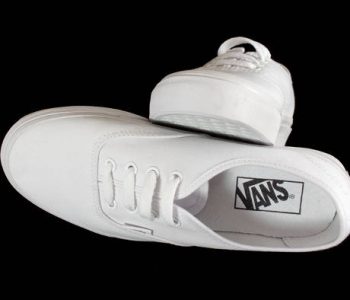 VFC Stock's Dividends Outshine Its Peers
VF Corporation (NYSE:VFC) stock doesn't get as much attention as its peers in the apparel and footwear industry, but that doesn't mean you should ignore the company altogether. In fact, there are quite a few reasons why VF Corporation stock deserves the special attention of income investors.
If you haven't heard of the company before, you are likely to have encountered some of its products. Founded in 1899, VF Corp's brands include The North Face, Vans, Timberland, Wrangler, Lee, and Nautica.
VFC Stock: More than Double the Yield of Nike Stock
The top reason to like VFC stock is its dividends. VF Corporation doesn't make headlines as often as Nike Inc. (NYSE:NKE) and Under Armour Inc. (NYSE:UA), but its payout to income investors is much more impressive. Nike stock is yielding 1.13%, while Under Armour pays no dividend at all. VF Corp, on the other hand, has an annual dividend yield of 2.46%.
What's even more impressive is VFC stock's track record in growing its payout. The company has been increasing its quarterly dividend rate every single year for the past 43 years. The latest dividend hike came last October, when VF announced a 16% increase in its quarterly dividend rate to $0.37 per share. (Source: "VF Reports 2015 Third Quarter Results," VF Corporation, October 23, 2015.)
VFC Stock: Resilience
The apparel industry is not an easy place to be in. Fashion trends can change rapidly. If companies don't adapt to new trends quickly enough, they risk losing their relevance in the business.
Fortunately, for more than a century, VF Corporation has not only survived, but also thrived. With more than four decades of consecutive dividend hikes, VFC stock is a rare find in the apparel and footwear industry.
One of the reasons behind VF's success is the niche markets it chooses to operate in. Fashion can change very quickly, but if you have an established brand name in a slow-changing, niche market, you can have continued success decade after decade.
One such niche market is jeans, whose style has not changed that much over the years. VF Corporation has two famous brands in the segment, Lee and Wrangler, which were founded in 1889 and 1944, respectively. Despite their age, these two brands are still relevant today.
In the second quarter of 2016, revenue from the Lee brand increased eight percent year-over-year, and would have been up 10% on a constant currency basis, while Wrangler brand revenue rose two percent year-over-year (up four percent currency neutral). (Source: "VF Reports Second Quarter 2016 Results," VF Corporation, July 22, 2016.)
Continued success from the Wrangler and Lee brands drove VF Corporation's Jeanswear segment revenue up three percent year-over-year. Operating income for the segment also rose, by four percent to $109 million, and the company's operating margin expanded 10 basis points to 17.3% for the quarter.
Another example of a relatively slow-changing apparel segment is outdoor and action sports. Consumers shopping in this particular market care more about quality and durability rather than fashion. For the segment, VF Corporation has iconic brands like The North Face, Timberland, and Vans. In the second quarter, revenue from the company's outdoor and action sports segment grew two percent year-over-year to $1.4 billion.
VFC Stock: Streamlining Operations
While some of VF brands are doing great, not all of them are reporting stellar performance. Having too many brands can be costly, and that's why the company has decided to sell some of them.
Earlier this year, VF Corporation announced that it would sell its Contemporary Brands business to Israeli textile company Delta Galil Industries Ltd. for $120 million. The brands included in the transaction are 7 for All Mankind, Splendid, and Ella Moss. On August 26, VF announced that the sale has been completed. (Source: "VF Corporation Completes the Sale of its Contemporary Brands Businesses to Delta Galil Industries, Ltd.," VF Corporation, August 26, 2016.)
The Bottom Line of VFC Stock
The best part about not being a hyped up company is that valuations are still relatively low. Trading at $60.00 on Thursday, VFC stock has a price-to-earnings (P/E) multiple of 21.93X, which is lower than Nike's and much lower than Under Armour's. Moreover, if you use the expected earnings for the next fiscal year, you'd see that VF Corporation has a forward P/E of just 16.72x.
Value won't go unnoticed forever. For income investors interested in the apparel and footwear industry, VFC stock is worth taking a serious look at.