Verizon Communications Inc.: Safe, Growing Yield of 4.3%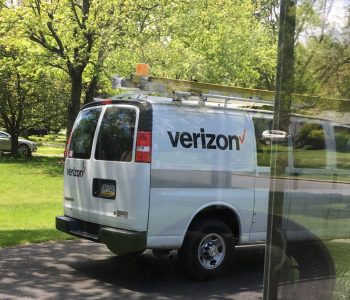 Verizon Stock Deserves Income Investors' Attention
At first glance, Verizon Communications Inc.'s (NYSE:VZ) 4.3% annual dividend yield may not seem like much. But when you consider how solid the business is and how much other companies are paying, you'd see that VZ stock could be a serious dividend growth opportunity.
Allow me to explain.
The first thing to note is that we are currently in a low-yield environment—in terms of both interest and dividend.
The last time I checked, yield on the 10-year U.S. Treasury note was just 0.56%, while the average dividend yield of S&P 500 companies stood at 1.8%. (Source: "S&P 500 Dividend Yield," multpl.com, last accessed August 3, 2020.)
In other words, by offering a 4.3% annual dividend yield, Verizon stock is actually paying twice as much as the average S&P 500 company.
Moreover, the dividend is backed by a rock-solid business.
Verizon Communications Inc. is one of the largest telecommunications companies in the world, providing a wide range of voice, data, and video services and solutions. Notably, Verizon says it has the largest 4G LTE network in America, covering more than 98% of the country's population. The company has also launched its "5G Ultra Wideband" network in 35 cities nationwide. (Source: "2Q 2020 Earnings," Verizon Communications Inc., July 24, 2020.)
If you think cell phone bills are getting more expensive, that's because they are. With consumers' increasing adoption of smartphones over the past dozen years or so, wireless carriers are making money hand over fist. And because the industry is known for having high barriers to entry—there are fewer than a handful of major wireless carriers in the U.S.—companies can make oversized profits.
It also helps that telecom is a relatively recession-proof industry. Think about it: when times get tough, people may buy fewer luxury goods, but cell phone and Internet bills will likely be the last payments they skip.
And that, my dear reader, is why Verizon can remain resilient during the COVID-19 pandemic. According to the company's latest earnings report, the telecom giant generated $30.4 billion of revenue in the second quarter of 2020. While the amount represented a 5.1% decline year-over-year, it beat Wall Street's expectation of $29.9 billion. (Source: "Strong Wireless Customer Additions and Cash Flow Highlight Verizon's 2Q and First-Half 2020 Results," Verizon Communications Inc., July 24, 2020.)
Verizon's adjusted earnings came in at $1.18 per share in the second quarter, down 4.1% from the the year-ago period. Again, the number was above analysts' consensus estimate of $1.15 per share.
Of course, a decline is still a decline. But here's the thing: the economic impact of the COVID-19 pandemic is so severe that S&P 500 companies that have reported second-quarter results as of July 24 showed a blended year-over-year revenue decline of 10.1% and a blended year-over-year earnings decline of a staggering 42.4%. (Source: "Earnings Insight," FactSet Research Systems Inc, July 24, 2020.)
That is, compared to how other companies were doing in this challenging environment, Verizon delivered some very impressive numbers.
And there's more. In Verizon's wireless business, which is by far the company's biggest segment, it had 352,000 retail postpaid net additions. Meanwhile, the retail postpaid phone churn dropped to as low as 0.58% for Verizon's wireless segment. Churn rate is the rate at which customers stop subscribing to a service, so the lower it is, the better it is for the business.
VZ Stock Pays Increasing Dividends
Having a recurring business is great for paying reliable dividends. And that's exactly what Verizon has done. The company has increased its quarterly dividend rate every year for the past 13 years. (Source: "Dividend history," Verizon Communications Inc., last accessed  August 3, 2020.)
The best part is that Verizon should be able to continue that track record. In 2019, the company earned adjusted net income of $4.81 per share while declaring less than $2.44 per share in dividends. So it had a payout ratio of just over 50%. (Source: "Verizon Ends 2019 With Highest 4Q Wireless Adds in Six Years, Increased Cash Flow and Revenue Growth," Verizon Communications Inc., January 30, 2020.)
And while many companies are not issuing any outlook due to the COVID-19-related uncertainties, Verizon projects that, for full-year 2020, its adjusted earnings per share will be minus-two to plus-two percent from its 2019 level. Therefore, if the company reaches the guidance range, its dividends will be well covered. (Source: "Strong Wireless Customer Additions and Cash Flow Highlight Verizon's 2Q and First-Half 2020 Results," Verizon Communications Inc., July 24, 2020, op. cit.)
It should also be noted that, in the first six months of 2020, Verizon Communications earned a whopping $13.7 billion of free cash flow. Its dividend payments, on the other hand, totaled $5.1 billion during this period.
However you look at it, Verizon has left a wide margin of safety in its dividend policy.
Bottom Line on Verizon Communications Inc.
Put it together and you'll see why VZ stock is special. Verizon Communications Inc. has a durable business model, it offers a better-than-average yield, and it has enough room for future dividend increases.
If you are looking for a reliable dividend-growth stock in today's market, Verizon stock should be on your short list.