How to Make Verizon Communications Inc. Pay You on Every Call Made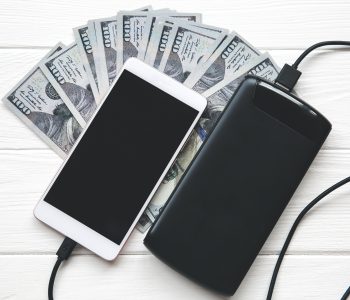 iStock.com/Vadym Plysiuk
"Mobile Royalties" From Verizon Communications Inc.
Dealing with Verizon Communications Inc. (NYSE:VZ) is about as much fun as riding a bicycle without a seat.
Last month I exceeded my data limit by a few megabytes. Verizon, needless to say, took advantage of that opportunity to charge me out the nose. I went apoplectic, my face turning various shades of red.
Of course, I'm not the only one upset with Verizon Communications. Moving accounts to another carrier, however, is a hassle. And all the other companies are the same anyways. So we stay, paying absurd fees month after month.
But for some investors, this has created a lucrative income stream.
I know what you're thinking: you pay a cell phone bill each month. The phone company doesn't mail out checks to its customers—right?
Actually, that's not entirely true. The telecom industry pays out billions of dollars in checks, which I've dubbed "mobile royalties," to investors each year. It's a huge opportunity that we have today.
Let me ask you a question: who owns the cell phone towers that transmit phone calls? Is it Verizon Communications Inc.? No, actually, Verizon and most telecom companies have a landlord. It's called American Tower Corp (NYSE:AMT).
American Tower is the largest owner of cell phone towers in the world. Carriers lease space at these sites to store their broadcasting equipment. In exchange, they pay American Tower ongoing rent payments.
The big four carriers—Verizon, AT&T Inc. (NYSE:T), Sprint Corp (NYSE:S), and T-Mobile Us Inc (NASDAQ:TMUS)—are America Tower's biggest tenants by sales. Together, these firms make up 48% of the partnership's rental income. The rest comes from a collection of smaller U.S. carriers and international customers. (Source: "Introduction to the Tower Industry and American Tower," American Tower Corp, June 30, 2019.)
Owning cell phone towers is a profitable business. Local opposition often prevents the construction of new towers. And because moving equipment from site to site costs thousands of dollars, carriers rarely switch locations. This allows American Tower to raise rents year after year with little risk of losing tenants.
That translates into outstanding profitability. On average, one tower leased to a single tenant in the U.S. generates a three percent annual operating return. But because the cost of running a site is mostly fixed, almost all of the rent from additional tenants flows straight to the bottom line. A tower leased out to two tenants in the U.S. generates an average operating return of 13% per year. With three tenants, that jumps to 24%. (Source: Ibid.)
But here's the best part. Because American Tower Corp has structured itself as a real estate investment trust (REIT), the partnership pays no taxes on profits. But in exchange for this privilege, management must payout at least 90% of earnings to shareholders.
This has created a great income stream for investors. Since the trust started paying distributions in 2011, management has boosted the payout on 30 occasions. Today, American Tower stock pays a quarterly distribution of $0.92 apiece, which comes out to an annual yield of 1.7%.
You can expect that payout to balloon in the years ahead. Average monthly smartphone data usage in the U.S. will increase more than fivefold over the next four years, according to estimates by Cisco Systems, Inc. (NASDAQ:CSCO). The adoption of Internet-connected devices, everything from cars and street lamps to washing machines and industrial equipment, will also boost demand for data. (Source: Ibid.)
Good news for cell tower landlords. To pipe out more gigabytes, carriers have plowed billions of dollars into expanding their mobile networks. Much of this investment comes in the form of adding more broadcasting sites nationwide. That has translated into lower vacancy rates, higher rental income, and surging profits for American Tower Corp.
And as you can see in the chart below, Wall Street has taken notice.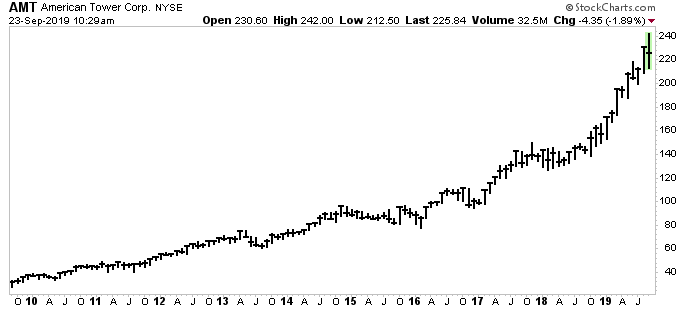 Chart courtesy of StockCharts.com
For American Tower stockholders, this should translate into large and growing distributions for years to come. That's a big reason why I continue to feature AMT stock in my paid newsletter Passive Monthly Income.
So, if you're looking for a safe, growing income stream, how about collecting some royalties from Verizon Communications Inc. for a change?