Verizon Communications Inc.: Get Ready for a Dividend Hike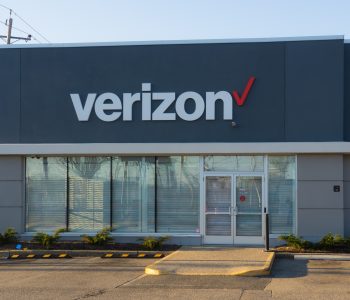 iStock.com/photobyphm
Looking for Growing Dividends? Read This
In a soaring stock market, a few percent of dividend yield may not seem like much. But given the uncertainty surrounding the world economy right now, solid dividend growth stocks could provide a way to earn a safe cash return. Think about it: when the next downturn arrives and everything is deep in the doldrums, stocks that are still growing their cash dividends would be highly sought after.
I'm not saying that a recession is imminent, but over the decades, our economy has always moved in cycles. And somewhere down the road, there will be a downturn. When that time comes, many companies would see their business decline. The market would pull back and the declining stocks prices will like be accompanied by numerous dividend cuts.
And that's why today, I want to talk to you about Verizon Communications Inc. (NYSE:VZ).
If you live in the U.S., Verizon will likely be a familiar name, as it is one of the largest wireless carriers in the country. As of March 31, 2019, Verizon Wireless had 117.9-million retail connections, including 113.4-million postpaid connections. The company has more than 1,600 retail locations across the U.S., and its 4G LTE network covers 98% of the national's population. (Source: "Fact Sheet," Verizon Communications Inc., last accessed June 28, 2019.)
Other than being a wireless carrier, Verizon also operates a sizable wireline segment. In particular, the segment is backed by a 100% fiber-optic network called "Fios." Though the network, the company offers Internet, TV, and other services.
Business has been going quite well at this telecommunications giant. According to the most recent earnings report, Verizon Wireless had 61,000 retail postpaid net additions in the first quarter of 2019. The segment brought in $22.7 billion in revenue during the quarter, representing a 3.7% increase year-over-year. (Source: "Verizon reports strong 1Q operational performance, while raising earnings guidance for full-year 2019," Verizon Communications Inc., April 23, 2019.)
At Verizon Wireline, things were equally solid. In the first quarter, Fios Internet had 52,000 net additions.  This helped grow Fios' total revenue by 3.6% year-over-year.
Looking at the company as a whole, we see that Verizon's total consolidated revenue grew 1.1% year-over-year to $32.1 million in the first quarter of 2019. Adjusted earnings came in at $1.20 per share, up 2.6% from the $1.17 per share earned a year ago.
Why I'm Digging Verizon Communications Inc.
Of course, you can find companies that are growing their business at a faster pace than Verizon Communications Inc.. The reason I like VZ stock so much is how resilient its business is. When a recession arrives, people might be postponing their plans of buying new cars, but for most consumers, cellphone service is still a necessity. This would allow Verizon to make money through thick and thin.
A resilient business model also translates to a reliable dividend stream. Right now, VZ stock has a quarterly dividend rate of $0.6025 per share, meaning a generous annual yield of 4.2%.
Looking back, we see that the company has raised its quarterly dividend rate every year since 2007. (Source: "Dividend History," Verizon Communications Inc., last accessed June 28, 2019.)
The best part is, Verizon stock is well-positioned to continue that track record. In 2018, the company earned an adjusted net income of $4.71 per share. Its dividend payments, on the other hand, totaled $2.385 per share. (Source: "Strong wireless customer growth and loyalty highlight Verizon's 4Q results," Verizon Communications Inc., January 29, 2019.)
In other words, despite delivering consecutive annual dividend increases for over a decade, Verizon was paying out just 50.6% of its profits last year.
In the latest earnings press release, Verizon also raised its guidance. For full-year 2019, management expects the company's adjusted earnings per share to increase by a low single digit.
Combining a growing business with a conservative payout ratio, Verizon Communications Inc. should have plenty of room for future dividend increases. The company has already declared four quarterly dividends of the same amount as of this writing. The next dividend announcement, which should arrive in September 2019, will likely be an increase.