Verizon Communications Inc.: This Dividend Giant Just Raised Its Payout Again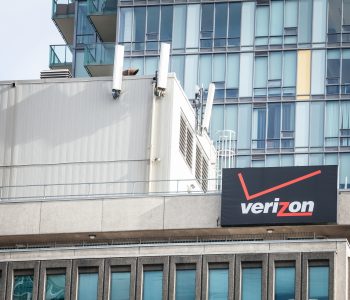 iStock.com/BalkansCat
Returning More Cash to Investors
"The next dividend announcement, which should arrive in September 2019, will likely be an increase."
That's what I told Income Investors readers about Verizon Communications Inc. (NYSE:VZ) in July. In that piece, I explained why this American multinational telecommunications conglomerate was ready to increase its payout to shareholders.
And the company did just that.
On September 5, Verizon's board of directors declared a quarterly cash dividend of $0.615 per share, a 2.1% increase from its previous quarterly distribution of $0.6025 per share. The newly-increased dividend will be paid on November 1, to shareholders of record as of October 10. (Source: "Verizon increases dividend for 13th consecutive year," Verizon Communications Inc., September 5, 2019.)
The ex-dividend date—the day on and after which the seller of VZ stock, rather than the buyer, is eligible to receive the dividend payment—is set for October 9. So for investors who want to collect the next dividend payment, they would need to own VZ stock by October 8.
Now, I'm no oracle, but it was extremely easy to predict that Verizon was about to hike its dividend. With the company's latest announcement, 2019 is on track to become the 13th consecutive year in which Verizon's board has approved a quarterly dividend increase.
And if you look further back, you'll see that the company (including its predecessor) has been paying steady or increasing dividends for more than three decades. (Source: "Dividend History," Verizon Communications Inc., last accessed September 18, 2019.)
One thing to note about companies with this kind of dividend track record is that management is strongly motivated to keep it continuing. Think about it: if a company has been raising its dividends regularly for decades and that streak suddenly stops, management will likely have some serious explaining to do.
Therefore, when I saw that Verizon was paying steadily growing dividends and that its board usually reviews the dividend policy in September, I expected another dividend increase around the same time this year.
Of course, there are companies that have halted dividend hikes after many years of providing rising payouts. That's usually because, while management wants to continue the track record, it doesn't have the financial resources to support those dividend hikes. There have even been instances in which a company cut its dividend after raising it for a long time.
So, while dividends are sticky, past performance is no guarantee of future results.
Is the Dividend Safe at Verizon Communications Inc.?
Since Verizon Communications released another earnings report after my last article about the company, let's take a look at Verizon's most recent financials and see if it has the resources to back its rising shareholder payout.
The company reported second-quarter results on August 1. The earnings report showed that, during the quarter, Verizon generated $32.1 billion of revenue. That number was down 0.4% year-over-year and it missed Wall Street's expectation of $32.4 billion. (Source: "Verizon reports strong 2Q and first-half 2019 results," Verizon Communications Inc., August 1, 2019.)
While the top-line number did not look that cheerful, note that Verizon's core business is still growing.
I'm talking about the "Verizon Wireless" division, which is by far the company's biggest revenue contributor. In the second quarter, the wireless division's revenue grew one percent year-over-year to $22.7 billion, driven by a 3.1% increase in service revenue.
Notably, Verizon Wireless achieved 451,000 retail postpaid net additions in the quarter, including 420,000 postpaid smartphone net additions.
On a consolidated level, the company's bottom-line result was much more impressive than its top-line number. Excluding special items, Verizon's adjusted earnings came in at $1.23 per share in the second quarter, which not only marked a 2.5% increase year-over-year, but also beat Wall Street's estimated earnings of $1.20 per share. (Source: "Verizon Communications Inc. (VZ)," Yahoo! Finance, last accessed September 12, 2019.)
And considering the company declared and paid a cash dividend of $0.6025 per share during the quarter, its earnings per share (EPS) covered the payout more than twice over.
Also in the second-quarter earnings report, the company reaffirmed its guidance. For full-year 2019, Verizon expects "low single-digit percentage growth in adjusted 2019 EPS, excluding the impact of the lease accounting standard."
Here's the neat part. After the recent dividend hike, Verizon is on track to pay total dividends of $2.435 per share for full-year 2019.
Last year, the company's adjusted earnings came in at $4.71 per share. Therefore, if Verizon achieves management's guidance range and grows its adjusted EPS by a low single-digit percentage in 2019, the amount will easily cover its dividend obligation for the year. (Source: "Strong wireless customer growth and loyalty highlight Verizon's 4Q results," Verizon Communications Inc., January 29, 2019.)
Bottom Line on Verizon Stock
Ultimately, don't forget that the telecom industry is known for having high barriers to entry. Sure, Verizon has its competitors, but with 118 wireless retail connections and a 4G LTE network that covers 98% of the U.S. population, the company is one of the most established players in the industry. It would be extremely difficult for anyone to challenge Verizon's market position.
Trading at $59.66 per share, VZ stock offers a generous annual dividend yield of 4.1%. Given the company's rock-solid business, dividend growth history, and low payout ratio, I'd say Verizon stock investors have plenty of dividend hikes to look forward to in the years ahead.