Vector Group Stock: Undervalued 6.2%-Yielder Smokes Broader Market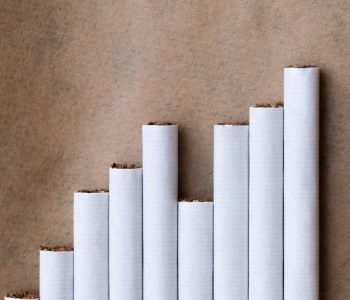 Why Vector Group Ltd Is Worth Looking At
Vector Group Ltd (NYSE:VGR) won't appeal to every investor, even though the company provides ultra-high dividends and has been reporting strong financial results. The reason? It makes and markets cigarettes. That said, it's tough to find a company that doesn't do something that someone disapproves of.
So, if you can stomach investing in a company that manufactures cigarettes for adults, you might want to take a look at Vector Group stock.
Miami, FL-based Vector Group is a diversified holdings company that operates through two segments, Tobacco and Real Estate. Through its Liggett Group LLC and Vector Tobacco Inc. subsidiaries, Vector Group is the fourth-largest cigarette manufacturer in the U.S., with a 4.0% wholesale market share and a 4.2% retail market share. (Source: "Investor Presentation: November 2021," Vector Group Ltd, last accessed April 18, 2022.)
Of particular note, from April 1, 2010 to March 31, 2020, Vector Group Ltd was the only major U.S. cigarette manufacturer to increase both its market share and its unit volumes.
There's more to this company than cigarettes, though. Vector Group also owns New Valley LLC, which holds minority investments in various real estate projects (residential, hotel, office, and retail) throughout the U.S., including New York City, Palm Spring, Las Vegas, and Miami Beach.
Last December, Vector Group Ltd completed the spin-off of Douglas Elliman Inc (NYSE:DOUG) into a stand-alone, publicly traded company. Douglas Elliman is one of the largest residential real estate brokerage firms in the New York metropolitan area and the sixth-largest residential brokerage firm in the U.S.
Streamlined operations, excellent financial results, and an analyst upgrade have sent VGR stock higher over the last year. As of this writing, Vector Group stock is up by:
29% month-over-month
16% year-to-date
37% year-over-year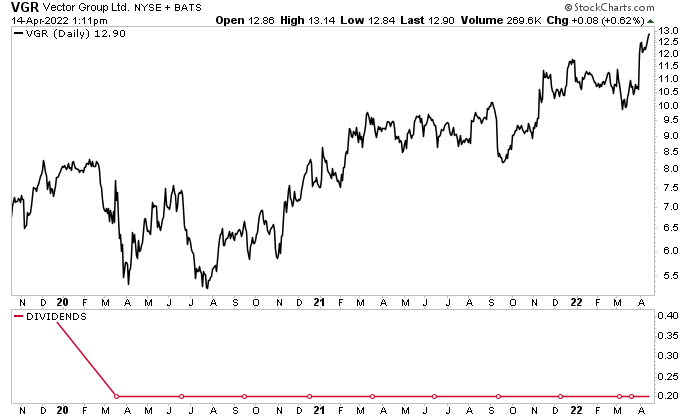 Chart courtesy of StockCharts.com
Record Annual Tobacco Segment Operating Income
People might be smoking less, but that news hasn't hit Vector Group's customers. For the fourth quarter ended December 31, 2021, the company announced that its consolidated revenue increased by nine percent year-over-year to $31.7 million. (Source: "Vector Group Reports Fourth Quarter and Full Year 2021 Financial Results," Vector Group Ltd, March 1, 2022.)
Vector Group's net income in the quarter advanced 40% year-over-year to $453.0 million, or $0.29 per share. Its adjusted earnings before interest, taxes, depreciation, and amortization (EBITDA) climbed by 10% year-over-year to $84.3 million, while its adjusted net income from continuing operations jumped by 87% year-over-year to $41.4 million, or $0.26 per share.
Vector Group Ltd's operating income in the fourth quarter went down slightly to $68.8 million, but its tobacco segment operating income rallied by five percent year-over-year to $83.8 million.
"Vector Group had another outstanding quarter, achieving all-time high annual Tobacco Segment operating income," said Howard M. Lorber, the company's president and CEO. "We are excited by the continued strong performance of our tobacco business, which validates our market strategy and reflects the competitive advantages we have in the highly attractive deep discount segment." (Source: Ibid.)
For the full year ended December 31, 2021, Vector Group Ltd's consolidated revenue went down by one percent to $1.2 billion. Its net income was $219.5 million, or $1.40 per share, a 136% increase over the 2020 net income of $92.9 million, or $0.60 per share.
Vector Group Ltd recorded full-year 2021 operating income of $320.4 million, compared to $294.4 million in 2020. The company's tobacco segment operating income went up in 2021 by 13% year-over-year to $360.3 million. Its full-year adjusted EBITDA from continuing operations went up by 12% year-over-year to $349.9 million. The company's tobacco segment's adjusted EBITDA in 2021 climbed by 11% year-over-year to $364.4 million.
Vector Group ended the year with cash and cash equivalents of $193.4 million and investment securities and long-term investments of $199.8 million.
VGR Stock Maintains Dividend at $0.20 Per Quarter
In March 2022, Vector Group Ltd's board declared a regular cash dividend of $0.20 per share, for a yield of 6.2%. The payout ratio is 85.1%, which leaves plenty of room for the company to continue its high-yield dividends.
It hasn't always been this way. In March 2020, the company cut its dividend from $0.40 to $0.20 per share.
While Vector Group Ltd didn't say why it cut its payout in half, it came at a time when many companies were doing the same thing. March 2020 was the start of the COVID-19 pandemic, and most companies saw their share prices tank. Many passive-income stocks cut or suspended their share buyback programs and reduced their dividends in order to shore up their bottom lines and pay down debt.
Since March 2020, VGR stock's price has climbed by more than 55%, but its dividend hasn't recovered yet. However, Vector Group Ltd's continued high earnings and cash flow generation should help it return to hiking its dividends.
The Lowdown on Vector Group Stock
Vector Group stock is a consumer defensive stock that has done exceptionally well since the stock market bottomed in March 2020.
Vector Group Ltd continues to report solid financial results, including significant momentum in its tobacco segment, healthy earnings, and strong adjusted earnings growth. The company also continues to have great liquidity, which it uses to help fund its still-generous high-yield dividends.