Vector Group Stock: 7.9%-Yielding Sin Stock Up 22% Year-Over-Year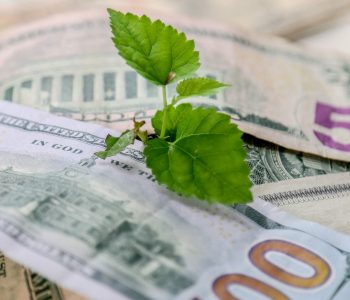 VGR Stock Bullish on Strong Volume & Market Share Growth
Rising interest rates, decades-high inflation, and a looming global recession mean that stocks have no reason to climb higher. In fact, the International Monetary Fund (IMF) said U.S. stocks could tumble by another 20%.
But even during stock market sell-offs, some stocks buck the trend. This is especially true for so-called sin stocks, which include gambling, tobacco, alcohol, adult entertainment, and weapons stocks. According to a 2009 study, those who invested in sin stocks realized a 2.5% higher gain per year than those who invested in comparable stocks in other sectors. Why? People turn to vices when times are good or bad. (Source: "Sin Stocks Outperform Over Time, Study Says," Forbes, October 21, 2009.)
Some institutional investors, including pension funds and university endowments, are prohibited from investing in sectors that aren't viewed as positively affecting society. As a result of the lower demand for sin stocks, they often have lower prices and greater risk. This isn't always the case, though (at least the risk part).
Vector Group Ltd (NYSE:VGR) is a great sin stock that has been providing buy-and-hold investors with fabulous long-term share-price gains and reliable, ultra-high-yield dividends.
The Miami, FL-based holding company is the fourth-largest cigarette maker in the U.S. It operates through two primary businesses: Liggett Group LLC (tobacco) and New Valley LLC (real estate). Through its subsidiaries Liggett Vector Brands LLC and Vector Tobacco Inc, it manufactures and markets cigarettes in the U.S. Its New Valley subsidiary holds minority investments in various real estate projects throughout the U.S. (Source: "Investor Presentation: August 2022," Vector Group Ltd, last accessed November 4, 2022.)
The average retail price of its discount cigarette brands "Montego," "Eagle 20's" and "Pyramid" are approximately 50%, 30%, and 15%, respectively, below the average retail prices of the leading premium brands. Right now, with inflation hovering near 40-year highs, many smokers are looking for ways to save money. Even before the current macroeconomic headwinds, Vector Group Ltd was experiencing solid momentum for its discount brands.
This helps explain why the company has been able to provide investors with high long-term capital appreciation and reliable, ultra-high-yield dividends. Over the last 20 years, Vector Group stock has rallied by 1,370%. During the current stock market sell-off, VGR stock has been providing investors with shelter. Shares of Vector Group Ltd are currently trading up by 21% over the last month and five percent year-over-year. For its part, the S&P 500 is flirting with bear-market territory.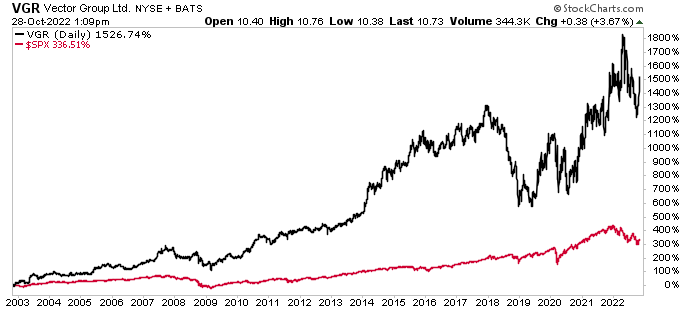 Chart courtesy of StockCharts.com
Vector Group stock has a longstanding history of paying quarterly cash dividends. For the six months ended June 30, the stock returned a total of $64.0 million to shareholders at a quarterly rate of $0.20 per common share. In August, Vector Group Ltd declared a regular cash dividend for its common stock of $0.20 per share, for a yield of 7.9%.
With dividends reinvested, VGR stock has posted total returns of 1,527%. Over the same time frame, the S&P 500 has returned 336.5%.
Vector Group Ltd Reports Another Strong Quarter & Maintains Dividends
For the second quarter ended June 30, Vector Group announced that its consolidated revenues increased by 14.7% year-over-year to $387.2 million. The company's tobacco segment revenues went up in the second quarter by 13.6% year-over-year to $374.3 million, and the segment's unit volume increased by 16.2%. Liggett Vector Brands LLC's wholesale and retail market share increased in the quarter from 4.2% and 4.1% to 5.3% and 5.5%, respectively. (Source: "Vector Group Reports Second Quarter 2022 Financial Results," Vector Group Ltd, August 4, 2022.)
Vector Group Ltd's second-quarter net income was $39.2 million, or $0.25 per diluted common share, compared to $93.3 million, or $0.60 per diluted common share, in the same prior-year period. Its adjusted net income in the quarter was $40.2 million, or $0.25 per diluted common share, compared to $64.6 million, or $0.41 per diluted common share, in the same prior-year period.
Moreover, the company has a rock-solid balance sheet, with cash and cash equivalents of $323.9 million.
"Vector Group delivered strong tobacco revenue performance in the second quarter as we capitalized on favorable market opportunities to substantially increase value and market share," said Howard M. Lorber, Vector Group Ltd's president and CEO. (Source: Ibid.)
"Our price-fighting Montego brand is now our largest brand and the third largest discount brand in the United States. This strong performance demonstrates our commitment to optimizing long-term profit through the effective management of volume, pricing, and market share growth."
The Lowdown on Vector Group Stock
Vector Group stock is a consumer defensive sin stock that continues to do well regardless of where we are in the economic cycle.
Vector Group Ltd reports excellent financial results, which include strong volume and market-share growth. Thanks to the company's healthy cash flow and liquidity, VGR stock is able to provide investors with stable, high-yield dividends.