Automatic Data Processing Stock: Undervalued Blue-Chip Stock's Dividend Hiked for 48 Years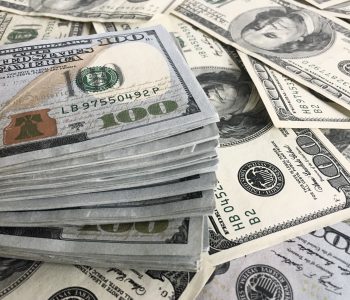 ADP Stock Should Be on Investors' Radar
Fears of a recession have hardly receded, and some analysts are calling for the S&P 500 to tumble by anywhere from 20% to 40% this year. That bearish outlook should inspire even the biggest dividend hogs to consider less-exciting blue-chip stocks.
Why? Blue-chip companies may be considered boring, but they make up for it with high cash flow, long-term share-price gains, and reliable dividends.
One "boring" blue-chip company that fits that bill perfectly is Automatic Data Processing Inc (NASDAQ:ADP), a provider of staffing and employment services. The Roseland, New Jersey-based company might not be able to make human resources (HR) services fun, but it has made them lucrative.
The company provides cloud-based solutions via two business segments: Employer Services and Professional Employer Organization (PEO) Services. Its Employer Services segment offers a range of global human capital management (HCM) and HR services. Its PEO Services segment provides various employment administration and outsourcing solutions. (Source: "ADP Reports Third Quarter Fiscal 2023 Results," Automatic Data Processing Inc, April 26, 2023.)
The company provides its services to anyone with employees. This includes small, medium, and large businesses and organizations in the restaurant/hospitality, manufacturing, professional and technical services, construction, financial services, retail, health care, government/education, and nonprofit/social services sectors.
With a market capitalization of $88.5 billion, you know Automatic Data Processing Inc is a big company with a huge roster of customers. The company has more than one million clients in 140 countries, including 8,000 tax agencies in the U.S., and it administers payroll for more than 40 million workers globally.
The company's diverse and growing customer base needs its products and services no matter where we are in the economic cycle. That's why Automatic Data Processing stock is a great recession-resistant stock that investors should keep on their radar.
Automatic Data Processing Inc Reports "Impressive" Q3 & Raises Guidance
Automatic Data Processing Inc's revenue increased in its fiscal 2023 third quarter (ended March 31) by nine percent year-over-year to $4.9 billion. (Source: Ibid.)
The company's net earnings increased in the quarter by 12% year-over-year to $1.0 billion, while its adjusted net earnings climbed by 13% to $1.0 billion. Its diluted earnings per share (EPS) increased in the quarter by 14% year-over-year to $2.51, while its adjusted diluted EPS increased by 14% to $2.52.
Its adjusted earnings before interest and tax (EBIT) climbed in the quarter by 14% to $1.4 billion, representing an adjusted EBIT margin increase of 110 basis points to 27.8%.
"Our impressive third quarter results are a testament to the overall strength and consistency of our business and the dedication of our associates," said Maria Black, Automatic Data Processing Inc's president and CEO. "Despite the ongoing macroeconomic uncertainty, we again delivered strong revenue growth, margin expansion, and EPS growth." (Source: Ibid.)
Thanks to three quarters of solid financial growth, Automatic Data Processing Inc has raised its guidance for its fiscal year ending June 30, 2023. The company expects to report:
Revenue growth in the range of eight to nine percent
Adjusted EBIT margin growth in the range of 125 to 150 basis points
An adjusted effective tax rate of about 23%
Diluted EPS growth in the range of 16% to 17%
Adjusted diluted EPS growth in the range of 16% to 17%
Automatic Data Processing Stock's Dividend Raised for 48 Straight Years
ADP stock has been about as reliable as a stock can get when it comes to providing growing dividends. The company last raised its quarterly payout in November 2022, when management increased it by 20% to $1.25 per share, for a current yield of 2.4%. (Source: "ADP Increases Cash Dividend; Marks 48th Consecutive Year of Dividend Increases," Automatic Data Processing Inc, November 9, 2022.)
The $1.25-per-share payout represented a 20% increase to the company's quarterly dividend and its 48th consecutive annual increase.
By all accounts, management will raise the dividend for a 49th consecutive year this November. That would put the company just one year shy of being a dividend king.
At the moment, just 48 companies can lay claim to having raised their dividends for at least 50 years. It's possible that Automatic Data Processing Inc won't raise its dividend this year and next, but if the company misses just one year of dividend increases, it has to start all over again.
The company also returns excess cash to investors through a longstanding share-repurchase program. Over the past 10 years, the company has reduced its share count by an average of one percent per year. Last November, management announced it would be rewarding Automatic Data Processing stockholders with $5.0 billion worth of share repurchases.
ADP Stock Down But Has 31% Upside Potential
Despite the company's superb financial results and growing dividends, Automatic Data Processing stock's share-price performance hasn't been lighting up Wall Street. As of this writing, it's down by 20% over the last six months and five percent year-over-year.
But when it comes to an industry juggernaut like ADP stock, it's more important to pay close attention to its long-term performance. Every stock faces price volatility, but not every stock rewards buy-and-hold investors with strong price appreciation decade after decade.
In Automatic Data Processing Inc's stock chart below, you can see that, over the last 20 years, with dividends reinvested, Automatic Data Processing stock has provided returns of 1,081%, compared to just 335% from the S&P 500.
Again, ADP stock might be in the red over the last 12 months, but Wall Street analysts think the company's shares have room to run. Their 12-month share-price target for Automatic Data Processing Inc is in the range of $235.00 to $275.00 per share, pointing to potential gains between 12% and 31%.
Everything is relative, of course. No one would be impressed by 31% upside if the S&P 500's upside was 50%, but that isn't the case. As of May 13, one analyst believed the impending recession and credit crunch could send the S&P 500 about 45% lower. (Source: "A 31-Year Market Vet Who Called the Current Bear Market Warns an Impending Credit Crunch and Recession Will Sink Stocks by 45% as Valuations Remain Higher Than Dot-Com Bubble Levels," Business Insider, May 13, 2023.)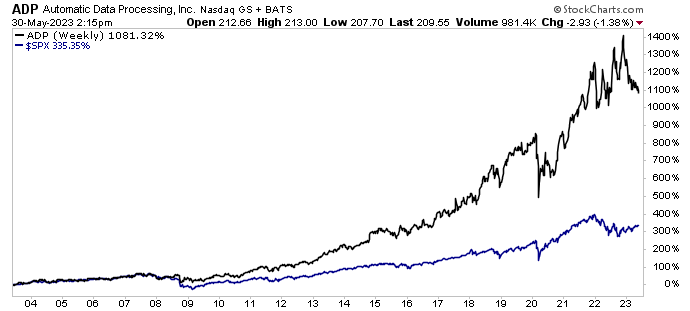 Chart courtesy of StockCharts.com
The Lowdown on Automatic Data Processing Inc
Automatic Data Processing is an industry-leading staffing and employment services company with a long history of consistent revenue growth, including through headwinds related to the COVID-19 pandemic.
This helps juice ADP stock's price and allows the company to provide one of the most enviable dividends on Wall Street. With a target payout ratio in the range of 55% to 60%, Automatic Data Processing Inc has raised its dividends for 48 consecutive years. The company also has a history of repurchasing its own shares.