USD Partners LP: Under-the-Radar $5 Stock Now Yields 8.9%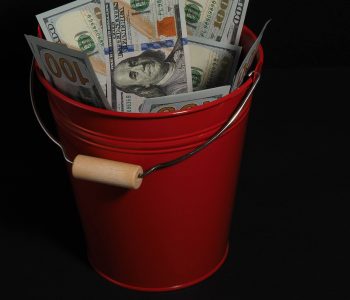 Little-Known Stock With a Big Yield
At first glance, USD Partners LP (NYSE:USDP) seems like just another beaten-down name from the energy sector. If you take a closer look, though, you'll see that this low-priced stock actually offers a jaw-dropping payout.
Allow me to explain.
USD Partners is a master limited partnership (MLP) headquartered in Houston, TX. It was created by US Development Group, LLC in 2014 to operate, develop, and acquire midstream infrastructure and complementary logistics solutions for crude oil, biofuels, and other energy-related products. (Source: "USD Partners LP Investor Presentation: January 2021," USD Partners LP, last accessed February 23, 2021.)
The partnership's assets are primarily focused on the transportation of heavy crude oil from Western Canada to key demand centers across North America. Notably, USD Partners generates nearly all of its operating cash flow from multi-year, take-or-pay contracts with high-quality customers that include major integrated oil companies, refiners, and marketers.
About a year ago, the COVID-19 pandemic started sending shock waves across the economy, and numerous industries—including energy—fell into the doldrums. During that tough time, USD Partners reduced its quarterly cash distribution from $0.37 per unit to $0.111 per unit. (Source: "Distribution History," USD Partners LP, last accessed February 23, 2021.)
Even though there were plenty of energy companies slashing their payouts last year, the sizable distribution cut from USD Partners certainly wasn't good news to income investors.
But here's the thing: USDP stock also plunged during that period and now trades at just over half of where it was a year ago. As a result, the partnership's yield remains at an elevated level.
With a unit price of $5.00 at the time of this writing, USD Partners stock's quarterly distribution rate translates to an annual yield of 8.9%.
In the current low-yield environment, a yield like this makes USDP stock stand out.
Of course, a high-yield energy stock—especially one that has reduced its payout before—can seem risky. However, despite being a beaten-down ticker, USD Partners stock actually offers a fairly wide margin of safety with its current distribution policy.
You see, in the third quarter of 2020, USD Partners generated $13.6 million in distributable cash flow, which represented a 28.7% increase year-over-year. And considering that the MLP paid total cash distributions of $3.2 million to unitholders for the quarter, its distributable cash flow covered the payout more than four times over. (Source: "USD Partners LP Announces Third Quarter 2020 Results," USD Partners LP, November 4, 2020.)
In the first nine months of 2020, USD Partners generated $33.1 million in distributable cash flow, which marked a 19.3% increase year-over-year. The actual cash distributions, on the other hand, totaled $17.0 million for the period. So again, the MLP managed to substantially outearn its payout.
The significant amount of free cash flow also allowed the partnership to improve its balance sheet.
In the company's third-quarter earnings conference call, USD Partners' chairman, president, and chief executive officer, Daniel Borgen, said, "Since the announcement to reducing the distribution, as of today, the Partnership has paid down $19 million on our revolver, which is trending higher than our previously stated guidance to delever by approximately $20 million to $25 million on an annualized basis." (Source: "USD Partners LP (USDP) CEO Daniel Borgen on Q3 2020 Results – Earnings Call Transcript," Seeking Alpha, November 7, 2020.)
He added, "As we have previously stated, the decision to reduce the distribution was not driven by any material deterioration in the performance of the Partnership's underlying business, but rather, represents a conscious effort to enhance long-term value for our unitholders."
Bottom Line on USD Partners LP
To sum up, USDP stock is a beaten-down name with an oversized yield. While its distribution history is less-than-stellar, USD Partners LP's current financial position seems solid.
By maintaining its ongoing distribution rate, USD Partners stock could represent an opportunity for yield-seeking investors.