USD Partners LP: Market-Trouncing Railroad Stock Has 6.7% Yield
Why USDP Stock Is Attractive Right Now
Railroads might seem like a romantic form of travel from yesteryear, but when it comes to the energy sector, there's no better way to transport oil and gas. That's especially true in today's economic environment, where businesses need to be nimble and watch their bottom line. No one understands that more than USD Partners LP (NYSE:USDP).
Trains might seem old-fashioned, but shipping by rail is more fuel-efficient than other methods, like ocean liners, planes, and trucks. One rail car can carry the same load as more than several hundred trucks. And if there are no waterways to connect a route, ships aren't even an option.
Because of the railroad infrastructure sector's high barrier to entry, there isn't a lot of competition.
If you want to start a logistics company, all you need is trucks and customers, and you're shipping products on highways that anyone can access.
Not so for railroads. It's expensive to lay a railroad ($2.0 million/mile). You would also need to find land to create a new rail line. That's virtually impossible today. America's vast rail system was built when the population was sparse and land was cheap. Railroads don't technically run through towns and cities; those towns and cities developed around the rail lines.
All this gives USD Partners LP a big advantage over virtually every other logistics company in the oil and gas sector.
USD Partners designs, develops, owns, and manages irreplaceable large-scale multi-modal logistics centers and energy-related infrastructure for crude oil, biofuels, and other energy-related products across North America. (Source: "USD Partners LP Investor Presentation: September 2021," USD Partners LP, last accessed October 29, 2021.)
Its assets are primarily focused on transporting heavy crude oil from western Canada to key demand centers across North America, including Cushing, OK and the U.S. Gulf Coast energy corridor.
The partnership's operations include railcar loading and unloading, storage and blending in on-site tanks, inbound and outbound pipeline connectivity, truck transloading, and related logistics services. It also provides customers with leased railcars and fleet services to facilitate the transportation of liquid hydrocarbons.
Substantially, all of USD Partners LP's cash flows are generated from multi-year, take-or-pay terminaling services agreements related to its crude oil terminals, which include minimum monthly commitment fees.
The company's customers include major integrated oil companies, refiners, and marketers, the majority of which are investment-grade-rated. They include ConocoPhillips (NYSE:COP), Suncor Energy Inc. (NYSE:SU), Gibson Energy Inc. (TSX:GEI, OTCMKTS:GBNXF), and Cenovus Energy Inc (NYSE:CVE).
Diluent Recovery Facility Completed
In July, USD Partners LP completed the construction of its diluent recovery unit (DRU) in Hardisty, AB, Canada. The project, which is a 50/50 joint venture with Gibson Energy Inc., moves a form of concentrated bitumen by rail to the U.S. Gulf Coast. (Source: Ibid.)
USD Partners has a patented technology that separates diluent from raw bitumen and creates DRUbit, which is a more concentrated, viscous material that's easier to transport by rail.
DRUbit is classified as a non-flammable, non-hazardous commodity because it will not readily ignite. That allows USD Partners to transport it at lower costs, without the need for special railcars that are required for conventional crude oil shipments. Typically, oil mixed with diluents travels through pipelines, but the DRU technology is proven to have a cost advantage of 15% to 20% relative to pipeline alternatives.
Hardisty is the largest crude oil storage hub in Canada, with a total capacity of approximately 30 million barrels of oil and condensate. It serves as the original point for 90% of crude oil exports to the U.S.
The connectivity advantage at USD Partners LP's Hardisty property has been built out over decades, and it would be virtually impossible to replicate today.
ConocoPhillips Canada has contracted USD Partners to process 50,000 barrels per day of bitumen blend through the DRU to be shipped to the U.S Gulf Coast. Like its other contracts, this contract provides the partnership with long-term take-or-pay revenue.
ConocoPhillips can re-blend the DRUbit to create custom blends for its customers, which could include Gulf coast refiners and parties seeking to export the material.
USD Partners LP is in talks with other potential customers for a second phase of growth, which could include a second DRU customer committing to delivering the next 50,000 barrels per day of diluted bitumen to the DRU facility.
New Renewable Diesel Project
In June, USD Partners announced that it had entered a terminal services agreement with USD Clean Fuels LLC. (Source: "USD Partners Announces New Renewable Diesel Contract at West Colton Terminal and the Creation by US Development Group of USD Clean Fuels LLC to Provide Production and Logistics Solutions to Clean Energy Industry," USD Partners LP, June 28, 2021.)
The terminal services agreement provides for the inbound shipment of renewable diesel on rail and the outbound shipment of the product on tank trucks to consumers. The agreement has an initial term of five years, with a target commencement date of December 1.
Once operational, this project is expected to generate approximately $2.0 million per year of adjusted earnings before interest, taxes, depreciation, and amortization (EBITDA) over the five-year term of the agreement.
USD Partners LP Reports Great Results & Raises Dividend
For the second quarter ended June 30, USD Partners announced that its total revenue increased by 22% year-over-year to $33.5 million. (Source: "USD Partners LP Announces Second Quarter 2021 Results," USD Partners LP, August 4, 2021.)
Its net income went up by 466% to $6.7 million, while its earnings per share doubled to $0.24. The company's distributable cash flow was $14.4 million, compared to $9.7 million in the same prior-year period.
In late October, USD Partners announced that it had raised its quarterly distribution to $0.1185 per unit, for a high-yield distribution of 6.7%. This represents a 2.2% increase over the second-quarter distribution of $0.116 per share. (Source: "USD Partners Announces Quarterly Distribution Increase and its Third Quarter 2021 Earnings Release Date," USD Partners LP, October 21, 2021.)
This is the third consecutive quarterly dividend increase the company has announced.
The company's quarterly payout still has a long way to go to get to its pre-COVID-19 level. Back in January 2020, before anyone was really discussing COVID-19, USD Partners declared a quarterly dividend of $0.37 per share, which represented its 19th consecutive distribution increase. (Source: "USD Partners Announces Nineteenth Consecutive Quarterly Distribution Increase to $0.37 Per Unit and Fourth Quarter 2019 Earnings Release Date," USD Partners LP, January 30, 2020.)
Fast-forward to April 2020 and management announced a serious reduction in its distribution in order to reduce the partnership's debt. (Source: "USD Partners Announces Reduction of Quarterly Distribution as Prudent Measure to Reduce Debt and Releases First Quarter 2021 Earnings Date," USD Partners LP, April 23, 2020.)
With the company back to reporting strong financial results, new projects, and the completion of its DRU facility, it's possible that its dividend increases will become more substantial over the coming quarters. In the meantime, a dividend yield of 6.7% is nothing to sneeze at.
Until then, income hogs will have to make do with USD Partners stock's market-trouncing share-price gains. As of this writing, USDP stock is up by 106% year-to-date and 138% year-over-year.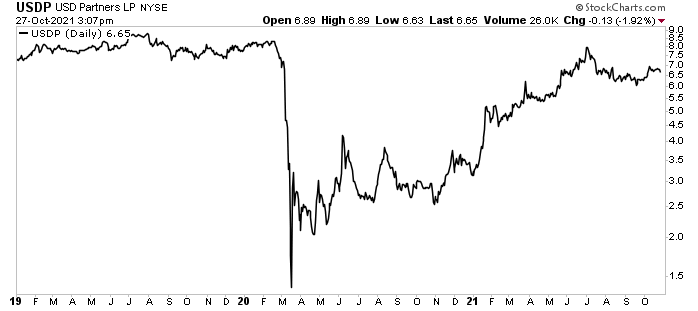 Chart courtesy of StockCharts.com
The Lowdown on USD Partners Stock
As explained earlier, USD Partners LP is an excellent railroad infrastructure company that has a position in the oil and gas industry that's almost impossible to replicate. The company has reported excellent financial results, new projects, and the completion of its highly anticipated DRU facility.
On top of that, management recently began hiking USDP stock's high-yield dividend again.