USA Compression Partners LP: Reliable 12.5% Yielder for Unreliable Times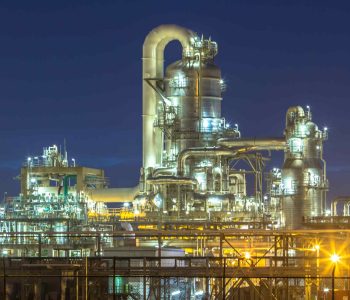 USA Compression Stock Pays Safe $0.525 Quarterly Dividend
Stocks have been deep in the red since the middle of January, with investors focused on the Federal Reserve's plans, inflation, the ongoing COVID-19 pandemic, earnings season, and growing tensions involving Russia vs. Ukraine and China vs. Taiwan.
Despite the pandemic, the stock market had a great run in 2020 and 2021, but that rally is being clobbered. The Nasdaq and S&P 500 are in correction territory, which is defined as a 10% drop from the most recent peak. The Dow Jones Industrial Average is just half a percentage away from joining that club.
What are investors expected to do as this pain continues?
Instead of running for the exits, income investors can ride the wave of volatility with a reliable, ultra-high-yield dividend stock like USA Compression Partners LP (NYSE:USAC).
USA Compression is an oil and gas equipment services company that investors have come to rely on for high dividends and long-term share-price appreciation.
The independent company, together with its subsidiaries, provides compression services in the U.S. under fixed-term contracts to oil and gas companies, including independent gatherers, producers, processors, and transporters. (Source: "Overview," USA Compression Partners LP, last accessed January 24, 2022.)
The partnership provides compression services in various shale plays throughout the U.S., including Delaware Basin, Eagle Ford, Marcellus, Mississippi Lime, Permian Basin, and Utica. (Source: "Where We Operate," USA Compression Partners LP, last accessed January 24, 2022.)
On the one hand, USAC stock has been taking a beating like the broader market, but on the other hand, investors are being paid for their patience.
In mid-January, the company announced a quarterly distribution of $0.525 per share, for a yield of 12.5%. USA Compression stock has actually maintained its quarterly payout at $0.525 since 2016. (Source: "Dividend History," USA Compression Partners LP, last accessed January 24, 2022.)
Some dividend hogs might prefer the partnership to raise its dividend more often, but it's important to remember that USAC stock has been able to hold its quarterly payout at $0.525 throughout the pandemic.
For the third quarter ended September 30, 2021, the company reported distributable cash flow of approximately $52.0 million, down slightly from $57.0 million in the same period of the previous year. Its distributable cash flow coverage was 1.02x for the third quarter of 2021, versus 1.12x for the third quarter of 2020. (Source: "USA Compression Partners, LP Reports Third Quarter 2021 Results; Updates 2021 Outlook," USA Compression Partners LP, November 2, 2021.)
Eric D. Long, president and CEO, noted in November 2021, "The strong industry fundamentals underpinning our compression services business model continue to improve: strong commodity prices, tight supply/demand balances and the return of growth capital spending, all of which are expected to benefit USA Compression as we finish the year and enter 2022." (Source: Ibid.)
If the worst economic crisis in 100 years can't derail USA Compression Partners LP's ultra-high dividend, you can bet USA Compression stock's payout will likely be safe during the economic recovery.
USAC stock's price should also follow suit. Since the company operates in the energy sector, its share price fluctuates based on energy prices and where we are in the economic cycle. But so far, USA Compression stock has always rebounded and notched up new record highs.
As of this writing, shares of USA Compression Partners LP are down by:
8.0% month-over-month
8.0% over the last three months
10.5% year-over-year
Grim numbers, but USAC stock is still up by 455% since bottoming in March 2020, and despite the recent market sell-off, it's up by approximately 20% from its pre-pandemic level.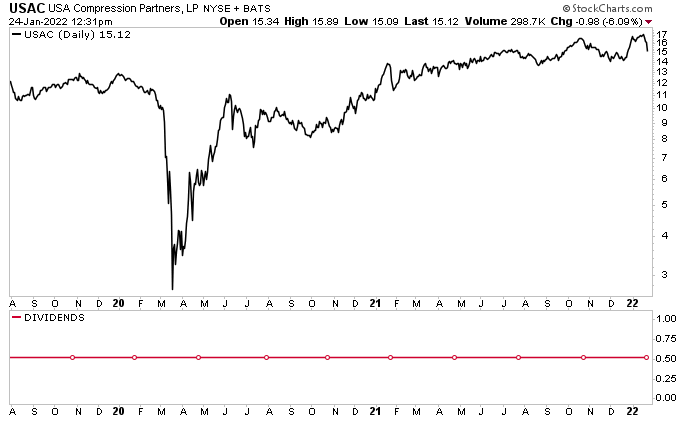 Chart courtesy of StockCharts.com
The Lowdown on USA Compression Partners LP
USA Compression Partners LP isn't perfect, but no stock is. USA Compression stock's price fluctuates in relation to oil and gas prices and broad investor sentiment, but because of its diverse business model, it tends to rebound quickly.
Moreover, USAC stock has provided buy-and-hold investors with great long-term capital appreciation.
On top of that, thanks to the partnership's solid cash flow, which comes from long-term fixed-term contracts, USA Compression stock is able to provide investors with reliable, ultra-high dividends. That makes this dividend stock an ideal option in volatile, uncertain times.