TRP Stock: Billionaire Quietly Buying This Top Dividend Stock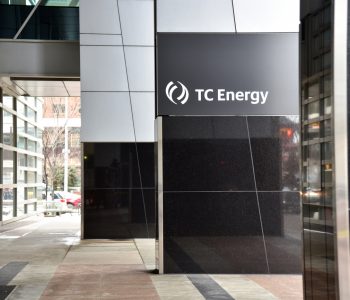 iStock.com/Brett Holmes Photography
Legendary Investor Quietly Buying TRP Stock
Ken Griffin is one of the best investors on the planet.
In 1990, the billionaire money maven founded Citadel LLC. Over that period, Griffin has averaged more than 20% returns per year for his clients. Today, the firm ranks as one of the largest hedge funds in the world, with $32.0 billion in investment capital.
These gains put Griffin in the same category as investing legends Warren Buffett, George Soros, and Peter Lynch. For this reason, I always watch what stocks Griffin is buying. And right now, he is making some big moves in the oil patch.
In recent interviews, Griffin has expressed his bullishness on America's shale energy boom. That's probably why he holds stakes in Exxon Mobil Corporation (NYSE:XOM), Pioneer Natural Resources (NYSE:PXD), and Anadarko Petroleum Corporation (NYSE:APC). (Source: "Hedge Fund – Citadel Investment Group," Insider Monkey, Last Accessed June 27, 2019.)
These stocks are great plays on the huge production boom taking place in the country's heartland.
Griffin also just picked up a new position: last quarter, he disclosed a new position in pipeline giant TC Energy Corp (NYSE:TRP). At the time of the filing, Citadel had accumulated over 3.6 million shares. That values the hedge fund's position at more than $162.5 million. (Ibid.)
Griffin has good reason to be excited. New technologies, such as hydraulic fracturing and horizontal drilling, have unlocked vast quantities of once unreachable oil and gas in vast fields of shale rock.
In May, America's oil output hit a record 12.2 million barrels per day, almost double what the nation produced 10 years ago. And as technology improves, analysts project that this figure will continue to rise for the next decade or more. (Source: "US Oil Production Hits New All Time High," RigZone, June 25, 2019.)
TC Energy has found itself in the middle of this boom. The company owns a network totaling more than 60,000 miles of energy pipelines across North America, in addition to hundreds of terminals, storage tanks, and processing facilities. (Source: "Operations," TC Energy Corp, last accessed June 27, 2019.)
I often describe these assets as the "toll roads" and "highway rest stops" of the oil patch. TC Energy earns a fee each time someone ships, stores, or processes a barrel of crude through its network.
And with more oil and natural gas coming out of the ground, TRP shareholders have cashed in. Since 2009, TC Energy stock has delivered a total return, including dividends, of 174%. Over that same period, management has boosted the distribution on 10 occasions, increasing the payout at an eight-percent compounded annual clip. (Source: "Investors – Dividends," TC Energy Corp, last accessed June 27, 2019.)
In essence, TC Energy is selling picks and shovels during the proverbial gold rush.
Drillers take huge risks exploring and producing oil and natural gas. These bets can backfire spectacularly if they hit a dry well or energy prices plunge. Pipeline companies, in contrast, lock in steady, lucrative toll income that rolls in like clockwork year after year. This is the safer, and often more profitable, way to invest in the energy industry.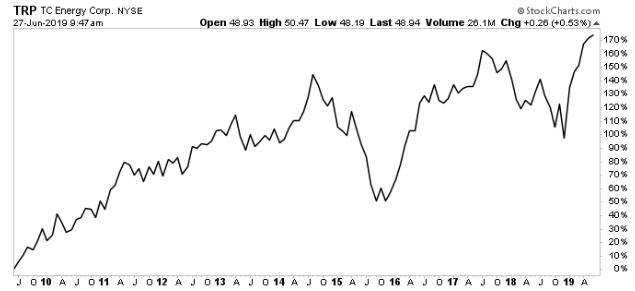 Chart courtesy of StockCharts.com
And this is likely just the beginning. To accommodate the industry's surging oil output, TC Energy has plowed billions of dollars back into its business to expand operations.
Over the next four years, management has budgeted more than $30.0 billion in new expansion projects. This includes several brand-new pipeline routes connecting inland shale fields, as well as the expansion of several existing properties. (Source: "J.P. Morgan Energy Conference," TC Energy Corp, June 18, 2019.)
Those projects will likely pay off for shareholders. Over the next five years, Wall Street expects TC Energy's earnings per share to grow at a high-single-digit compounded annual clip. Management has already pledged to boost the distribution more or less in line with profits.
Those distribution hikes aren't set in stone, of course. Future dividend increases will depend on cash flow and will still need the green light from the board of directors. Project delays, always a reality in the pipeline business, could force shareholders to lower their growth expectations.
That said, TC Energy Corp's management has a tendency to under-promise and over-deliver. And with one of the world's smartest hedge fund managers now backing this company, investors have good reason to be optimistic.
If you skip over this stock, you might be kicking yourself in 10 years.