Paychex, Inc.: Here's Why Paychex (PAYX) Stock Is Down Today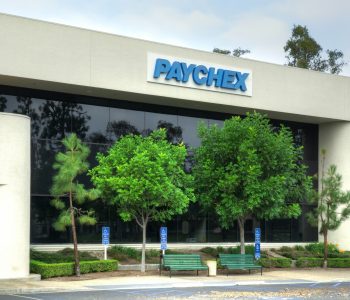 Paychex Stock Tumbles on Earnings
In today's market, a company can report solid growth in both top- and bottom-line numbers, yet its stock could still decline. Paychex, Inc. (NASDAQ:PAYX) stock is the latest example.
The provider of payroll and human resources services reported earnings before the bell on Wednesday. In the second quarter of the company's fiscal 2017, ended November 30, Paychex grew its revenue by seven percent year-over-year to $771.4 million. The bottom line improved as well. For the quarter, net income increased seven percent year-over-year to $202.1 million, translating to earnings of $0.56 per share. (Source: "Paychex, Inc. Reports Second Quarter Results," Paychex, Inc., December 21, 2016.)
The thing is, Paychex's top-line number missed Wall Street's expectation of $782.5 million. The company's earnings per share (EPS) number did beat analysts' estimate of $0.55 by one cent.
After the earnings release, Paychex stock (PAYX stock) tumbled as much as 2.5% to $60.38.
For the quarter, Paychex's payroll service revenue grew three percent year-over-year to $440.9 million. Advance Partners, which Paychex recently acquired, contributed approximately one percent to this growth, with the remaining increase driven by its client base and revenue per check.
Human resources revenue came in at $319.1 million, a 12% increase from the year-ago period. Revenue growth in the segment was mainly driven by increases in the company's client base across all major human capital management services, including comprehensive human recourse outsourcing, retirement, time and attendance, and human resource administration.
"During the second quarter, we continued to achieve growth across all of our major human capital management product lines and reached a new milestone of one million client worksite employees served by our Paychex HR Services," said Paychex President and Chief Executive Officer Martin Mucci in a statement on Wednesday. "This month also marks the one-year anniversary of our acquisition of Advance Partners. We are pleased with the contributions of this acquisition to our financial results and remain encouraged by the opportunities for growth in this business," he continued. (Source: Ibid.)
Despite Wednesday's tumble, Paychex stock (PAYX) is still up more than 15% year-to-date.