Here's Why Guess?, Inc. Stock (GES Stock) Is Going Crazy Today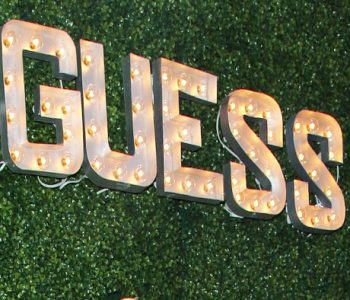 Photo: Astrid Stawiarz / Stringer / Getty Images
Guess Stock Plunges 14%
High yield stocks can be a bit risky. Guess?, Inc. (NYSE:GES) stock is the latest example.
Guess stock (GES stock) plunged 13.97% in after-hours trading on Wednesday, November 30. Why? Because the company just reported earnings.
Guess reported financial results for the third quarter of its fiscal 2017, ended October 29, 2016. Total net revenue for the quarter increased 2.9% year-over-year to $536.3 million, but was below Wall Street's expectation of $549.0 million. (Source: "Guess?, Inc. Reports Third Quarter Results," Guess?, Inc, November 30, 2016.)
The bottom line turned out to be worse. Guess stock's diluted earnings came in at $0.11 per share, representing a 26.7% drop from the $0.15 earned in the year-ago period. Analysts expected the American clothing company to earn $0.14 per share.
"While I recognize the challenges we are facing in the Americas, I am thrilled that, due to our various revenue enhancement initiatives, our third quarter revenues increased by 3%," said Victor Herrero, chief executive officer of Guess, in a statement on Wednesday. "We enjoyed strong double digit growth in Europe and in Asia, and we remain focused on improving our profitability in North America. As we reach the end of our transition year, I look forward to fiscal year 2018 with tremendous anticipation and excitement." (Source: Ibid.)
Investors don't seem to be impressed by the company's outlook either. Guess now expects adjusted earnings per share to be in the range of $0.42 to $0.52 for the entire fiscal year. Previously, the company had forecast adjusted earnings per share between $0.62 and $0.75.
Herrero explained that Guess' previous full-year guidance assumed better sales growth and gross margins in its Americas Retail segment for the fourth quarter. Based on third-quarter results and trends in the fourth quarter so far, the company is revising those numbers down. (Source: Ibid.)
Guess stock plunged more than 14% at one point after the earnings release. Year-to-date, it is down nearly 30%.
With the latest tumble, GES stock is now yielding 6.78%.