Up 72% on Raytheon Company… With More Upside Ahead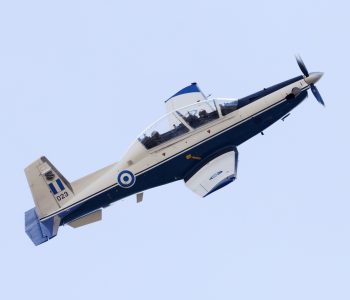 iStock.com/GordZam
Raytheon Stock Is Soaring
It's a scary world out there… except for defense contractors.
A few years ago, we noted America's participation in a growing number of conflicts. We saw this aggression escalate further over the weekend, after President Donald Trump ordered air strikes in Syria.
Bombing the heck out of third-world nations doesn't come cheap, however. Defense companies have enjoyed booming profits on higher demand for everything from tanks and bullets to weapon systems and fighter jets. That has fueled the share prices for names like Lockheed Martin Corporation (NYSE:LMT), General Dynamics Corporation (NYSE:GD), and Northrop Grumman Corporation (NYSE:NOC).
Another big winner is Automated Income newsletter recommendation Raytheon Company (NYSE:RTN). Most people know this firm for its "Patriot" missiles, which cost around $10.0 million a pop. However, the firm has also built thriving enterprises in aircraft, sensors, imaging, radar, cybersecurity, missile defense, and electronic warfare.
And business, it seems, is booming. Since we recommended Raytheon stock to Automated Income subscribers in mid-2016, shares have surged over 72%. Over that same period, management has boosted the distribution nine percent.
And this could be just the beginning. Earlier this year, President Trump requested $686.0 billion in defense funding for the 2019 fiscal year. This budget represents a 17.4% increase over the 2017 defense budget. (Source: "President Trump Wants $686 Billion for the Military. Here's How He Plans to Spend It," Fortune, February 12, 2018.)
But the real boom lies overseas. Amid warring factions in the Middle East, sabre rattling from North Korea, and "unstoppable" nukes rumored out of Russia, more countries have ramped up their spending on defense. With no shortage of conflicts around the world, most countries want to upgrade their military capabilities.
In other words, we're looking at substantial and consistent increases in defense spending. My colleague, geopolitical analyst Alessandro Bruno, believes we're still in the early day of a new multi-decade spending cycle. He has pounded the table on defense stocks for years now, though he still sees more upside ahead.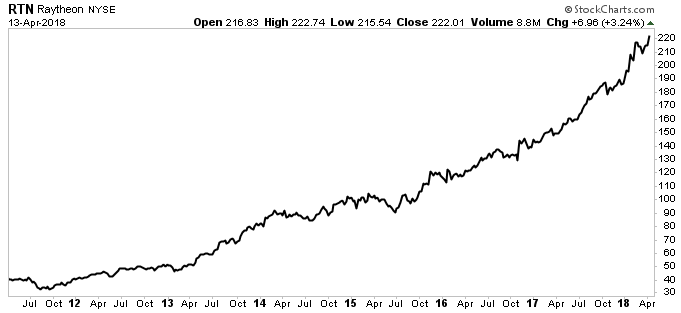 Chart courtesy of StockCharts.com
With a boom this big, you could throw a dart at defense companies and still make money. That said, Raytheon has positioned itself well for this bonanza. The company enjoys high switching costs, due to the mission-critical nature of its products and the conservative buying patterns of most militaries (do you want to protect your citizens with the second-best missile defense system?).
For these reasons, we expect Raytheon to earn higher profits (and pay out growing dividends) for years to come.