Universal Corp Stock: 6.2%-Yielder Has Raised Dividend for 52 Straight Years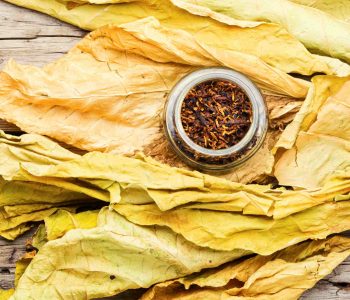 Universal Corp Is a Recession-Resistant Moneymaker
Sin stocks are some of the most recession-resistant opportunities. With the stock market reeling and most economists expecting the next recession to be painful, now might be a good time to take another look at Universal Corp (NYSE:UVV).
The Richmond, VA-based company is the world's leading global supplier of leaf tobacco. It has operations in more than 30 countries on five continents. (Source: "Investor Presentation: Fiscal Year 2022," Universal Corp, last accessed September 12, 2022.)
The company provides agronomy support, research, and financing to tobacco farmers but doesn't manufacture consumer tobacco products. Universal Corp is the go-between operator for tobacco growers and tobacco product companies. Universal Corp procures, processes, packs, stores, and ships various types of tobacco used mainly in the manufacture of cigarettes, cigars, cigarillos, pipe tobacco, and smokeless tobacco products.
Every year, the global tobacco industry produces about 5.3 trillion cigarettes. Of that number, less than five percent are sold in the U.S. This is why you probably won't be familiar with all of Universal Corp's customers. The company's largest clients include Altria Group Inc (NYSE:MO), British American Tobacco PLC (NYSE:BTI), Philip Morris International, Inc. (NYSE:PM), China Tobacco International, Inc., and Japan Tobacco Inc.
More than two-thirds of Universal Corp's tobacco sales are to customers with major positions in their respective markets and longstanding relationships with the company.
The future of Universal isn't all about tobacco, which is a good thing, since more and more people are shunning cigarettes, cigars, and pipes. That's why the company explores opportunities outside its leaf tobacco business.
To that end, in early 2020, Universal Corp announced the completion of its acquisition of FruitSmart, Inc., an independent specialty fruit and vegetable ingredient processor. FruitSmart supplies a broad set of juices, concentrates, blends, purees, fibers, seeds, seed powders, and other value-added products to food, beverage, and flavor companies around the world.
In October 2020, Universal Corp expanded its plant-based ingredient operations with its acquisition of Silva International, a specialty dehydrated vegetable, fruit, and herb processing company. In addition to sourcing dehydrated vegetables, fruits, and herbs, Silva processes natural raw materials into custom-designed dehydrated vegetable- and fruit-based ingredients for a variety of end products.
In October 2021, Universal Corp announced that it had closed on its purchase of Shank's Extracts, Inc., a specialty ingredient, flavoring, and food company with bottling and packaging capabilities.
Why would the company invest in the plant-based ingredient market?
The competitive landscape is highly fragmented, with 73% of the market spread across companies with less than a three-percent share. In the U.S. alone, there are more than 30,000 food processing facilities owned by 26,000 companies. Fruits and vegetables account for about 10% of the total U.S. food processing industry, implying that there are thousands of facilities and competitors.
With its huge international presence, massive customer base, infrastructure, and expertise, Universal Corp has strategies for business growth that smaller players simply don't have.
UVV Stock's Dividend Hiked for 52nd Consecutive Year
Universal Corp's management noted that, when there are no other investment alternatives that create shareholder value, it will return excess capital to its shareholders. The company pays dividends and has a share buyback plan.
When it comes to reliable, growing, high-yield dividend stocks, few are as trustworthy as Universal Corp stock. After announcing a 36% increase to its quarterly dividend in May 2018 (from $0.55 to $0.75 per share), the company has continued to increase its dividend annually to reach UVV stock's current quarterly dividend of $0.79.
Commenting on the dividend hike, George C. Freeman III, the company's CEO, noted, "Increasing our dividend remains a key [tenet] of our capital allocation strategy. We have raised our common dividend every year since 1971. This is our 52nd consecutive annual dividend increase, and I am very proud of this achievement." (Source: "Universal Corporation Announces 52nd Annual Dividend Increase and Sets Annual Meeting Date," Universal Corp, May 25, 2022.)
The company has said it has every intention of continuing its tradition of raising its dividend. That's great news for dividend hogs, especially in light of how Universal Corp stock has been doing as of late.
Despite solid first-quarter fiscal 2023 results, which included revenue growth of 23%, net income growth of 6.2%, and earnings-per-share growth of four percent, UVV stock has been experiencing some volatility. In light of runaway inflation, the war in Ukraine, the European energy crisis, COVID-19 lockdowns in China, and concerns about a recession, this isn't a total surprise.
As of this writing, Universal Corp stock is down by:
Six percent over the last month
11% over the last six months
Seven percent year-to-date
UVV stock has a history of bouncing back pretty quickly, though. Moreover, the stock is up by 1.5% year-over-year, and the company's outlook is robust. The demand for its tobacco remains high. As is the case, Universal Corp expects its seasonal borrowing levels to decrease in the second half of fiscal 2023, which is in line with its tobacco crop shipments (which are weighted to that period).
Freeman said he was pleased with the company's start to its fiscal year as it continues to effectively navigate increased costs (particularly for green leaf tobacco) and shipping constraints.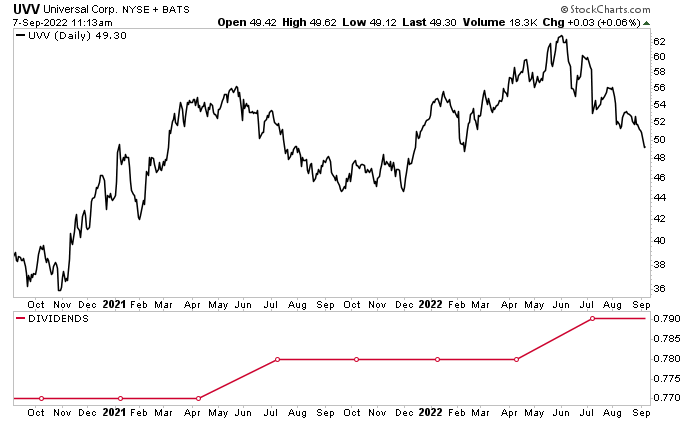 Chart courtesy of StockCharts.com
The Lowdown on Universal Corp Stock
As mentioned earlier, Universal Corp is the leading global leaf tobacco supplier. It has longstanding supplier and customer relationships with the industry's biggest names.
Furthermore, through recent acquisitions, the company has been building out its plant-based ingredient segment, which continues to exceed the company's expectations. For ultra-high-yield dividend investors, the company has a long history of returning value to UVV stockholders through dividends and share repurchases.