Universal Corp: 6.1% Yielder Has 51 Years of Uninterrupted Dividend Hikes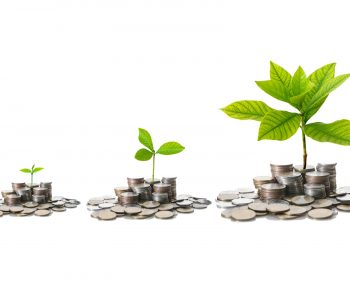 Growth & Dividends Make UVV Stock a Great Sin Stock
Quality stocks that provide solid long-term returns and rising annual dividend yields are never cheap. There's a risk/reward trade-off that comes down to one's risk appetite. It's easy to find an inexpensive stock with a dubious balance sheet, no track record, and a high dividend yield. Risking initial capital for a high, risky dividend is a great way to lose money.
On the other hand, with a big blue-chip stock, you aren't discovering an under-the-radar stock that's going to be a near-term 10-bagger. Instead, you're going to find a stable company that provides buy-and-hold investors with great returns.
And in this wobbly bull market, it's often a good idea to make room for a boring blue-chip stock that continues to do well year after year. One of the best is the oft-neglected Universal Corp (NYSE:UVV), the world's leading leaf tobacco supplier.
Universal provides agronomy support, research, and financing to tobacco farmers, but it doesn't manufacture consumer tobacco products. Instead, Universal procures, processes, packs, stores, and ships flue-cured (dried in curing barns) tobacco and burley leaves that are mainly used in the manufacturing of cigarettes, cigars, cigarillos, pipe tobacco products, and smokeless tobacco products.
The company has operations in more than 30 countries spanning five continents.
Long History of Dividend Increases
Universal Corp stock is a sin stock that continues to give investors what they want. And by that, I mean one of the best dividend track records on Wall Street.
UVV stock has rewarded investors with 51 years of uninterrupted annual pay raises. In May 2018, the company announced a 36% increase in its annual dividend to $0.75 per share. It announced further one-percent increases in May 2019, May 2020, and May 2021. (Source: "Fiscal Year 2021 Investor Presentation," Universal Corp, last accessed September 17, 2021.)
Universal Corp stock currently pays a quarterly dividend of $0.78 per share, or $3.12 on an annual basis. At its current share price, that works out to a yield of 6.1%.
Since the company has raised its annual dividends for the last 51 years, it's almost redundant to say the dividend is safe. But it is: the payout ratio is 88.0%.
As one of the few companies to raise its annual dividends for more than 50 years, it seems unlikely that Universal Corp will want to ruin that record. As management said in its recent investor presentation, "We are proud of our 51-year history of dividend increases, and we intend to continue that tradition." (Source: Ibid.)
The company added, "When there are no other investment alternatives to create shareholder value, we will return excess funds to shareholders."
As a blue-chip stock, investors can expect UVV stock's price to steadily trend higher. Over the last 20 years, its share price has expanded at a compound annual growth rate (CAGR) of six percent. It's not trouncing the S&P 500, but it's not a tortoise either. Universal Corp stock could be a perfect stock for investors with a long investment horizon.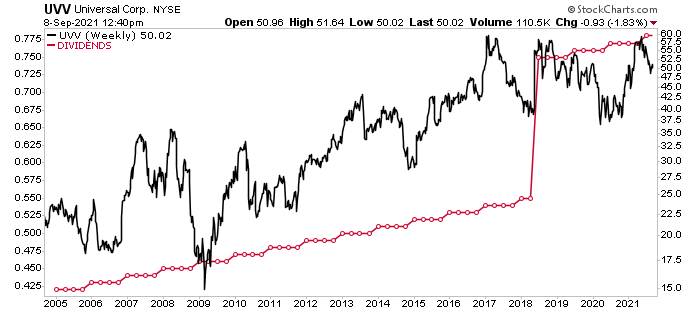 Chart courtesy of StockCharts.com
Universal Corp Explores Opportunities Outside Tobacco
As you may know, tobacco sales have been softening. To mitigate this risk to its business, Universal has been exploring opportunities in non-tobacco industries.
In January 2020, Universal completed its acquisition of FruitSmart, an independent specialty fruit and vegetable ingredient processor. FruitSmart supplies a broad set of juices, concentrates, blends, purees, fibers, seed, seed powders, and other value-added products to food, beverage, and flavor companies throughout the U.S. and internationally. (Source: "Universal Corporation Completes Acquisition of FruitSmart," Universal Corp, January 3, 2021.)
FruitSmart is well positioned to capitalize on recent shifts in market dynamics and consumer behavior, including a trend toward health and wellness, with many consumers favoring natural clean-label ingredients, as well as fruit as a natural alternative to processed sugar.
Universal's acquisition of FruitSmart provides the company with a new growth opportunity and represents a foundational step in building a broader agriproduct service business.
In October 2020, Universal completed its acquisition of Silva International, a privately held dehydrated vegetable, fruit, and herb processing company. (Source: "Universal Corporation Completes Acquisition of Silva International," Universal Corp, October 1, 2020.)
Silva International procures more than 60 types of dehydrated vegetables, fruits, and herbs from more than 20 countries. In addition to sourcing produce, the company specializes in processing natural raw materials into custom-designed dehydrated vegetable-based and fruit-based ingredients for a variety of end products.
On September 7, 2021, Universal announced that it had entered a definitive agreement to acquire Shank's Extracts, Inc., a privately held ingredient, flavoring, and food company with the ability to package and bottle products. (Source: "Universal Corporation to Acquire Shank's Extracts, Inc., a Well-Established Provider of Flavoring and Extracts," Universal Corp, September 7, 2021.)
In addition to pure vanilla extract products, Shank Extracts' produces more than 2,400 other extracts, distillates, natural flavors, and colors for industrial and private-label customers worldwide.
FruitSmart, Silva International, and Shank's Extracts, Inc. will operate in Universal's plant-based ingredient segment.
Excellent Q1 Results
For the first quarter of fiscal 2022 (ended June 30, 2021), Universal announced that its revenue increased by 11% year-over-year to $350.0 million. (Source: "Universal Corporation Reports First Quarter Results," Universal Corp, August 4, 2021.)
The company's net income was $6.4 million, or $0.26 per diluted share, versus $7.3 million, or $0.29 per share, in the same prior-year period. Its adjusted earnings per share came in at $0.30, a huge increase from the first-quarter 2021 adjusted earnings per share of $0.02.
George C. Freeman, III, the chairman, president, and CEO of Universal Corp, noted that the company was off to a good start in fiscal 2022, with the company's Tobacco Operations division improving its results and the Ingredients Operations division (which included Silva International) delivering a "very strong performance." (Source: Ibid.)
Freeman said Universal is on track for its ingredients business to meet its previously announced goal of representing 10% to 20% of the company's results in fiscal 2022.
The Lowdown on Universal Corp
Universal Corp is the world's largest importer and exporter of leaf tobacco, but recently the company has been expanding and diversifying its operations outside the tobacco sector to better position itself for long-term success.
UVV stock has a long history of providing investors with significant capital appreciation. Moreover, the company has raised its annual dividends for 51 consecutive years.