Universal Corp: 5.8%-Yielder Poised to Raise Dividend for 52nd Consecutive Year?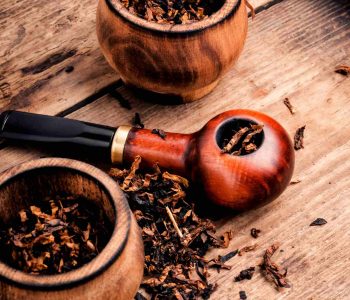 UVV Stock Great for Income & Growth
Many investors avoid so-called sin or vice stocks because the companies operate in areas that people view as unethical. These sectors include gambling, cannabis, weaponry, alcohol, and adult entertainment.
Then there are the companies that operate at arm's length from sin companies, the businesses that provide products or services that sin companies need in order to thrive. That's where Universal Corp (NYSE:UVV) fits in.
The Richmond, VA-based company is the world's leading supplier of leaf tobacco. It doesn't manufacture consumer tobacco products, but it does procure, process, pack, store, and ship flue-cured leaf tobaccos, burleys, and oriental tobaccos that are used mainly in the manufacturing of cigarettes, cigars, cigarillos, pipe tobacco, and smokeless tobacco products. (Source: "Investor Presentation: Fiscal Year 2022," Universal Corp, last accessed February 17, 2022.)
Universal Corp is also a go-between operator between growers and tobacco companies. The business provides agronomy support, research, and financing to tobacco farmers.
It has operations in more than 30 countries on five continents. The company's largest customers include Altria Group Inc (NYSE:MO), British American Tobacco plc (NYSE:BTI), China Tobacco International Inc., and Philip Morris International, Inc. (NYSE:PM).
Universal Corp Expanding Outside Traditional Tobacco Market
For investors who are concerned about the declining number of smokers and the waning demand for tobacco leaf, Universal Corp stock has you covered. The company is actively exploring opportunities in non-tobacco industries that capitalize on its strengths.
In January 2020, the company announced the completion of its acquisition of FruitSmart, Inc., an independent specialty fruit and vegetable ingredient processor. FruitSmart supplies a broad set of juices, concentrates, blends, purees, fibers, seeds, seed powders, and other value-added products to food, beverage, and flavor companies around the world. (Source: "Universal Corporation Completes Acquisition of Fruitsmart," Universal Corp, January 3, 2020.)
In October 2020, Universal Corp expanded its plant-based ingredient platform with its acquisition of Silva International, a specialty dehydrated vegetable, fruit, and herb processing company. In addition to sourcing dehydrated vegetables, fruits, and herbs, Silva specializes in processing natural raw materials into custom-designed dehydrated vegetable- and fruit-based ingredients for a variety of end products. (Source: "Universal Corporation Completes Acquisition of Silva International," Universal Corp, October 1, 2020.)
In October 2021, Universal Corp announced that it had closed on its purchase of Shank's Extracts, Inc., a specialty ingredient, flavoring, and food company with bottling and packaging capabilities. (Source: "Universal Corporation Completes Acquisition of Shank's Extracts, Inc." Universal Corp, October 4, 2021.)
51 Consecutive Years of Dividend Increases
Universal Corp's ability to strengthen and increase its tobacco operations and pursue opportunities in non-tobacco industries has helped UVV stock continue an enviable tradition of returning significant capital to shareholders over the years.
In fact, Universal Corp stock has rewarded buy-and-hold investors with 51 uninterrupted years of dividend increases. That means it's a dividend aristocrat, a stock that has paid and increased its dividends for at least 25 consecutive years.
In August 2018, the company increased its quarterly dividend by 36% to $0.75 per share. In August 2019, 2020, and 2021, it increased its quarterly dividend by one cent per share. UVV stock currently pays a quarterly dividend of $0.78 per share, for a yield of 5.8%. (Source: "Historical Dividends," Universal Corp, Last accessed February 17, 2022.)
As one of the few companies on Wall Street to raise its dividend annually for more than 50 years, it's unlikely that Universal Corp stock will skip a pay raise in 2022. As the company noted in its November 2022 investor presentation, "We are proud of our 51-year history of dividend increases, and we intend to continue that tradition." (Source: "Investor Presentation: Fiscal Year 2022," Universal Corp, op cit.)
Even with soaring inflation and logistical challenges, skipping just one dividend increase would mean starting from scratch. And really, if UVV stock's dividends can be raised during the worst economic and health crisis in 100 years, you have to wonder what it would take to derail it.
For the nine months ended December 31, 2021, the company's consolidated revenues increased by seven percent year-over-year to $1.5 billion. (Source: "Universal Corporation Reports Nine Months Results," Universal Corp, February 2, 2022.)
Its net income for the nine-month period was $60.8 million, or $2.44 per share. That's a 26.6% increase over the $48.0 million, or $1.94 per share, in the same prior-year period. The company's adjusted net income was $2.76 per share, compared to $2.59 per share in the same nine months of 2020. Its operating income in the 2021 nine-month period went up by 21% year-over-year to $103.2 million, while its adjusted operating income increased by $8.9 to $116.5 million.
While Universal Corp continues to deal with logistical challenges related to the ongoing COVID-19 pandemic, management said it expects that some tobacco shipments from certain origins will be pushed into fiscal 2023. At the same time, inflationary pressures, including higher freight and labor expenses, have driven up costs in both its tobacco and ingredients operations, but the demand for both operations remains high.
The company's strong results have helped Universal Corp stock trend steadily higher over the decades. In the last 20 years, the stock has expanded at a compound annual growth rate (CAGR) of about six percent. That might not be the kind of gain that growth investors would be happy with, but when coupled with reliable, high-yield dividends, UVV stock could be perfect for buy-and-hold investors.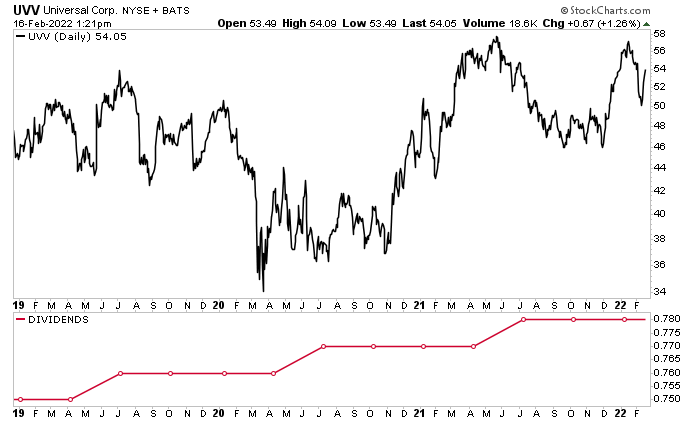 Chart courtesy of StockCharts.com
The Lowdown on Universal Corp Stock
Universal Corp is the world's largest importer and exporter of leaf tobacco, but it has been diversifying its operations into the food industry. This decision has helped the company report robust financial results.
That should enable the company to remain one of the top dividend aristocrats. Investors should be able to look forward to Universal Corp announcing the 52nd consecutive annual dividend increase for UVV stock sometime in the coming months.