UnitedHealth Stock: Washington Insiders Buying This Top Dividend Stock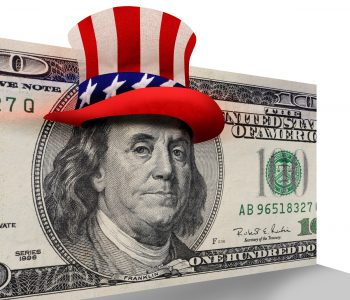 Critical Bill Could Send This Stock Soaring
As the Donald Trump Administration pushes forward to repeal "Obamacare," some well-connected insiders stand to cash in.
Over the past few weeks, several lawmakers have accumulated positions in UnitedHealth Group Inc (NYSE:UNH). The insurer stands to make billions of dollars from the GOP's proposed healthcare bill, which would clear regulations that help poor and sick people buy coverage.
Republican Congressman Mike Conaway's wife purchased $30,000 of UnitedHealth stock. The exact amount remains unclear, as rules only require lawmakers to provide a broad range of their investment positions. (Source: "Republican Lawmakers Buy Health Insurance Stocks As Repeal Effort Moves Forward," The Intercept, July 6, 2017.)
She wasn't the only one. On the other side of Capitol Hill, Republican James Inhofe bought $50,000 to $100,000 of UnitedHealth stock. The Senator from Oklahoma has long advocated for rolling back Obamacare and reducing regulations on health insurance.
Investors should take note for a few reasons. For one, insider trading laws don't apply to Congress, for starters. When you see D.C. insiders making big trades, it's often a sign that something big is coming down the pike.
We saw this in the recent case of New York Republican Chris Collins. The congressman sits on the House subcommittee that oversees the U.S. Food and Drug Administration (FDA) and he owns a large stake in the Australian biotech firm Innate Immunotherapeutic Ltd (ASX:IIL). In his position as a lawmaker, Collins authored a bill to speed up the approval of experimental drugs―exactly the kind of drugs Innate specializes in.
The biggest controversies stem from the banking crisis of 2008. Several lawmakers exploited confidential meetings about the unfolding financial meltdown to avoid investment losses. While millions of Americans saw their retirements wiped out, privileged bureaucrats lined their pockets. (Source: Ibid.)
The recent filings suggest something big could be in the works for UnitedHealth. Earnings per share rose 31% year-over-year last quarter, thanks in large part to the company's exit from several Obamacare exchanges. Shares of the country's largest health insurer have soared 17% year-to-date.
This could be just the beginning. President Trump's bill proposes rolling back taxes on healthcare providers while gutting regulations that prevent insurers from denying coverage for medical treatments. If the legislation passes, UnitedHealth stands to make billions of dollars in additional profits.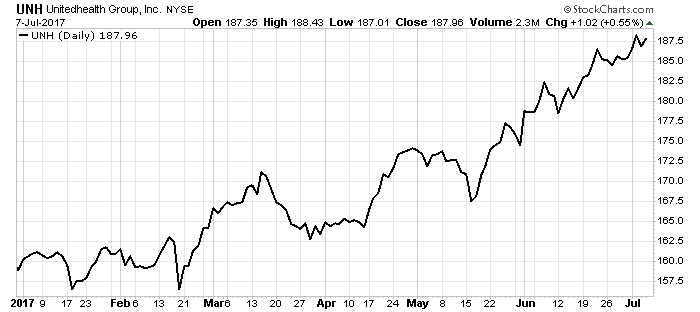 Chart courtesy of StockCharts.com
The bill would also represent great news for income investors. In June, UnitedHealth upped its quarterly dividend by 20% to $0.75 per share. That brought the annual yield on the stock to a modest 1.7%.
A new healthcare bill would turn these shares into cash machines. If lawmakers can repeal Obamacare, most of the insurer's profits will get passed onto owners. We could see an investor bonanza of dividends, stock buybacks, and special distributions.
Such an outcome depends on whether the president can get this plan through the House and Senate. Pundits say the bill will be dead on arrival. Republicans, however, only need votes from a few neutral lawmakers, which isn't a huge obstacle to getting Trump's agenda through. That would send UnitedHealth stock (and its dividend) soaring.