United Technologies Corporation Earnings: Will UTX Stock Increase Its Dividend?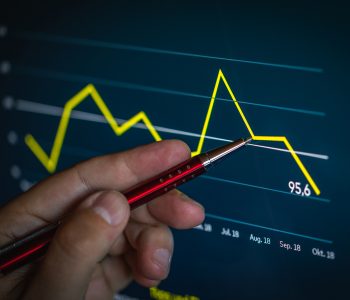 iStock.com/IAM-photography
United Technologies Stock Returning Cash to Investors
In recent weeks, aerospace giant United Technologies Corporation (NYSE:UTX) has received a lot of investor attention due to its announced merger agreement with defense contractor Raytheon Company (NYSE:RTN). And now, there's one more reason to check out UTX stock: the company is about to report earnings.
United Technologies Corporation is scheduled to report second-quarter 2019 financial results on Tuesday, July 23, before market open. As a widel -followed company commanding over $100.0 billion of market capitalization, UTX has a set of expectations to beat in every earnings season.
This time, Wall Street analysts expect United Technologies to report $19.54 billion in quarterly revenue, which would represent an impressive 17% increase year-over-year. At the bottom line, the consensus estimate is for UTX to earn a profit of $2.04 per share for the quarter, which would mark a 3.6% improvement from the $1.97 per share earned in the year-ago period. (Source: "United Technologies Corporation (UTX)," Yahoo! Finance, last accessed July 11, 2019.)
Stats on United Technologies Corporation
| | |
| --- | --- |
| Analyst EPS Estimate | $2.04 |
| Change From Year-Ago EPS | 3.6% |
| Revenue Estimate | $19.54 billion |
| Change From Year-Ago Revenue | 17.0% |
| Earnings Beat in Past 4 Quarters | 4 |
Source: Ibid.
Note that United Technologies Corporation has a pretty solid track record in outperforming Wall Street's expectations. Over the past 12 months, the company has beaten analysts' earnings-per-share estimates in each of the four quarters.
And as we've seen plenty of times, earnings beats could lead to bullish momentum in a stock. In the case of this aircraft manufacturing company, we see that UTX stock has surged more than 20% year-to-date. However, due to the market pullback in the fourth quarter of last year, the stock is up just five percent in the past 12 months.
United Technologies Corporation Stock Chart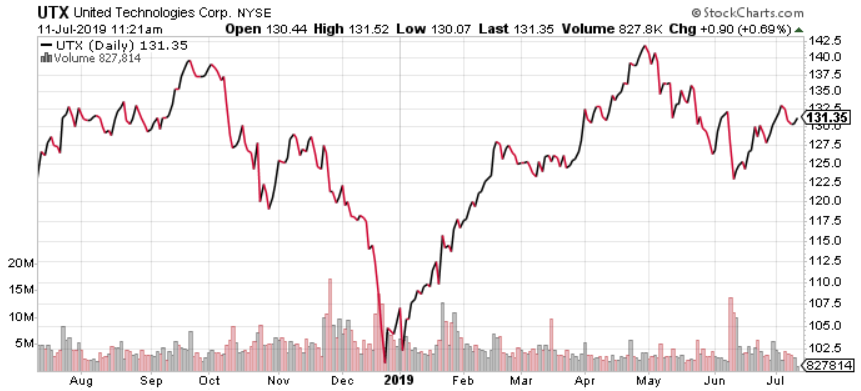 Chart courtesy of StockCharts.com
United Technologies also happens to be a dividend-paying stock. With a quarterly dividend rate of $0.735 per share, UTX stock offers investors an annual yield of 2.2%.
Of course, given how much the company's shares have gone up in recent months, its current dividend yield may not seem like much. However, keep in mind that dividends represent a surefire way to earn a cash return. Even if a stock takes a tumble, if the company sticks to its dividend policy, shareholders will get paid.
Looking back, you'll see that United Technologies Corporation has paid cash dividends on its common stock every year since 1936. (Source: "Dividends," United Technologies Corporation, last accessed July 11, 2019.)
The payout has been on the rise, too. In just the last five years, UTX stock's quarterly dividend rate has increased by 24.6%.
As a matter of fact, the company was recently added to the list of the S&P 500 Dividend Aristocrats, an elite group of S&P 500 Index constituents that have increased their dividends every year for at least 25 years. Among the index's components, there are only 57 "Dividend Aristocrats" as of this writing.
Will United Technologies Corporation Increase Its Dividend in 2019?
Now, the big question is whether UTX stock will continue that track record. Well, based on the company's financials, the answer looks like a "yes."
In 2018, United Technologies' sales grew 11% to $66.5 billion. The bottom line was even more impressive: the company's adjusted earnings came in at $7.61 per share, representing a 14% increase from 2017. (Source: "United Technologies Reports 2018 Results, Announces 2019 Outlook," United Technologies Corporation, January 23, 2019.)
Considering that UTX declared and paid four quarterly dividends totaling $2.835 per share last year, it had a payout ratio of just 37.3%.
If the company meets Wall Street's expectation and earn $2.04 per share in the second quarter, it would bring its earnings per share for the first half of 2019 to $3.95. Given its total dividends of $1.47 per share paid during the first six months of this year, the expected earnings per share figure would result in a payout ratio of 37.2%—not a high number by any means.
In the last quarterly earnings report, management also raised their guidance. For full-year 2019, they expect the company to earn an adjusted net income of $7.80 to $8.00 per share, which would represent a sizable improvement from 2018. (Source: "United Technologies Reports First Quarter 2019 Results; Raises 2019 Adjusted EPS Outlook," United Technologies Corporation, April 23, 2019.)
With a growing business and a conservative payout ratio, management should have no problem raising the company's dividends in 2019.
And that's not all, the planned merger with Raytheon could boost shareholder returns even further. In a press release that announced the merger agreement last month, United Technologies and Raytheon said that the combined companies expect to return $18.0 to $20.0 billion of capital to shareholders in the first three years following the completion of the merger. (Source: "Raytheon and United Technologies Aerospace Businesses to Combine in Merger of Equals," United Technologies Corporation, June 9, 2019.)
Add it all up and you'll see that for dividend investors of UTX stock, the best could be yet to come.