Union Pacific Corporation: 157-Year-Old Stock Keeps Beating the Market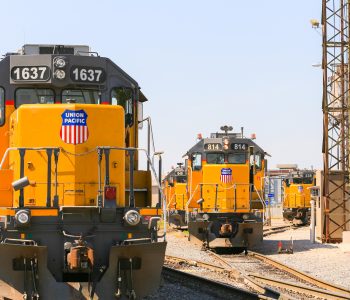 iStock.com/mixmotive
Union Pacific Corporation Can Keep Chugging Along
While tech stocks posted blowout returns over the past decade, one of the best-performing businesses has been one of America's oldest: Union Pacific Corporation (NYSE:UNP).
Granted, a railroad company might seem like a very 19th-century investment. But the 157-year-old company's near-monopoly position has resulted in robust price hikes each year. And by cutting costs at the same time, Union Pacific executives have managed to squeeze more profit out of each dollar of revenue.
This has translated into stock performance compared to some of America's most innovative companies. For the 10 years ended October 17, Union Pacific stock has delivered a total return, including dividends, of 636%.
By that measure, the company has beaten the returns of Microsoft Corporation (NASDAQ:MSFT) (539%), Alphabet Inc (NASDAQ:GOOG) (367%), and Cisco Systems, Inc. (NASDAQ:CSCO) (165%).
And this could just be the beginning.
In fairness, Union Pacific Corporation faces challenges. Last quarter, rail shipments fell eight percent year-over-year. Operating revenues dropped by seven percent from the same period last year, falling short of Wall Street's estimates. (Source: "Union Pacific Reports Third Quarter Results," Union Pacific Corporation, October 17, 2019.)
Union Pacific management blamed the decline on everything from lower grain and vehicle shipments to weaker demand from energy and construction customers. Management blamed that on President Donald Trump's trade war and a slowing economy.
But here's where things get interesting. While Union Pacific's top-line sales fell, the company's net income remained flat last quarter at $1.6 billion. Even more surprisingly, earnings per share actually improved by 3.3% to $2.22.
You can credit Union Pacific's cost-cutting for this discrepancy. Over the past year, management has undertaken a significant overhaul of the railroad company's operations. Executives have exited less profitable businesses; started running fewer, longer trains; and cut the number of hours that locomotives spend idle in yards.
This allows Union Pacific to make more money with less capital tied up in railcars, tracks, and other equipment.
A smaller headcount has also padded the bottom line. In a recent conference call, Chief Financial Officer Robert McKnight said the company had reduced its workforce by "slightly more than 10%" from 2018. That has resulted in millions of dollars in annual savings on overhead and administration. (Source: "Union Pacific sees workforce down by about 4,200 employees this year," MarketWatch, October 17, 2019.)
You can see the impact of these efforts in Union Pacific Corporation's financial results. Through the first quarter of 2018, management spent $0.62 in operating expenses for every dollar generated in sales.
In the company's most recent financial results, executives have trimmed this number to $0.59. On $23.0 billion in annual revenues, even a small percentage decrease in expenses amounts to millions of dollars in extra profits.
Management has returned most of these extra profits to shareholders. In February, executives announced a 10% dividend bump. The company followed this up with another 10% distribution hike in July. These actions raised the annual dividend yield on shares to 2.4% and represented an enormous vote of confidence in the business.
Union Pacific Corporation has supplemented this dividend through share buybacks. Year-to-date, executives have spent $5.2 billion on repurchases year-to-date.
In effect, this has reduced the total number of outstanding shares by five percent. This is why I sometimes describe buybacks as a kind of "stealth dividend." They buy out some shareholders and boost the remaining shareholders' claim to the business's future profits.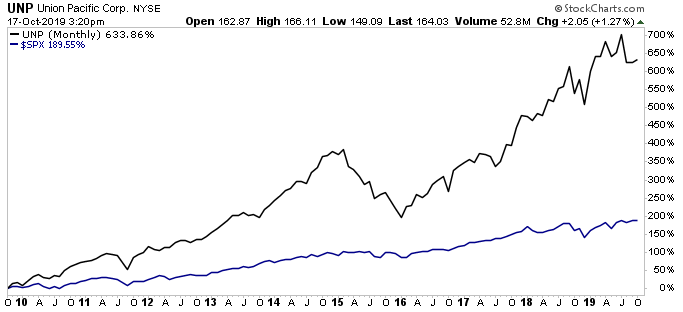 Chart courtesy of StockCharts.com
Going forward, investors can expect more of the same from Union Pacific Corporation. Over the next five years, analysts expect that the company will grow its earnings per share at a low-teen annual clip. Barring a deep recession, that forecast looks achievable. And given the railway's modest 45% payout ratio, the distribution should grow more or less in line with profits.
Not bad for a stodgy, old business.