Union Pacific Corporation Gives Shareholders a Big Pay Raise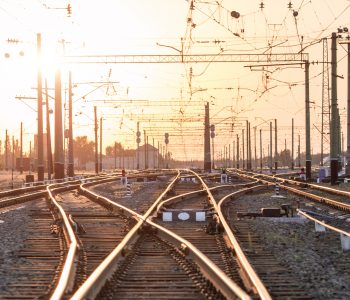 iStock.com/Kyryl Gorlov
Union Pacific Corporation Hikes Dividend 10%. Are More Hikes Coming?
Wall Street has fretted this summer over trade tensions, a looming business slowdown, and a possible war with Iran. But Union Pacific Corporation (NYSE:UNP), it appears, may have missed the memo.
In July, management boosted the railroad's quarterly dividend 10% to $0.97 per share. Investors interpreted the news as a big vote of confidence in the business, bidding shares of UNP stock to all-time highs. (Source: "Union Pacific Corporation Announces 10 Percent Dividend Increase for Third Quarter 2019", Union Pacific Corporation, July 25, 2019.)
And this could just be the beginning.
Admittedly, President Donald Trump's trade war has bitten into sales. Union Pacific's revenues dropped one percent to $5.6 billion in the second quarter on lower shipment volumes. But despite these headwinds, executives continue to find ways to boost the bottom line. (Source: "Union Pacific Reports Record Second Quarter Results," Union Pacific Corporation, July 18, 2019.)
The secret comes down to cost-cutting. Union Pacific has embarked on a significant overhaul; it has started sorting rail cars less frequently, exiting less profitable businesses, and running fewer, longer trains. By ensuring that grass never grows beneath the wheels, the company can squeeze more income out of its business with less capital.
Layoffs have also padded the bottom line. Last year, the company laid off 800 employees, or about two percent of its workforce. More cuts will likely follow, given management's aim to cut overhead costs by a third before 2020. (Source: "Union Pacific will cut nearly 700 railroad jobs by year's end," The Dallas Morning News, October 23, 2019.)
Accordingly, Union Pacific has posted a marked increase in profitability. The company spent a record low $0.59 in operating costs on every dollar generated in revenue last quarter, down from $0.63 during the same period last year. That number shocked Wall Street, given that Union Pacific dealt with severe weather that shut down parts of its network during the reporting period. (Source: Ibid.)
The company's strategy has been generating cash that can be returned to investors. In addition to the dividend hike announced last month, Union Pacific Corporation has spent $3.6 billion on stock buybacks since January. This has cut the total number of outstanding shares by seven percent, thereby increasing the claim that remaining investors have to future earnings. (Source: "Union Pacific Reports Record Second Quarter Results," Union Pacific Corporation, July 18, 2019.)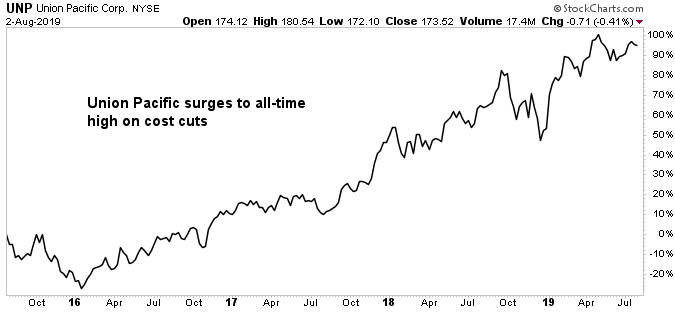 Chart courtesy of StockCharts.com
The Bottom Line on UNP Stock
For shareholders, more cost cuts should translate into further dividend hikes. Over the next five years, Wall Street projects that Union Pacific should grow earnings per share at a low-teen annual clip. And given the company's conservative 45% payout ratio, investors can expect the distribution to grow more or less in line with profits. (Source: "Union Pacific Corporation (UNP) – Analysis," Yahoo! Finance, last accessed August 3, 2019.)
Income investors should take note: Union Pacific stock has a lot more potential upside for 2019 and beyond.